The Critter
The grass carp (Ctenopharyngodon idella; Fig. 1) is a native of large East Asian Rivers. Like its carp cousins (big head carp, silver carp, common carp) grass carp are effective grazers of aquatic plants (one of the reasons they were brought to the States). However, grass carp are not as acrobatic as the carp threatening entry into the Great Lakes and abundant throughout the Mississippi River basin (view a video describing the situation). So, while you are out skiing or pleasure boating on Lake Austin, have no fear of catching a grass carp in the face! However, something carp do have in common, but is underappreciated in the States is how delicious they are! Tell me that recipe does not look tasty.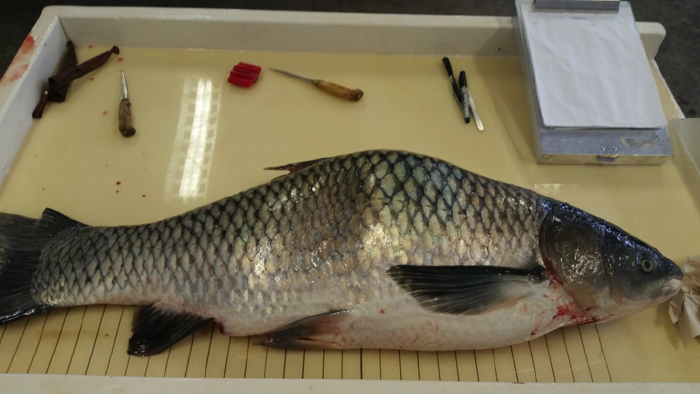 Figure 1. Forty-four inch Triploid Grass Carp from Lake Austin. Photo by Brent Bellinger, Ph.D.
Genetic Manipulation
What does it mean for a grass carp to be "triploid"? It means that a third set of chromosomes exists within each cell of the carp (Fig. 2). Being triploid renders the fish capable of normal growth (rates may actually be faster) but incapable of producing viable offspring. How do you make a normal diploid (2 sets of chromosomes) grass carp triploid? Basically, a super fancy pressure cooker. After collecting fertilized, diploid eggs, then heat and/or pressure is applied. The effect is that a third set of chromosomes remain in the cell. The carp will still produce roe and milt (meaning the birds and the bees), but the two cannot combine to make a viable zygote. And despite being told that "nature finds a way" in Jurassic Park, triploid grass carp cannot become diploid and reproductively viable (www.fws.gov/warmsprings/fishhealth/fishbusters.html).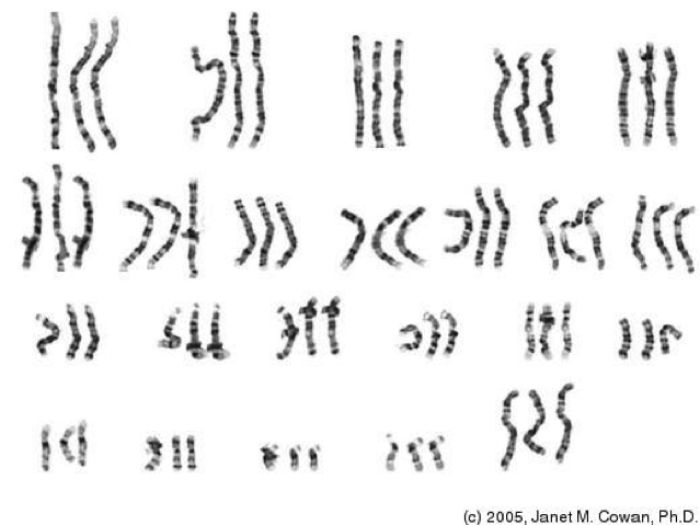 Figure 2. Human triploid chromosome set, but the concept is the same for the carp.
Management implications
So why would scientists create sterile fish? In order to have a management tool that will not have long-term ecological consequences. The silver and big head carp knocking on the door of the Great Lakes escaped from ponds down south, and have been migrating and reproducing their way up the Mississippi River ever since. However, with a sterile carp, we can stock them into a water body and know that their time in that particular system (or, should they escape, others) will be limited and thus there is no worry about a population explosion and long-term ecological disaster. Access to triploid grass carp means having a powerful tool to fight noxious plant growth in ponds, rivers, lakes, and reservoirs. In many cases, like here in Austin for hydrilla control, application of herbicides is not feasible or desirable, mechanical harvesting can be ineffective in too deep or shallow waters, and I am certainly not raking all those plants out. Like chemical application rates, scientists have worked out stocking rates for triploid grass carp in an effort to minimize overgrazing and competition for resources with fish low on the food chain. And fear not, grass carp are not known as being predatory, and our own observations of triploid grass carp stomachs from Lake Austin revealed a whole lot of plant material, but no fish bones (Fig. 3).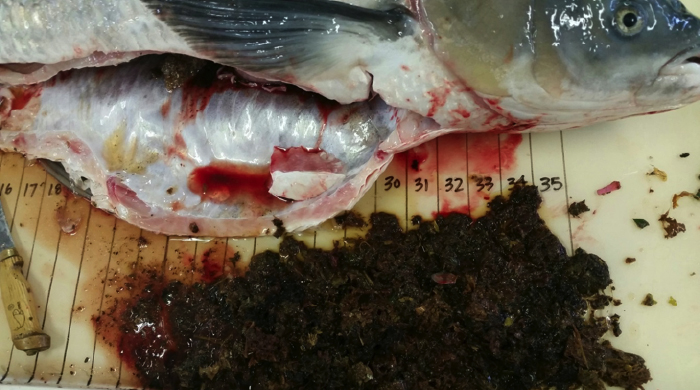 Figure 3. Gut contents of a Triploid Grass Carp from Lake Austin. A LOT of plant material and detritus. Photo by Brent Bellinger, Ph.D.
Further information
You may be thinking, "so where can I get some of these triploid carp"? Well, most states will require a stocking permit and only a few agencies and laboratories are certified for the sale of triploid grass carp. And because the triploid grass carp of Austin were bought and stocked, they cannot be kept (you will have to use that recipe on common carp only). If you would like more information, check out the Texas Parks and Wildlife webpage for some information about the carp, applications, and means of keeping your investment in the water body to do the job they were purchased for. www.tpwd.state.tx.us/landwater/water/habitats/private_water/gcarp.phtml
Links
www.austintexas.gov/hydrilla
www.austintexas.gov/department/austins-reservoir-resource