Can trees help rejuvenate a neighborhood?  In Dove Springs, the community is counting on it.
In November, residents and other volunteers planted trees throughout the neighborhood. Austin Community Trees (ACT) — a City of Austin program — delivered the trees and helped coordinate the plantings. In all, ACT distributed over 900 trees for homes, schools, churches, apartment complexes, and businesses. The trees were planted by the residents who "adopted" them, and the city assisted in planting over 300 of the trees.
Dove Springs residents have cited crime reduction and improving public health as two top priorities for their neighborhood. Interestingly, tree canopy is associated with both a decrease in neighborhood crime and improvements in public health.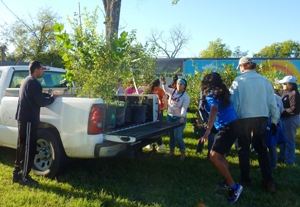 Strategically planted trees – and community stewardship of the urban forest – has correlated with lower crime in several studies from cities such as Baltimore, Philadelphia, and Chicago.
 "Our goal is to get as many trees out into the community as possible," said ACT Program Manager Margaret Valenti. Dove Springs was a good fit for the effort, she said as it has low tree canopy cover— around 20 percent—and residents were motivated and involved.
Austin Community Trees' mission is to reduce the urban heat island effect. Trees have many diverse benefits – which excited Dove Springs residents and community organizations that volunteered. The community is working hard to address the lack of healthy food options in the neighborhood. For example, residents requested fruit and nut trees that could provide food; ACT was able to respond by providing Pecan, Mexican Plum, and Pomegranate trees. Other trees included Cedar Elm, Mexican Sycamore, and Anacacho Orchid.  
"We're grateful for all the different types of volunteers that came out … people just show up, they love planting trees," Valenti said.  "There was one special community member … I couldn't have done this without her. She built relationships with the principals and parents at the schools, business, homeowner associations and churches. She didn't know what she was getting into – it was a lot of work!  But she stepped up and demonstrated her strong commitment to her neighborhood."
Beauty, Pride of Place & Safety
Improved canopy and tree cover can benefit neighborhoods in surprising ways. A 2012 Forest Service study  demonstrated that neighborhood tree planting programs corresponded to a 7 to 8 percent drop in gun assaults in Philadelphia. Other studies show similar encouraging findings. Trees provide shade and beauty, which make it more attractive to walk, but also a sense of community investment and pride of place – which may translate into less crime.
New York City's ambitious initiative, Million Trees NYC, has set a goal of planting and nurturing one million new trees across the City's five boroughs, within a decade. That will increase NYC's urban forest by 20%, providing an impressive list of community benefits. The first half million have already been planted. Public housing campuses are one focus for greening. Citing "growing evidence that trees help reduce air pollutants that can trigger asthma and other respiratory illnesses," the program targets areas where people have a high incidence of asthma, and where they can help to encourage physical activity. Ultimately, the program hopes to contribute to the long-term health and wellness of New Yorkers by mitigating the urban heat island effect and providing eco-system services.
Like the New York program, Austin Community Trees is a long-term effort to improve neighborhoods and reduce the heat island effect (which makes unshaded, built-up urban areas hotter, leading to the consumption of more energy for air conditioning). Starting in 2014 and going through 2016, ACT will be heading to North Austin neighborhoods, including Heritage Hills, Windsor Hills, Georgian Acres, NACA and North Lamar. These neighborhoods are part of the City's Restore Rundberg initiative, which seeks to address crime prevention through a number of strategies—soon to include the planting and community care of trees.
ACT is a partnership among neighborhoods, the Planning and Development Review Department, Parks and Recreation Department and Austin Energy. Check out the Austin Community Trees website to learn more.
Top Photo Credit: Margaret Valenti