TEMPO Project Installs Temporary Art Across Austin
Art in Public Places (AIPP), a program of the City of Austin's Cultural Arts Division of the Economic Development Department, is proud to announce the 10 artworks commissioned through the TEMPO 2015 temporary public art project. The artworks are now on display in local parks and City facilities. The community is invited to discover these artworks and attend special events throughout October and November. Visit austintexas.gov/TEMPO to see a map of the installations and more information about each artwork.
The TEMPO project launched in spring of 2015 with an open call to Austin-area artists to submit proposals for temporary artwork on City-owned sites. Ten proposals by eight individual artists and two artist teams were selected and will be installed for varying durations beginning in August 2015 and continuing through January 2016.
The selected artworks address a variety of themes –from Austin's senior community to local cultural history to environmental issues.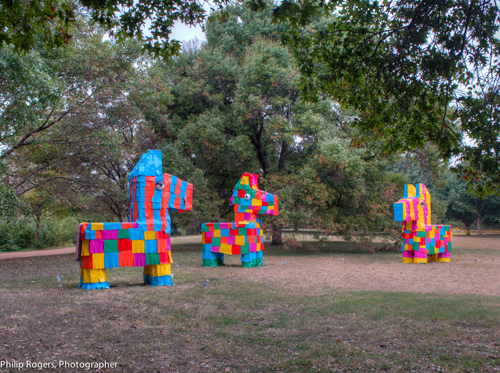 Artist David Goujon was inspired by the razing of the Jumpolin piñata store to create his sculpture Las Piñatas in District 3. Three, 10-foot- tall plywood and colored-paper piñatas burros now "graze" in Edward Rendon Sr. Park (at 1700 Nash Hernandez Sr. Road  and Chicon)and will be on view through November 22. Goujon says the sculptures note that "every act of creation begins as a form of destruction and every city will see the parts of itself die as it grows and expands."
Artist Annelize Machado took her inspiration from the Old Bakery & Emporium, a historic building located on Congress Avenue and 10th Street, and its mission "to celebrate the older adult as a gifted, contributing member of the community." Machado's short film Born and Bread features senior clients from the Old Bakery & Emporium as well as the South Austin Senior Center and Conley-Guerrero Senior Activity Center. The film will have its premiere screening on November 14 at the Old Bakery.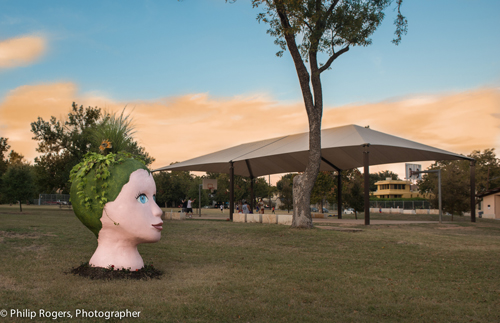 Several artists took inspiration from the natural world including Yareth Fernandez's Los Balcones in District 10's Bull Creek District Park– three bench-like sculptures that mimic the local limestone formations –and Yuliya Lanina's Earth Mother in District 9's Ramsey Park–a 6-foot-tall female head sculpted from recycled Styrofoam planted with native flowers and grasses. George Sabra's sculpture, KNOT, calls attention to climate change and fossil fuels as a major cause of global warming through the artist's choice of materials–20 reclaimed 55-gallon oil drum barrels, compressed and attached to form an 11-foot-tall steel knot. KNOT will be on display at the Grand Opening of Austin's Recycle & Reuse Drop-off Center on October 17.
All 10 artworks will be on view during October and November. Check the project website, www.austintexas.gov/ TEMPO, for more information about each artwork.
Upcoming Installations and Special Events:
Artist: Juan Deleon
Title: Omission
When: November 14 and 15
Where: Boggy Creek Greenbelt Park, 1114 Nile St.
Artist: George Sabra
Title: KNOT
When: October 12 to November 7
Where: Recycle & Reuse Drop-off Center, 2514 Business Center Dr.
Grand opening of Recycle & Reuse Drop-off Center on October 17, 10:00 am – noon, will include kids' crafts, a photo booth, live music, an art display, and booths from local businesses, nonprofits and City departments.
Artists: Melissa Borrell & Hanna Lupico
Title: Sky Lines
When: October 3 to December 20
Where: Boggy Creek Greenbelt Park, 1114 Nile St.Special performances of "Under the Overpass at Skylines" by Dance Waterloo and Cindertalk November 21 & 22 at 7:00 and 8:00 p.m.
Artist: Annelize Machado
Title: Born and Bread
When: November 14, November 21, December 5, and December 12
Where: The Old Bakery & Emporium, 1006 Congress Ave.
Each day will have six screenings of Machado's short film at 6:15; 6:45, 7:15, 7:45, 8:15, and 8:45 p.m.
Other Installations now on view:
Artist: Olivia Martin Moore
Title: Memorial
When: August 17 - January 18
Where: Convict Hill Quarry Park, 6511 Convict Hill Rd.
Artist: Yuliya Lanina
Title: Earth Mother
When: October 1 to November 31
Where: Ramsey Park, 4301 Rosedale Ave.
Artist: Yareth Fernandez
Title: Los Balcones
When: October 2 to January 8
Where: Bull Creek District Park, 6701 Lakewood Dr.
Artist: David Goujon
Title: Las Piñatas
When: October 12 to November 22
Where: Edward Rendon Sr. Park, 2101 Jesse E. Segovia St.
Artists: Jennifer Chenoweth &  Dorothy Johnson
Title: The Public Sentiment Campaign
When: October 12 to November 8
Where: Dove Springs Park, 5801 Ainez Dr.; Mabel Davis Park, 3427 Parker Ln; Montopolis Park, 1200 Montopolis Dr.
When: November 9 to December 6
Where: Brentwood Park, 6710 Arroyo Seco; Beverly S. Sheffield Park, 7000 Ardath St.; Gustavo "Gus" Garcia Park, 1101 E. Rundberg Ln.; Quail Creek Park, 1101 Mearns Meadow Blvd.
When: December 7 to January 4
Where: Pickfair Park, 10904 Pickfair Dr.; Schroeter Park, 11701 Big Trail; Great Hills Park, 10801 Sierra Oaks; Riata Park, 12401 Riata Trace
Artist: Ethan Azarian
Title: Migration
When: October 15 to January 7
Where: Rosewood-Zaragosa Neighborhood Center, 2800 Webberville Rd.