Tacodeli, Einstein Bros. Bagels Begins Construction, Three New Food Options Debuts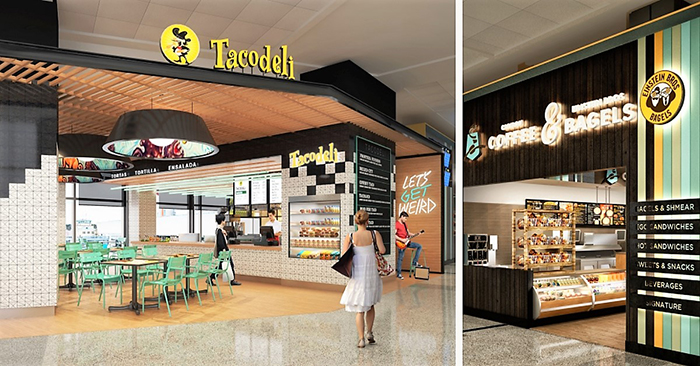 Tacodeli and Einstein Bros. Bagels will replace Austin Java and the Austin Chronicle between Gates 14-15.
Austin Java and Austin Chronicle now closed for the construction of a Tacodeli and Einstein Bros. Bagels between Gates 14-15. Hippies & Hops, Juiceland and The Peached Tortilla debuts in the East Food Court across from Gate 8. Steel fins installed to support glass Customs corridor in 9-gate expansion.
Tacodeli and Einstein Bros. Bagels construction begins
Construction has started on Tacodeli and Einstein Bros. Bagels at the Austin-Bergstrom International Airport. The new concession options will replace Austin Java and the Austin Chronicle between Gates 14-15, which closed on May 14.
A construction wall marks the start of transforming the space into a new 2,060 square foot Tacodeli and Einstein Bros. Bagels that includes a live music venue with performance stage.
Tacodeli opened in Austin in 1999 and brings Farm-to-Taco ingredients mixed with Austin's friendly vibes to inspire their food. The restaurant serves an array of chicken, pork, beef, vegetarian and breakfast tacos, soups, and salads. It is a favorite in the Austin community and adds to the local flavor of the Austin airport.
Einstein Bros. Bagels will provide fresh-baked bagels, specialty sandwiches, coffee, and an assortment of schmears to add to their bagels. Flavors of bagels include cinnamon sugar, mac & cheese, apple cinnamon and chocolate chip, and its variety of reduced-fat shmears include blueberry, honey almond, strawberry, and maple.
Construction is estimated to be complete in 2018, and Delaware North will operate the concessions. Temporary taco and coffee options will be available near the construction, just beyond Checkpoint 3, during the renovation.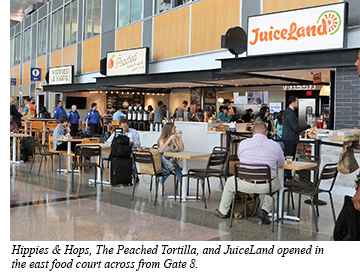 East Food Court openings offer three local food options, with more to come
Across from Gate 8 in the East Food Court, The Peached Tortilla featuring Southern comfort food with an Asian flair and JuiceLand with its array of fruit and vegetable beverages and vegan cuisine has joined the food and beverage scene at Austin's airport. Additionally, serving locally crafted beer as well as national brands and wine is the new Hippies & Hops bar. All three recently opened on May 8 and are operated by concessionaire Delaware North.
The Peached Tortilla, known for its Asian-Southern U.S. inspired dining options, features popular menu items including a rendition of chow fun (Southern Fun), Malaysian laksa, charred Brussels and pork belly buns. Started in Austin as a food truck in 2010, The Peached Tortilla now makes its airport debut.
JuiceLand offers a variety of fruit and vegetable smoothies, juices and cold-pressed juice bottles, juice shots, cleanses and hot drinks. The JuiceLand concept began in Austin in 2001, but the restaurant as it is known today officially began in 2011. The Austin original also serves plant-based and vegan grab & go meals, which include salads, wraps, and snacks.
The Hippies and Hops bar feature local beers from Live Oak Brewing Company as well as other nationally recognized beer brands and wine by the glass. Live Oak Brewing Company has been an Austin favorite since 1997. Known for its delicious lagers and ales, Live Oak employs old-world brewing styles.
At nearly 2,811 square feet, the East Food Court also includes Auntie Anne's Pretzel that will soon go under construction to transform into a 376 square foot MAD Greens. MAD Greens will feature numerous salad options, grain bowls, wraps, juices, and soups.
Adjacent to the East Food Court, behind construction walls, work continues for a 300 square foot Berry Austin Frozen Yogurt and a 1,230 square foot Departure Lounge. MAD Greens, Berry Austin and Departure Lounge will be  operated by concessionaire Paradies Lagardere.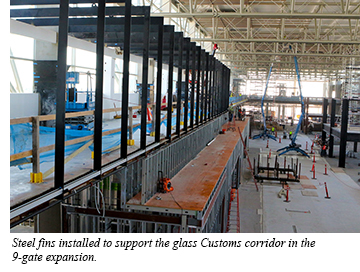 90 steel fins to support 9-gate expansion glass for Customs corridor
A design features of the new 9-gate terminal expansion at the Austin airport will be the upper level glass sterile corridor, that will take international arriving passengers to the U.S. Customs. The glass enclosed walkway, looking down onto the main terminal floor is nearly 600 feet in length, will utilize 90 steel fins to support the structual glass on the top and sides of the corridor. Each fin is 12 feet tall and 13 feet wide weighing 500 lbs. each.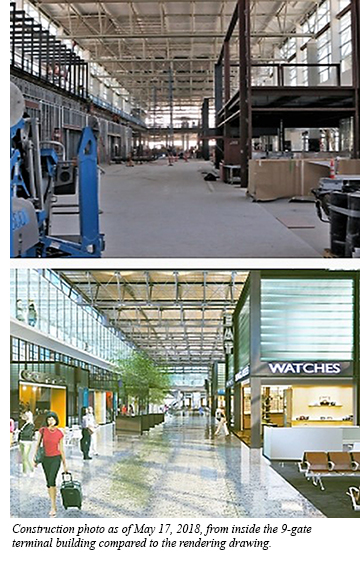 Third public workshop for master plan set for June 7
An open-house style program is planned for the third public workshop for the airport's 2040 Master Plan. The workshop will be held on Thursday, June 7 from 6-8 p.m., at 2716 Spirit of Texas Drive, Room 174A.
The workshop is geared to address the anticipated growth of passenger travel, emerging aviation technologies and address the airports needs for development. The master plan process is conducted to take input from residents, airport-related business, local and federal agencies and city planners.
More information can be found at www.abiamasterplan.com. Please email ABIAMasterPlan@makingthingsclear.com or call (512) 672-8721 with any questions you may have.
West Airside Gallery art exhibit space completed
Temporarily closed due to the construction and remodeling of Book People, the West Airside Gallery is now open. The gallery, 40 feet long and 8 feet high, is located behind Book People across from Gate 12. This exhibit space is part of the airport's Changing Exhibits program, which features a regular rotation of local artists, museums, and cultural organizations. 
Now on view in the West Airside Gallery is an art exhibit entitled "Austin's Hidden Gems," featuring paintings depicting the life and culture of Austin's east side, brought to the airport by Six Square: Austin's Black Cultural District and curated by long-time Austin resident Brian "Bydee" Joseph.