Sustainable Design Expert to Lead Colony Park
Farr Associates, a nationally recognized leader in sustainable development, will lead a visionary master plan for the Colony Park Sustainable Community Initiative. Community design workshops are scheduled to kick off in October!
---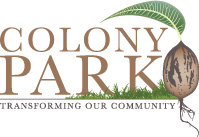 Urban Design Group, a local engineering firm, will serve as project manager. The Colony Park site is located on 208 acres of mostly undeveloped publicly-owned land in Northeast Austin. To learn more about the envisioned mixed-use, mixed-income community, and the master plan being funded through a $3 million federal Sustainable Communities Challenge Grant, visit www.colonyparkatx.org.
Colony Park will be planned to incorporate best practice strategies for compact-and-connected development, energy-efficient building design, water conservation, zero-waste technology and other sustainable elements of a highly livable, mixed-use, mixed-income community.
Chicago-based Farr Associates is led by Principal Doug Farr, the author of Sustainable Urbanism: Urban Design with Nature.  He serves as Vice Chair of the Board of the Congress for the New Urbanism, and he was a leader in developing LEED for Neighborhood Development (LEED-ND), a national sustainable certification program for district-scale projects.
Subscribe to the mailing list to get Colony Park updates and event notices.
Farr is an advocate for "High Performance Planning," rooted in evidence-based sustainability metrics – such as a measurable increase in healthful physical activity (walking, biking), affordable housing units, greenhouse gas reductions through avoided driving and energy-related emissions, etc.
About The Project
The Colony Park project will adhere to six cross-cutting "livability principles" which are closely aligned with the principles of Imagine Austin and the Austin Strategic Mobility Plan:
Provide more transportation choices
Promote equitable, affordable housing
Enhance economic competitiveness
Support existing communities
Coordinate policies and leverage investment
Value communities and neighborhoods
These Livability Principles were established by the U.S. Partnership for Sustainable Communities, which provided the funding for the master plan.
In addition to a Master Plan, the Colony Park project will develop architectural design guidelines for new sustainable residential and commercial development; engineering for subdivision and site planning; and infrastructure construction plans. The consultant team will work with surrounding neighborhood residents, city departments, and other partners to develop the master plan by the end of 2014.  That process will lay the groundwork for realizing the plan, going forward.
About The Team
The team is led by Farr Associates and Urban Design Group. Farr Associates has worked on similar projects to stimulate residential and commercial revitalization -- with an emphasis on compact-and-connected development patterns, community building, energy-efficiency and other sustainable features.
Urban Design Group has provided civil engineering and planning for the Airport Boulevard Corridor Study, East Seventh Street corridor improvements, East 11th and 12th Street redevelopment and the Waller Creek District Master Plan.
For more information, contact Zachary Stern, at the City's Neighborhood Housing and Community Development department, (512) 974-3155 or zach.stern@austintexas.gov