The South Austin Combined Neighborhood Plan
The South Austin Combined Neighborhood Plan (SACNP) process invites diverse interests represented within the neighborhood planning area to come together for the purpose of developing a shared vision. The planning area is bounded by Ben White on the north, South 1st on the east, William Cannon on the south, and the Sunset Valley city limits on the west.
The SACNP is the first neighborhood plan to be developed following the adoption of the Imagine Austin Comprehensive Plan (Imagine Austin). This neighborhood plan will provide a finer-grained vision and neighborhood-scale goals that complement the broader citywide vision established by Imagine Austin. Once adopted by City Council, the SACNP will be attached to Imagine Austin in the same manner as previously adopted neighborhood plans and will have the same status as those plans.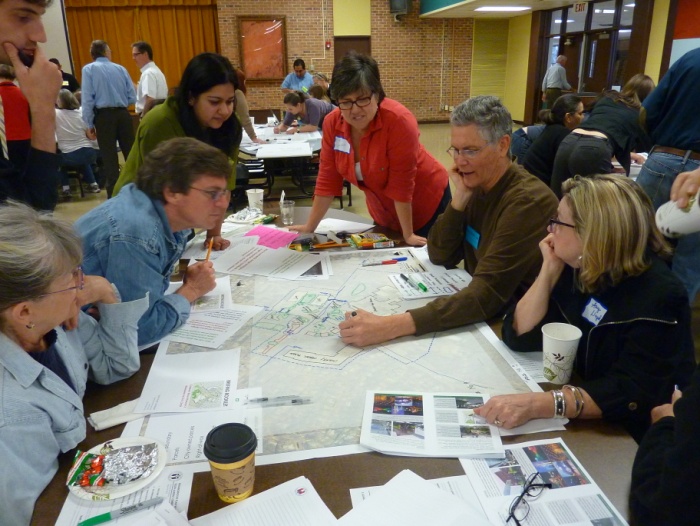 Through a series of public workshops that were started in January 2013, and will continue through the end of 2013, neighborhood participants are identifying design guidelines, land use regulations, and other desired policies, actions, and capital improvements for the planning area.
This neighborhood planning process has so far focused on the desired physical design and form of the planning area. At the Kickoff Meeting, held on January 12, 2013, over 130 participants identified aspects of the neighborhood that they view as assets, issues and opportunities, and worked with various city departments to identify capital improvements projects throughout the planning area.
At the Visioning Workshop, held on February 16, 2013, over 130 participants took a picture straw poll that identified preferred building forms in several character districts in the neighborhood.
On March 23, 2013, the Community Design Workshop asked the nearly 90 participants to work with design professionals to create a future illustrative vision for the Civic Center, which encompasses the area around the Manchaca Rd and Stassney Rd intersection.
Starting in Summer 2013, the planning process will focus on policies related to each of the Imagine Austin Building Blocks: Land Use and Transportation; Housing and Neighborhoods; Conservation and Environment; City Facilities and Services; Economy, Society and Creativity.
The SACNP neighborhood Plan was adopted on 11/6/2014 and can be viewed here.