Ryan Long joined the Austin Film Society in November 2010 as Manager of Programs & Operations where he oversees the day to day management of Austin Studios and various film programming initiatives. He received a degree in Radio-Television-Film from the University of Texas-Austin and worked on film projects in Los Angeles and New York City before returning to the Austin film community. He is the co-founder of the Texas Independent Film Network, a statewide circuit for screening independent films, and the director of the local micro-cinema Screen Door Film.
The Cultural Arts Division's Creative Industries Development Manager, Jim Butler, interviewed Long for this blog.
Jim Butler: What are the main goals of the Austin Film Society and Austin Studios?
Ryan Long:  The Austin Film Society was founded by director Richard Linklater in 1985, and is a non-profit organization that promotes the appreciation of film and supports creative media production by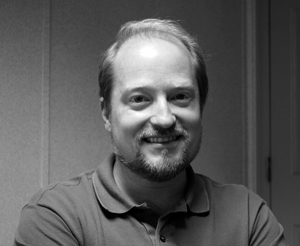 Showing great films and premieres
Managing Austin Studios, a 20-acre production facility in central Austin
Awarding grants through the Texas Filmmakers' Production Fund, and supporting emerging filmmakers through fiscal sponsorship, works-in-progress and networking programs
Teaching kids & adults about filmmaking
Presenting the annual Texas Film Hall of Fame awards to raise funds and awareness for all the above
JB: What reasons do you give to people about why they should be making their films and television shows in Austin?
RL: Austin is fortunate to have all the ingredients that make the city a top destination for film and TV production: 1) many different types of locations nearby, 2) professional crews, 3) top facilities like Austin Studios and Spiderwood Studios, 4) necessary support services like casting, camera rentals, and vehicle rentals, 5) a state-sponsored film incentive program, and 6) the city of Austin itself, which has been attracting creative, talented people for decades.
JB: What could be done to make Austin a better place for making films and television shows?
RL: The City of Austin is a great friend to film and TV production by allowing the Austin Film Society to lease the property that Austin Studios sits on for just $100 per year. With the addition of the National Guard Armory to Austin Studios, our available space to shoot film and television will dramatically increase, along with additional office space for creative small businesses. The City also makes the permitting process easy for film productions that want to shoot on City property. Further, the City provides a Film Discount Card to save film production additional money. This is at the state level, but the Texas Moving Image Industry Incentive needs to be enhanced to become more on par with neighboring states. The City of Austin could add this to its legislative agenda, and could look at giving productions cash incentives to the extent possible.
Photo courtesy of Ryan Long