Restrooms in 9-gate expansion include accessible features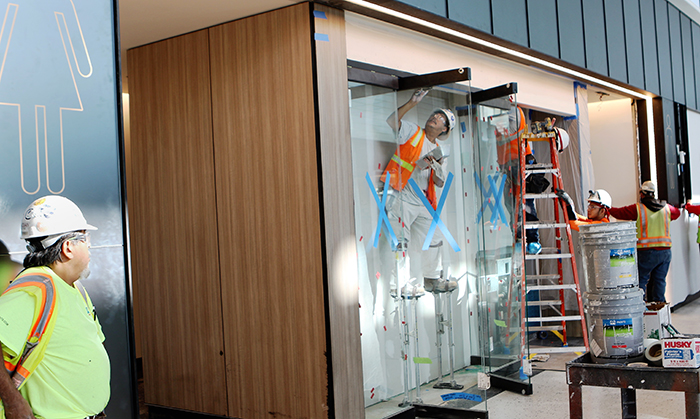 Construction crew working and putting the final changes on the art cases located in front of the women's restroom in the 9-gate expansion at the Austin airport.
There are restrooms for travelers with varying needs under construction in the 9-gate terminal expansion at the Austin airport. The restrooms under construction include dedicated wheelchair accessible compartments, a mother's lounge, family restrooms including a companion and ambulatory care room with operable changing tables, commode and sink, and a pet relief room for Fido.
Restroom amenities for passengers, kids, and pets in terminal expansion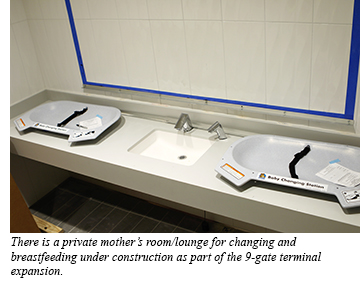 The varying needs of passengers and travelers went into the design and plans for the restrooms in the 9-gate terminal expansion at the Austin airport.
All of the stalls in the main restrooms are private compartments with 15 located in the men's and 26 in the women's restroom. Each stall starts at 6-inches from the floor and closes off the entire compartment to the ceiling. Each stall also has commercial ADA handles with indicators showing either in-use or vacant when unoccupied.  
Along with handwashing sinks that are basin style, there is a dedicated sink in each restroom that is placed at a lower height for kids and other travelers to use.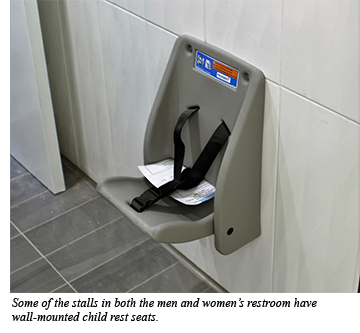 Both the men and women's restrooms have baby changing stations. Inside the stalls, there are seven textured wall-mounted child rest seats with safety straps that offer a convenient place for a child to sit, while parents use the facilities or tend to an accompanying sibling. The fold-down seats are made of polyethylene that exclusively contains Microban anti-microbial, reducing odor-causing bacteria. Constructed with 31 percent-recycled materials, this contributes to the LEED-certified building requirements.
Along with the main restrooms being wheelchair accessible, there are three dedicated ambulatory accessible toilet compartments in the men's restroom and five in the women's.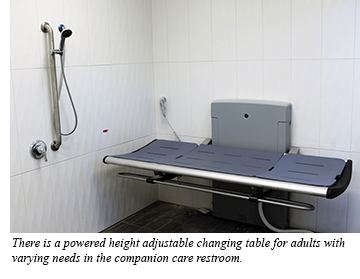 The expansion includes a companion care restroom with a powered height adjustable changing table for adults with disabilities or passengers with special needs and a motorized ceiling hoist/lift transfer system. The 137 square foot companion care restroom with operable commode also has a shower/wash feature along with an adjustable height sink.
Along with the companion care restroom, there are two private mother's room/lounge for breastfeeding along with two dedicated family restrooms that are wheelchair accessible. On the exterior east terrace patio, there is also an accessible restroom.
All of the commodes, urinals, and sink faucets are low-flow fixtures and have sensors to reduce and conserve water consumption. The building's exterior walls in the restroom are made of etched privacy glass to allow more natural light, to brighten the restrooms. Energy efficient indirect LED lighting creates a softer glow in the restrooms.
For pet lovers, the furry traveling family member was not forgotten. There is a 100 square foot private pet and animal relief/restroom located in the new expansion. The pet relief stall has simulated grass with a flow-through backing to provide an anti-microbial environment, with a fire hydrant. This is set in a curbed area with a hose, along with a handwashing sink and a special drinking fountain in the room.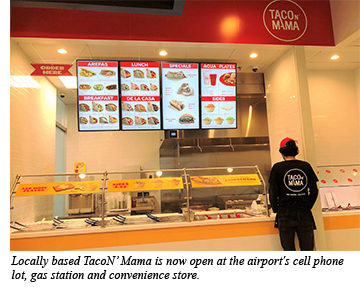 TacoN' Mama, Subway Opens at Cell Phone Lot
TacoN' Mama and Subway restaurant, as part of the free Cell Phone Lot, Texaco gas station and convenience store at the Austin airport, is now open. The 1,480 square foot dual operation is located at 2901 Spirit of Texas Drive.
Locally based TacoN' Mama offers a menu of breakfast tacos, including scrambled eggs with fried tortillas and their popular campechano, barbacoa, cochinita pibil, and freshly made tortillas with a variety of salsas and toppings.  They will also offer their signature Horchata and Jamaica flavored Aguas Frescas.
The Subway offers the franchise's traditional submarine sandwiches and salads that are made-to-order in front of the customer. The bread is baked inside the restaurant throughout the day.
Currently under construction at the Cell Phone Lot is an Austin Java coffee, another local favorite, with a drive-thru that is estimated to be completed in spring 2019.