Reimagining the Environment—Art with a Purpose

Local artist Calder Kamin is all about taking care of the environment. With a deep love of nature and its diversity, Calder is using her artwork to question the impact humans have on the environment. Lately, her art has been focused around the prevalence of plastic.
"It's a real concern and when we talk about environmental issues. I think people are cautious or will want to ignore it because it's not fun to talk about. It feels like something bigger than us," said Kamin.
Her latest project, gallery exhibition 'Plastic Planet', is poised to encourage discussion about the rapid changes the environment has undergone due to human production.  A whimsical menagerie of colorful animals crafted entirely of plastic bags, playfully entices viewers while their physical appearance suggests a more ominous reality.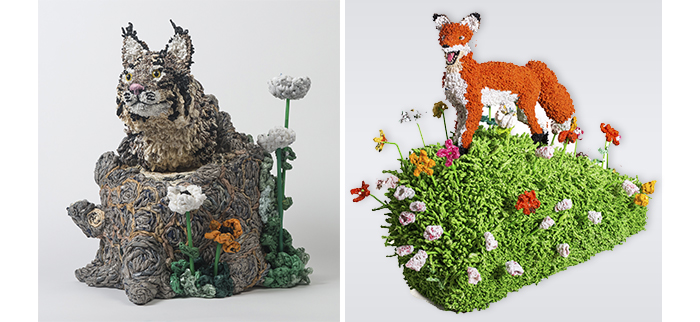 Each animal was made from single-use plastic shopping bags that Calder collected from friends, family and her social media followers. She cut the bags into strips and hand twisted them until they resembled fur and grass. 
"I grew up in Austin and I have always been an artist. Animals have always been the main characters and the main focus of my artwork. Mostly, I wanted to replicate animals because I was completely enchanted by the natural kingdom," recalled Kamin.  
An interesting encounter with birds gave Calder inspiration on how she could make animals more explicit in her artwork. Her grandfather was an avid birder and got her interested in watching birds. After receiving a bird feeder on her birthday, Calder started observing animals and began to understand nature in a different way.
She saw the birds collecting trash and making nests completely out of materials like plastic bags, string, small pieces of cardboard and anything else they could carry in their beaks from garbage near her house.
"Plastic has been in the environment for over 50 years and humans are still trying to figure out better ways to use this non-biodegradable material. Meanwhile, we continue to add more of it to the environment and here were birds adapting and making it into their architecture," said Kamin.
Since plastic is a fairly new development, the long-term effects of this material are not fully known, however, scientific studies have found BPA and other chemicals used in the production of plastic have long-lasting detrimental effects on the environment and humans.
Scientists estimate that it could take anywhere from 100 to 1000 years for a single plastic bottle to fully break down although estimates vary since plastic is a fairly new development according to Health News Digest. Plastic will never fully decompose back into the environment as polyethylene is not biodegradable. Instead, radiation from sunlight causes the plastic to break down into smaller granules. These small granules are then dispersed into the environment where they can be ingested by animals and humans through our food and water sources according to a study published by the Royal Society.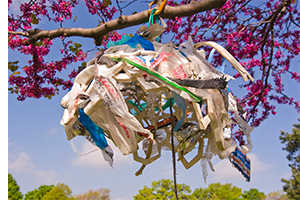 Learning more about plastic pollutants encouraged Kamin to work with the birds to help people learn about the detrimental effects of plastic in the environment. Her observations inspired one of her first artworks comprised entirely of recycled materials–Synanthrope Stations. These stations (pictured right) are modeled to serve as supply posts for birds to collect materials without having to travel very far.
Kamin's focus now is asking how her art might be easily enjoyed, understood and appreciated by children. Ultimately, she aims to reach wide appeal amongst adults and children, using her fun and colorful art as a way to foster an ongoing discussion on environmental issues.
"Beautiful sculptures can be made from reusing discarded materials. Artists just need to be given opportunities to do that," said Kamin.
The opening reception for Kamin's art is Oct. 1, 7 p.m. to 9 p.m. at Women & Their Work. Guests can stop by during business hours and view the exhibition through November 10.
A recent study found that 80 percent of the materials in Austin landfills could have been reused, recycled or donated. Artists can find reusable items for art at the following City resources:
| | |
| --- | --- |
|       | Visit the Shop Zero directory for a variety of stores that sell reused items, art supplies and school supplies at low costs. |
| | |
| --- | --- |
| | LocallyAustin.org offers a list of more than 100 local [re]Made, [re]Pair and [re]Share businesses. Buying locally made gifts from Austin merchants also cuts carbon emissions from shipping and keeps money in the Austin economy. |