Progress, controversy shared stage at hospital 100 years ago
A century ago, on June 13, 1912, The Austin City Council suspended business to allow Councilman Hart to present a communication. In his statement, Hart recounted his involvement in the controversial firing of the City Hospital's Head Nurse and Matron.
Top: City / County Hospital as it appeared at the turn of the century. / Bottom: Congress Avenue in the early 1900s.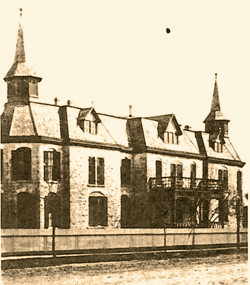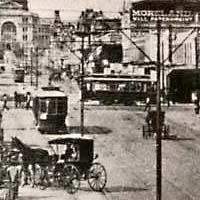 "…the friction between the two Ladies being so obvious and continuous that it became apparent that the Hospital could not prosper as it should under such conditions," Hart said as part of a lengthy explanation of the controversy that arose.
Despite the public affairs hiccup, the City Hospital (now called Brackenridge Hospital) was prospering in 1912. About a month earlier, on April 30, 1912, Dr. Robert John Brackenridge had led a successful campaign to pass a $50,000 bond that would build a new hospital to replace the old stone one, according to a typed history of the hospital available at the Austin History Center.
Construction would not begin until 1913, so that year was the last for the Queen Anne-style stone building with bays, pinnacles and a surrounding picket fence. The two-story structure housed a maximum of 40 beds, the document says.
By 1915, a red brick building had opened and was called "Brackenridge's hospital".
In his comments on June 13, Hart made a prediction for the future:
"The City Hospital was never in as good condition as it is at the present, and under the re-organization contemplated and now in progress it will continue to improve and become an object of pride and comfort and pleasure to our citizens."
**Photos are available for purchase from the Austin History Center.