Parking Garage to Run on Solar Power, Airport Career and Development Center Under Construction, Austin Java Drive-Thru Opens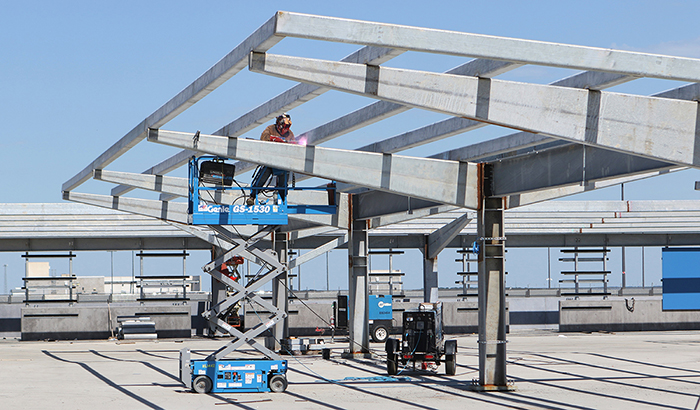 Providing power and to top-off, the new Blue Garage currently under construction at the Austin airport will be 8,100 frameless solar modules. Renovations to create the new Airport Employment Center has started and Austin Java opens a drive-thru at the Cell Phone Lot.   
Solar Panels to Top-Off, Power New Parking Garage
In partnership with Austin Energy, the Austin airport will cover the entire roof of the six-story Blue Garage with 8,100 frameless solar modules, with 80 inverters. The length of the garage is the size of three football fields and was originally designed to have almost  one-third of the canopies covered with solar modules. The solar modules will provide shade for roughly 1,000 parking spaces. 
In collaboration with Austin Energy, the Austin airport will cover the garage roof canopies with solar panels and the collected solar energy will be used to support city of Austin residents as a community solar project. The estimated amount of solar energy that it will generate is over 3.2 million KWH annually.
Currently, Levels 1-3 are open in the Blue Garage and a construction camera is stationed at the site to view the 6,000 parking space building. To view photos (updated every 30 minutes) and watch the time-lapse video of the new garage visit: http://workzonecam.com/projects/austincommercial1
Renovations to Create Airport Career and Development  Center Begins
The former Learning and Resource Center building, located at 2800 Spirit of Texas Drive is currently under construction to be converted into the new Airport Career and  Development Center. The Airport Career and Development Center will consolidate job openings at the airport, centralize the application process and host employee training. The center's function is to support jobs at the airport including positions in the Department of Aviation, airlines, concessionaires and other aviation job support services and providers.
The 21,300 square foot steel frame building will also have offices for the employment and talent acquisition staff, a records room, interview rooms, conference and meeting rooms, a job board, testing center, and application stations.
The building makeover for the new Airport Career and Development Center, estimated to be completed in fall 2019, will feature more open spaces, bigger windows, a patio area, new trellis, canopies and sunshade fins, and a reception desk.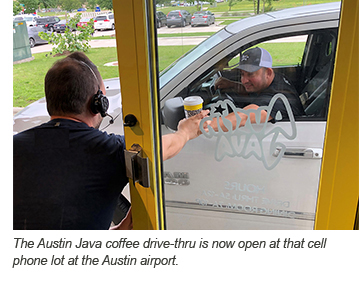 Austin Java Opens at Cell Phone Lot with Drive-Thru, Full-Service Bar
Austin Java, a coffee drive-thru, full-service bar, and restaurant, as part of the free Cell Phone Lot, Texaco gas station and convenience store at the Austin airport, is now open. The 2,796 square foot operation is located at 2901 Spirit of Texas Drive and is open seven days a week from 5 a.m. to midnight.
Locally based Austin Java offers a menu of signature coffees such as Honey Nut Latte and White Chocolate Macadamia Nut Latte, expresso-based frappes, nitro cold brew, and tea.  For breakfast, Austin Java offers omlettes, benedicts, pancakes, chicken and waffles and more. The lunch and dinner menu includes freshly made salads, fruit bowls, soups and sandwiches including a wrap, burger, smoked brisket sandwich, and a grilled chicken B.L.T.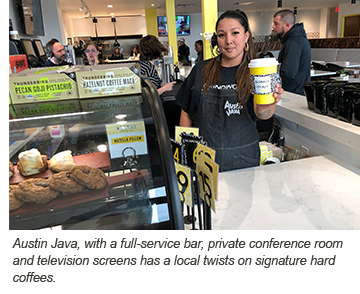 As a place to meet and greet for passengers before and after a flight, and for friends and family to visit while waiting in the cell phone lot at the Austin airport, Austin Java has a local twist on its hard coffee signature menu to include:
Austin Express – Espresso, bourbon and honey
Delayed Delight – Espresso, Grand Marnier, honey, and condensed sweet milk
Giddy Up & Go – Ginger syrup, a sugar cube and your choice of espresso, chai or matcha.
Along with seating for 98 customers, and twice daily Happy Hours, Monday – Fridays from 2-4 p.m. and 8-10 p.m., Austin Java also has a private conference room with a video screen and connections for business meetings.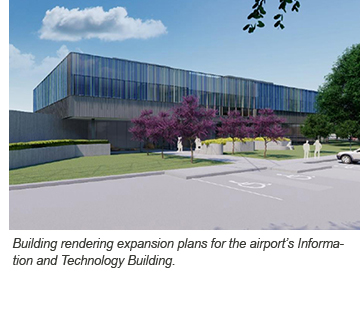 Expansion of Airport Information Technology Building Planned
To accommodate and continue the support of the Department of Aviation's connectivity and technology development, the Austin airport is expanding and renovating the existing Information Technology building on campus.
The existing single-story 10,000 square foot IT building was built in 1952. With the demand and growth for Data Center need, IT lab and staff meeting space, communication operations and more office and network equipment space, the new two-story facility will triple the size of the existing IT building. The new building, with 40,124 square feet of total space to be renovated and constructed, is designed to meet the physical security protection requirements to safeguard equipment from non-natural and weather hazards.
Construction is estimated to begin in fall of 2019 and be completed by the end of 2020 and is aimed for LEED Silver certification from the United States Green Building Council.