PARK(ing) Day 2014 – Rethink your City
This past Friday, September 19th, four urban parklets located between 3rd and 5th Streets on Congress Avenue popped up in celebration of PARK(ing) Day. This year the parklets were sponsored by the Imagine Austin Comprehensive Plan, Congress for the New Urbanism of Central Texas (CNU), and Zipcar with Movability Austin. PARK(ing) Day is an annual worldwide event where artists, designers, and citizens transform metered parking spots into temporary public parks. The mission of PARK(ing) Day is to call attention to the need for more urban open space, to generate critical debate around how public space is created and allocated, raise awareness in cities about the lack of community-geared public space, and to improve the quality of urban human habitat. The event supports Austin's Complete Streets Policy to make roadways safe and accommodating for all users and to incorporate green infrastructure.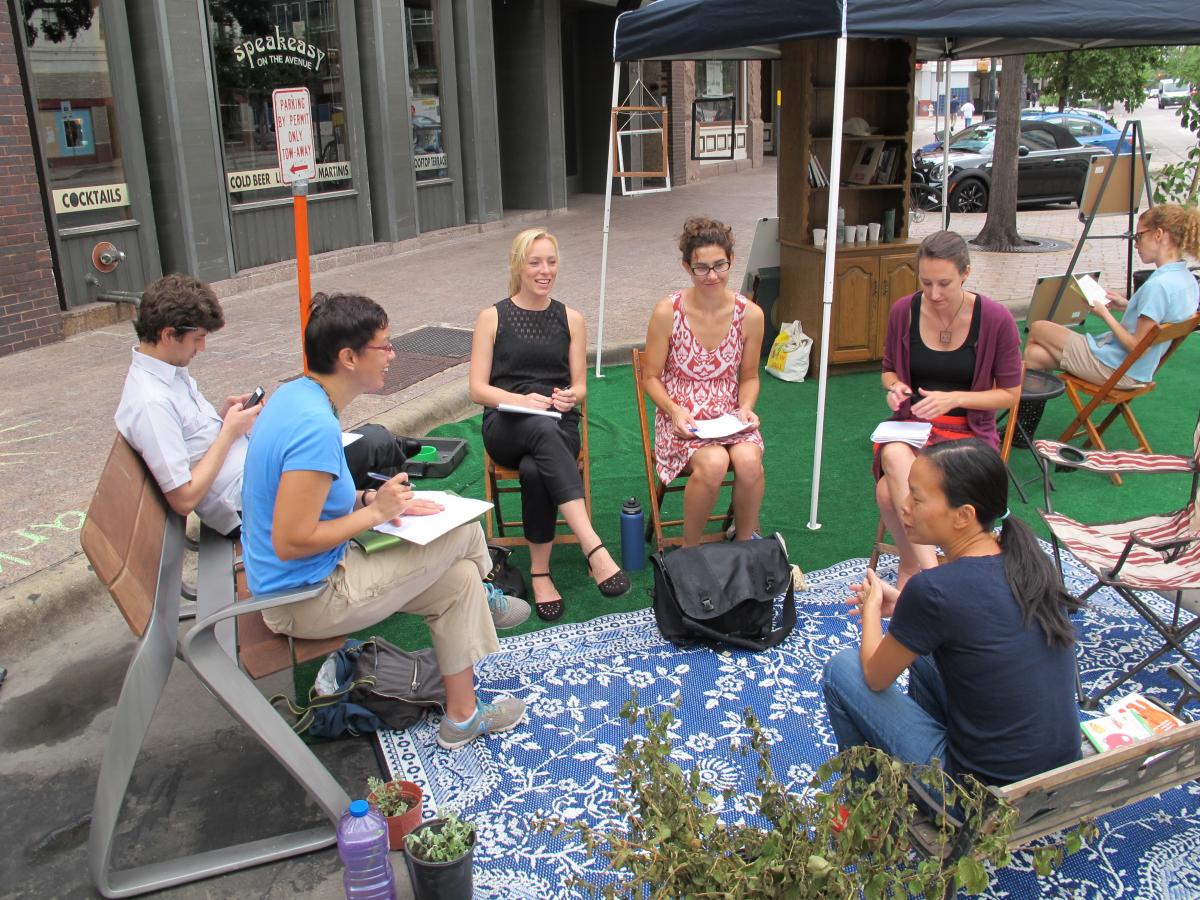 Imagine Austin collaborated with City of Austin departments to launch PARK(ing) Day as a pilot project. City Departments worked together to convert two parking spots into a people-friendly small park (or "parklet") at 410 Congress Ave. The Parks and Recreation Department provided Mexican Oak Trees and potted plants from the Urban Forestry and Sustainable Urban Agriculture and Community Gardens Programs. The parklet included a book swap with materials purchased from Recycled Reads, Austin Public Library card sign-up, and a pop-up station to check-out audiobooks and stream free music and movies from the Virtual Library (http://library.austintexas.gov/virtual). Visitors also had the opportunity to contribute to public art, play games, talk to a friend, learn about the City of Austin's Complete Streets policy, read a book, or think clearly while sitting under shady trees.
Down the street, Congress for the New Urbanism of Central Texas, a group that advocates for more walkable and complete communities, hosted two more parklets. Two pairs of parking spaces on Congress Ave were "adopted" by means of a Parking Permit for the day. In front of Patagonia, on the west side of Congress, one parklet offered an oasis in the city, surrounded by bamboo, providing a Zen seating area, small library, and space for thoughtful exchange. This included a Map Exchange Booth run by the local cartographic collective, Austin's Atlas. A second parklet, in front of Annie's Café on the east side of Congress, showcased Austin's whimsy – games, performers, up cycled furniture, and an interactive art board. These parklets asked community "What is your favorite park memory?" and "What is your favorite parking memory?"
Zipcar initiated the repurposing of two of their parking spots as a place for people to relax and refuel. Zipcar partnered up with Movability Austin, a Transportation Management Association focused on helping employers and employees address the frustrations, costs and health/safely issues facing Austin commuters every day, to create a temporary public park. Every month Movability Austin celebrates alternative commuters with a free breakfast on the streets of downtown and this month they located their Pop Up Breakfast at the Zipcar parklet. Anyone who walks, bikes, carpools, vanpools, carshares, buses, or rides rail to work is welcome for the Commuter Pop Up Breakfast. Zipcar cites that each of its vehicles takes 15 individually owned vehicles off the road, allowing more space for urban parks.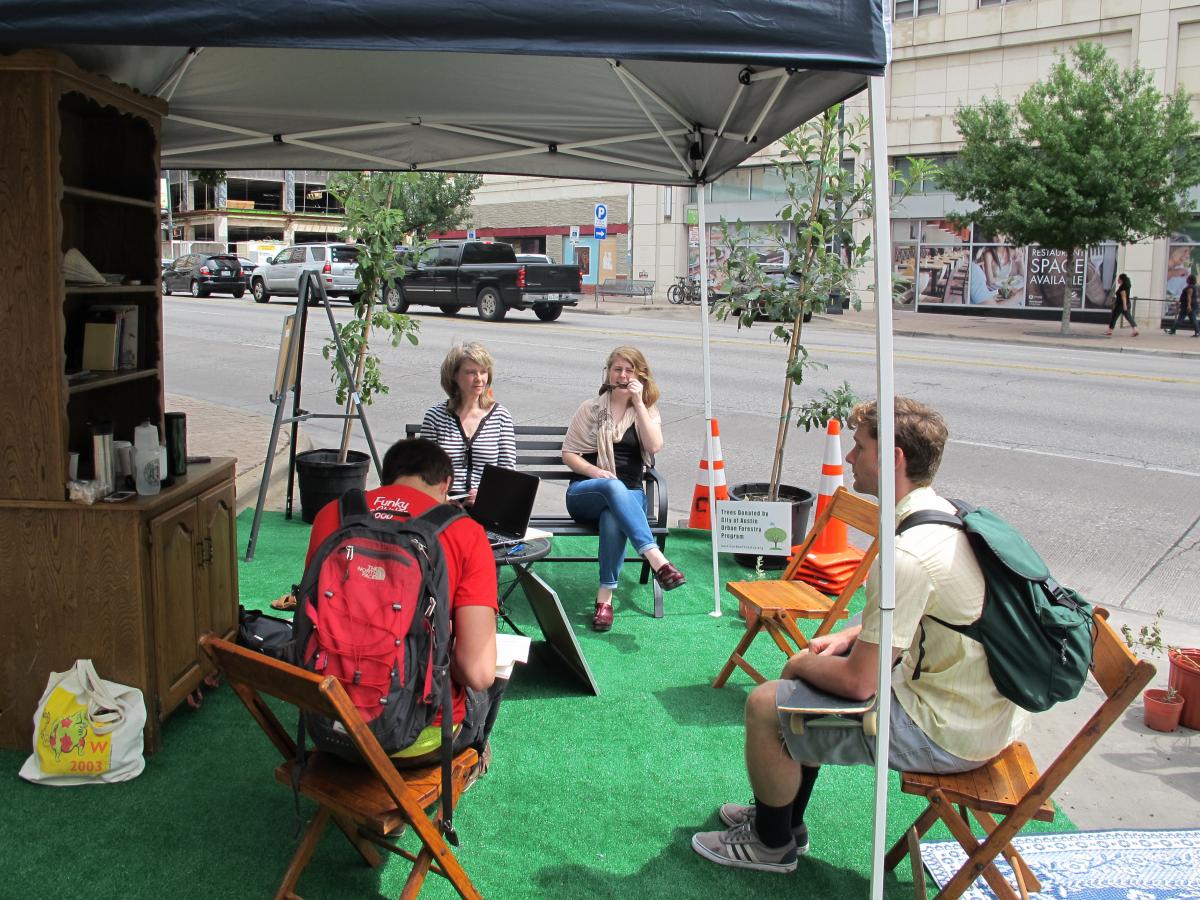 Downtown Austin is comprised of more than 1,050 acres, the streets add up to 34.5% of downtown and parks and open space only consist of 12.3% of the entire area. In any city, the places between buildings need to be designed for people; well-designed, people-friendly places can beautify our city. A typical metered parking space downtown Austin will serve around 6 vehicles a day, while a parklet can serve hundreds who desire safe, attractive and welcoming public space. PARK(ing) Day helps to demonstrate facets of Austin's Complete Street's Policy; maintain and increase Austin's urban forest as a key component of green infrastructure network; integrate public buildings and facilities into active, walkable, complete, healthy communities; encourage new or existing art forms, and expand the city's green infrastructure network.