Overweight and Hungry?: Food Insecurity and Obesity in Travis County
Discussing food in terms of food security or insecurity was relatively unknown before the 1970s, and wasn't typically used to describe a family's socioeconomic situation in the United States. Images of swollen bellies on severely malnourished children and babies in Africa were more commonplace in the 80s, but concern about malnourishment was rarely related to the United States, the world's hegemon, provider of millions of dollars in aid to countries with severe food insecurity. However, the truth is that food insecurity and malnourishment have existed here in Travis County and have continued to worsen in the three decades since the term was first defined.
---
Food security means that all people at all times have access to enough food for a healthy, active life (USDA). Seems easy enough, right? We all have access to enough food at all times, right? Unfortunately the answer to those questions is no, especially for the growing low income population. These days we're surrounded by fast food restaurants, convenience stores, food trailers, and all kinds of places where we can get food at almost any time we choose.  However, such places may not all offer the kinds of nutritious food we need to fulfill a "healthy, active life".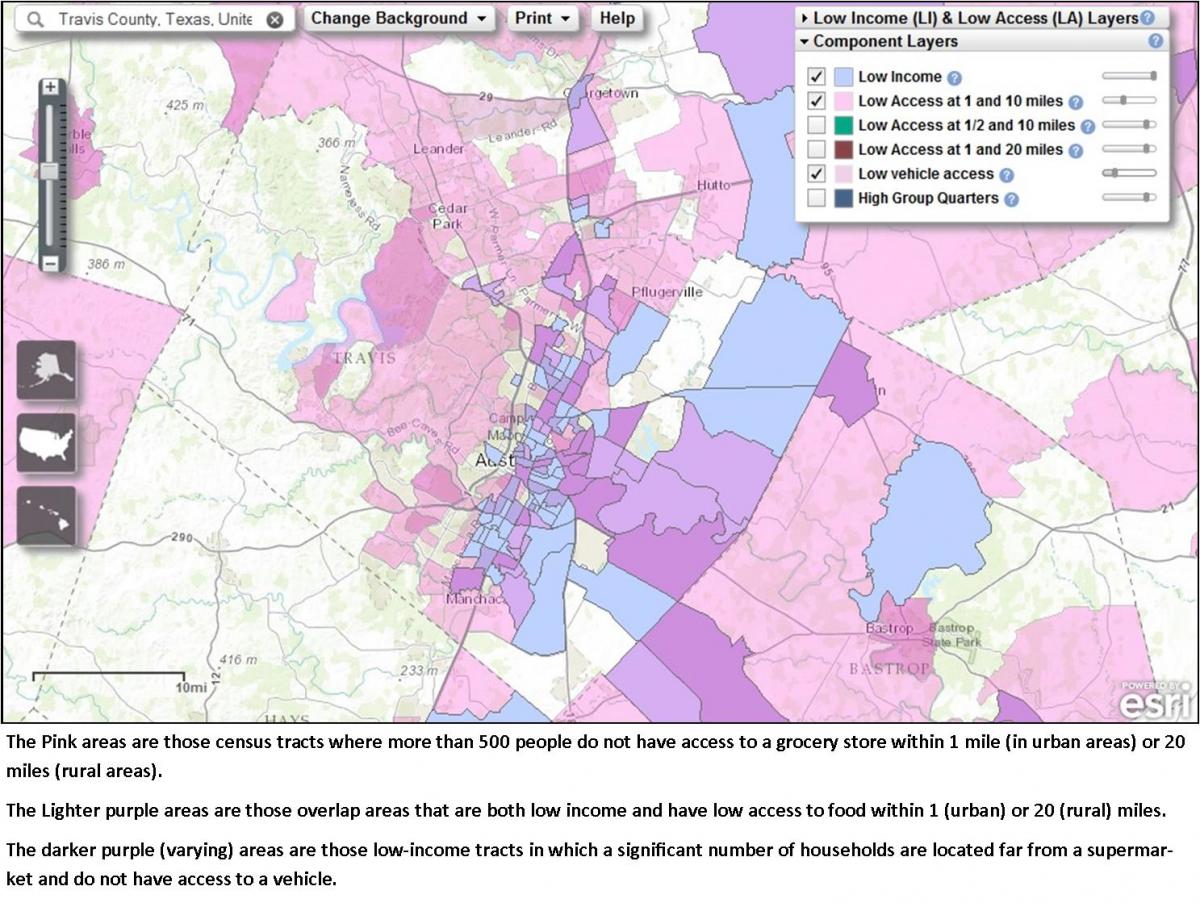 Those who live where there is a shortage of fresh, healthy, and affordable food live in a 'food desert', which are found mostly in urban neighborhoods and rural towns.  Instead of full service grocery stores, these areas have no access to food or only have fast food and convenience stores in their vicinity, where fresh and affordable food is rarely found. For these folks, the term food insecurity applies, defined by the USDA as the "limited or uncertain availability of nutritionally adequate and safe foods or limited or uncertain ability to acquire acceptable foods."
While you may not think you fit into these descriptions, according to the USDA and the 2010 Census, more than 38% of the urban (city setting, like Austin, or Pflugerville) population of Travis County is considered food insecure, having low access to fresh, healthy and affordable food.  Nineteen percent of children under 17, 5% of seniors (over 65) and 10% of the urban low income population are food insecure. 
The implications of these statistics are that our waistlines are growing, our health is deteriorating, our physical activity is low and we're making poor choices when it comes to food. One of the biggest concerns and ironies surrounding food insecurity is the effect it has around our waists. It's not uncommon for food insecure people to also be overweight or obese.  Twenty four percent of Travis County residents are obese, and of the 19 AISD Middle Schools studied in 2011 by Children's Optimal Health, 13 had obesity rates over the target percentage of 15% for the student population.  You may wonder how someone who doesn't have a sufficient level of access to food can be overweight. Turns out, it's the 'access to food' that matters the most.
The location and distance from one person's home to a full service grocery store, where they can obtain fresh produce, fruits, meats, and dairy products, defines their 'access to food'.  Five zip codes in Travis County do not have a full service grocery store located within the area boundary, although one of those five does have one immediately outside. However, they do have a few fast food restaurants, convenience stores, 'grocery marts', and other quick & easy locations to purchase food.  If you've ever gone to a typical convenience store they usually offer food; energy-dense foods like frozen pizzas, ice cream, bologna, milk, hot dogs, and a host of hot food plucked off a rotating hot rod. It's not exactly fresh, healthy or even affordable. Fast food restaurants have a similar problem in that one meal may contain close to the daily recommended caloric allowance.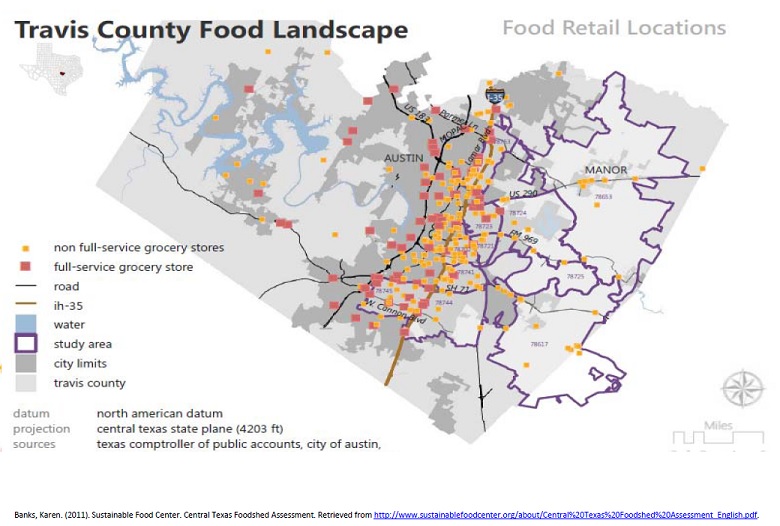 The majority of full service grocery stores are located close to I-35 and in abundance in the Western part of the county, as the image to the left indicates. By contrast, the low-income populations and zip codes where food insecurity is the highest are in the Eastern crescent of the county, where it is often a very long distance to the nearest grocery store and people may or may not have access to a vehicle. If a car is not available, people must rely on public transit to get to a full service grocery store, which is not always a convenient or feasible option.
When faced with the obstacles of travel time and cost, perhaps you can see how easy it is to choose the convenience of fast food or grocery marts.  An unfortunate by-product of our food landscape is that the number of low-income individuals who are overweight or obese is growing.  A 2010 study showed that wages were inversely related to BMI and obesity in a nationally representative sample of more than 6,000 adults – meaning, those with low wages were more likely to have a high BMI or be obese (Kim & Leigh, 2010). Our food systems are failing, and without intervention, our future looks lethargic, overweight, and nutritionally challenged.
 
There are a number of organizations working towards a solution, both nationally and here at home in Travis County: