For our future, parks that sit pretty aren't enough
John Alschuler of HR&A, an economic consulting firm based in New York City, recently came to Austin to talk parks.  His passionate message:  City parks today and in the century ahead can deliver the best return on investment to the public, in every sense, when they're designed as active spaces that serve lots of people living densely.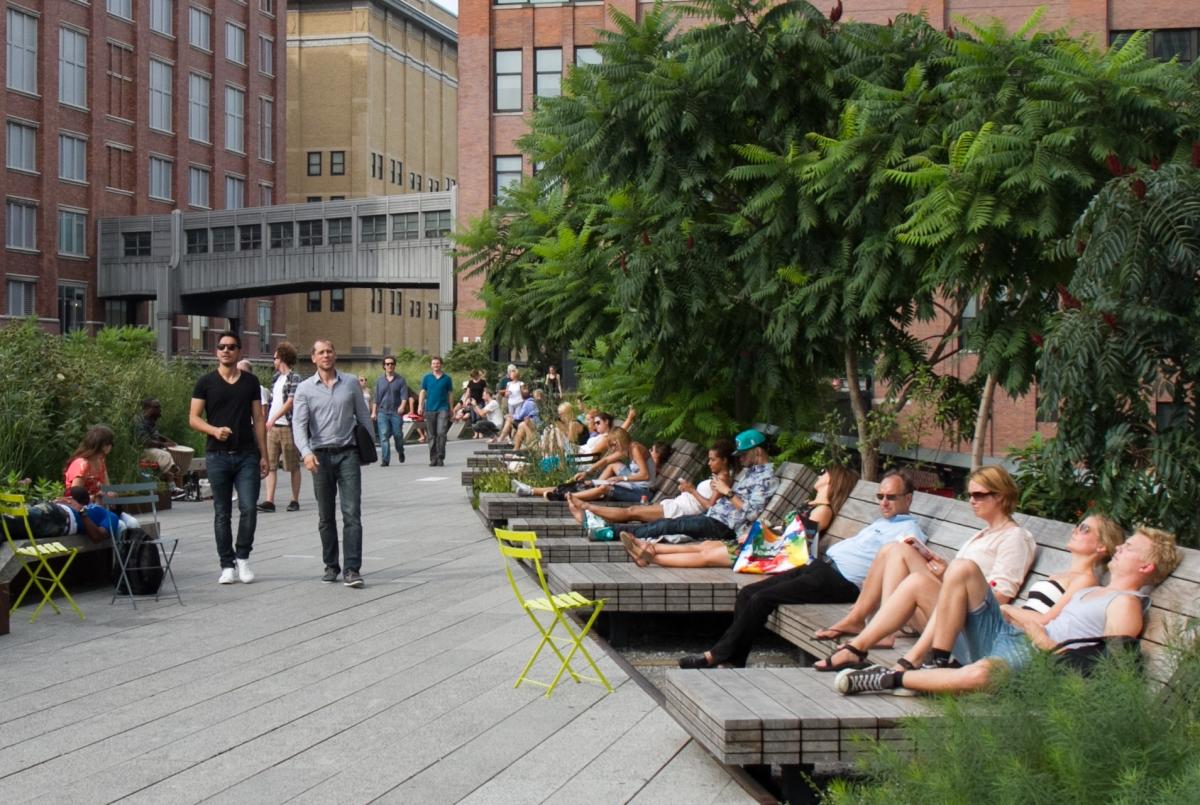 Alschuler shared stories from his involvement in the High Line, an elevated freight rail line that has been transformed into a linear park on Manhattan's West Side.  A park designed for active use, it has proved wildly popular, attracting six million people every year. The High Line signals a shift in how we should think about parks in Austin in the 21st century, said Alschuler.  
---
Inviting an economic advisor to Austin to pontificate about urban greenspaces may seem a little odd, but Alschuler is something of an expert on how urban parks contribute to cities and their economic health.  He's also well steeped in our community's needs, having consulted on the Downtown Austin Plan, which included a Downtown Parks and Open Space Master Plan.  (His talk was part of the City's Imagine Austin Compact & Connected Speaker Series.) 
20th Century vs. 21st Century
In the 19th and much of the 20th century, parks were designed as a refuge from polluted, industrial cities. Alschuler pointed to NYC's Central Park as an example. Carved out of a large swath of forest, the land that became Central Park lay beyond the northern reaches of city, which was then an industrial behemoth. Central Park was designed and re-graded to mimic the ideal of nature at the time: a pastoral landscape. It's a large passive landscape for people to admire, and a place to retreat from urban pressures.
The High Line, on the other hand, was designed for a different kind of city experience.  Since the post-industrial revolution, and with recent urbanization, cities are no longer grim, filthy places from which residents must find respite.  Instead, as Alschuler noted, "As cities have become more livable, parks have become more urban.  And as cities became more residential, parks became the commons."  Today, parks serve as communal "back yards" for city dwellers – places to engage in a variety of outdoor activities. 
The High Line is beautifully landscaped, but as a linear park running through an older part of a big city, it's also very urban, in the heart of the built environment.  It provides a commons – a place for the whole community – where people can enjoy nature and experience the city from a different  perspective.  It offers a walking path with places to sit and relax, sunbathe, dine and picnic, take tours, listen to concerts, and see art.   
Public & Private Funding
With highly active spaces, the High Line works hard and experiences greater wear and tear than its more passive, pastoral 20th century counterparts.  Such parks involve higher operating and maintenance costs – and require funding beyond what most municipalities can budget. The City of New York owns the High Line, but it can't afford the $10 million per year needed to program and maintain the High Line. Instead, it is maintained and operated by a private partner, the Friends of the High Line.
Founded in 1999 by NYC residents, Friends of the High Line fought for the historic structure's preservation and transformation at a time when the City was planning for its demolition. It is now a nonprofit conservancy working with the New York City Department of Parks & Recreation to "make sure the High Line is maintained as an extraordinary public space for all visitors to enjoy." In addition to overseeing maintenance, operations, and public programming for the park, Friends of the High Line works to raise private funds necessary to cover 90 percent of the park's annual operating budget.
One financial tool used to create the park was "transfer of development rights." Used by a number of cities for similar purposes, it has been considered in Austin (for example, in the Downtown warehouse district).  The tool allowed owners of land adjacent to the High Line to "sell" their development entitlements to property owners in need of upzoning elsewhere. This ensured that adjacent sites would not redevelop in ways detrimental to the High Line, while providing property owners with a way to realize the value of their land. 
Creating Value                                                 
A park like the High Line creates tremendous value for nearby businesses, by attracting many users who can become customers, said Alschuler. That value can be tapped to create a funding stream for a park.   In a Business Improvement District, for example, adjacent businesses voluntarily tax themselves to create BID funding for amenities, which can include a park and its ongoing upkeep.  
Another funding tool cited by Alschuler is a tax increment financing (TIF) district.  In a TIF district, a city borrows money to create an amenity, like a park, that improves the area and thus increases surrounding property values.  The city then uses the funding stream created by the subsequent increase in property values to pay off the debt.  Austin has a number of TIF districts, for various purposes.  Alschuler said his biggest regret was they didn't work harder to create a TIF district for the High Line. 
Bringing It Home
Texas cities are also developing 21st century parks – programmed, highly active spaces that have proved very popular in Downtown areas.  Prominent examples are Klyde Warren Park in Dallas and Discovery Green in Houston.  Klyde Warren Park is a new five-acre "deck park" built over the recessed, eight-lane Woodall Rodgers Freeway.  Opened in 2012, it is an imaginative solution to finding park space in the heart of Downtown Dallas. Numerous private donors, civic leaders and the City helped create the organization that led the project from design to completion, The Woodall Rodgers Park Foundation.  (Their Real Estate Council provided an initial $1 million grant for feasibility studies.) A similar concept for development over IH-35 from Cesar Chavez to 11th Street in Downtown Austin is being advanced by the local community group Reconnect Austin.
Imagine Austin, the community's vision and comprehensive plan for Austin's future, calls for greater investment in active, urban parks.
One Imagine Austin policy (LUTP29) states:  "Develop accessible community gathering places such as plazas, parks … in all parts of Austin, especially … in denser, mixed use communities… that encourage interaction and provide places for people of all ages to visit and relax."  The Downtown Austin Plan also cites the need for what Alschuler termed 21st century parks:  "Although Austin's downtown parks support a range of recreational and passive activities, they do not promote the kind of activities consistent with Downtown's evolving role as a dense mixed-use district, with a concentrated population of residents, office workers and visitors. Lady Bird Lake provides excellent opportunities for jogging, walking and recreational biking, but there are few good places in Downtown to sit and watch people or to enjoy a brown-bag lunch."
Recent master plans for Republic Square and the Waller Creek corridor both focus on creating active spaces and are significant steps toward addressing this deficit. The City's new South Central Waterfront Plan initiative offers another opportunity.  All will likely require public-private partnerships to be realized. The Austin Parks Foundation, Waller Creek Conservancy, and Shoal Creek Conservancy are essential civic groups that are helping to raise support and private funding to realize major new parks.
Alschuler inspired his Austin audience by describing how the community came together to raise $150 million in private and public funds.  This investment to create the High Line has since stimulated nearly $900 million in additional private investment, including surrounding real estate, retail and other businesses. He challenged Austinites to think innovatively and make a major civic investment in great 21st century parks for our community now and the future.