New Master Plan: A Compact & Connected Future for UT
Last month, the University of Texas Board of Regents approved an updated campus master plan, including a medical district plan, that articulates a compact and connected strategy for managing future growth and development. The plan not only calls for revitalizing the core and enhancing the central campus, it also includes a potential urban rail station.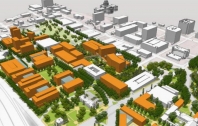 Compact, Infill Growth
The new Dell Medical School, scheduled to open in summer 2016, will be built on land bound by IH-35, Trinity St., 15th St., and Martin Luther King, Jr. Blvd. The choice of this site, as opposed to a more remote satellite campus option, is part of the school's strategy for augmenting the central core. The medical school, a hospital and research facilities being located here will most likely mean the eventual removal of the Erwin Center; a replacement site for the venue has not been determined.
Connected Transportation Options
Currently only 35% of people get to campus by driving, while public transportation, walking and biking combined account for over 50% of campus commuters. This mode split is a great model for the larger City and will be enhanced by the plan's emphasis on pedestrian and bike safety, as well as light rail proposed along San Jacinto and the realignment of parking facilities to allow increased ease for those commuting by car.
You can view the complete master plan here.