New Jet Bridges Added to Terminal Expansion, Public Master Plan Meeting Set for Sept. 26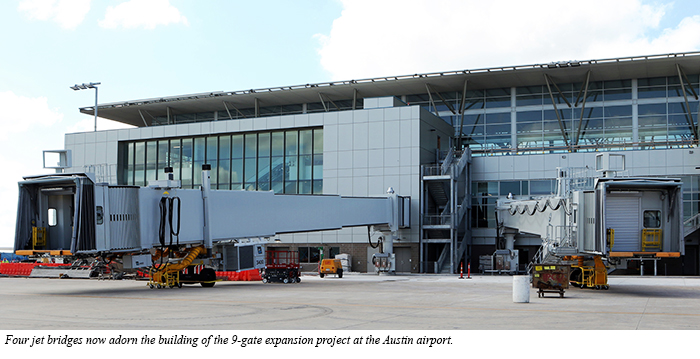 Four jet bridges now adorn the building of the 9-gate expansion project at the Austin airport while inside progress continues with the installation of business counters and additional staircases to the mezzanine level. The final ABIA 2040 Master Plan public workshop is set for Sept. 26. Gate renumbering to start for mid-concourse gates.
New jet bridges added to terminal expansion, inside progress continues

Four jet bridges have been added to the 9-gate terminal expansion taking place at the Austin airport. Two are new jet bridges that have been fitted and attached to the terminal expansion. The other two were previously in operation and are being modernized by receiving cosmetic upgrades such as new carpeting, wall panels, and replacement mechanical parts.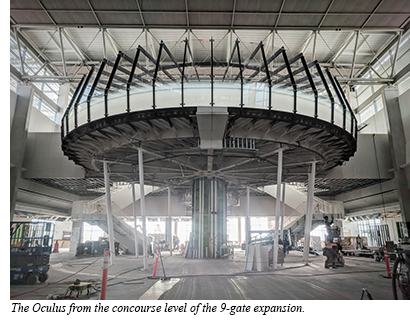 Inside the terminal expansion, business counters are being constructed to allow more locations to operate laptops and mobile devices and to provide electrical charging options. Drywalling has started below the customs corridor and carpeting has been installed inside the in the sterile corridor. The second set of stairs that leads to the east terrace and mezzanine level is under construction along with the passenger elevator.
Final Master Plan Public Workshop Set for Sept. 26
All are welcome to attend the fourth and final public workshop for the ABIA 2040 Master Plan, on Wednesday, Sept. 26 at 6 p.m. Learn more about the terminal, curbside, and transportation improvements being recommended and how the ABIA Planning team sees the airport in 20 years. The open house format workshop will be held at 2716 Spirit of Texas Drive – Room 174A. More information about the ABIA master plan can be found at http://www.abiamasterplan.com/getinvolved/ . Please email ABIAMasterPlan@makingthingsclear.com or call (512) 672-8721 for any questions you may have.
Phase III Renumbering Will See Gates 10-15 Become 19-24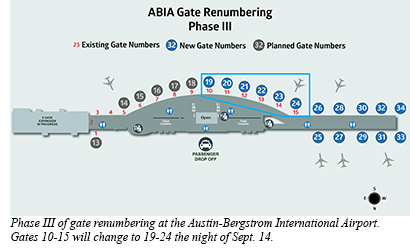 Phase III of gate renumbering at the Austin airport will see Gates 10-15 become Gates 19-24. The number changes are complete to the west end of the terminal and renumbering at the mid concourse gates is expected to occur the night of Sept. 14 into the morning of Sept. 15 to Gates 10-15.
The renumbering includes changes to all the numbers at the gates, on the concourse, jet bridges, jet parking and on the directional/wayfinding signs in the airport. This is to adjust to the addition of gates to the Barbara Jordan Terminal created by the construction of the 9-gate expansion currently in progress.