New gas station and cell lot 85 percent complete, terminal expansion to include Sky Club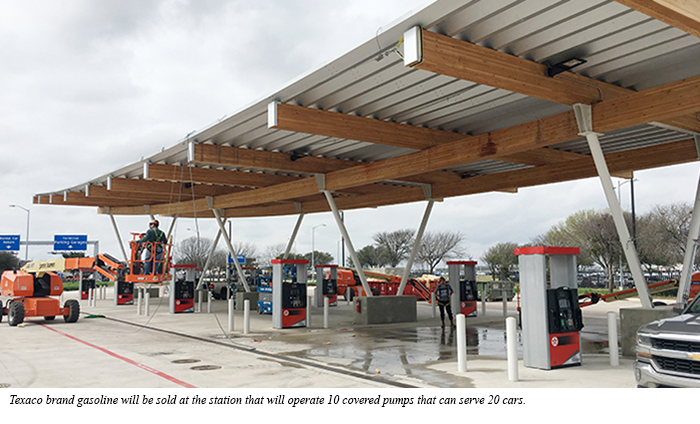 Under construction ABIA Retail, the location of the new free cell phone lot, gas station, convenience store and restaurants, is nearing completion. The 9-gate expansion now includes a Delta Sky Club. The new entry for the economy long-term parking is now open.
ABIA Retail to include Texaco, Austin Java, Subway and TacoN Mama
The construction of ABIA Retail, the new cell phone lot, gas station, convenience store and restaurants, is nearly 85 percent complete. Just off Presidential Blvd. and Spirit of Texas Drive, at the same site as the previous free cell phone lot, construction has progressed to the tenant improvement phase.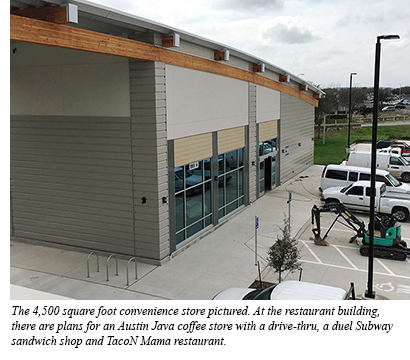 Texaco brand gasoline will be sold at the station and a 2,600 square foot Austin Java coffee store will operate with a drive-thru. A duel Subway sandwich restaurant and TacoN Mama location will operate at the site. The gas pumps and 4,500 square foot convenience store are estimated to open in May of 2018 with the restaurants following a month later.
An attraction for kids and families will be the aviation-themed playground. It will include picnic tables and public restrooms. Restrooms will also be located in the restaurant and convenience store buildings.
The project is designed with 140 total parking spaces making  50 available for free cell phone lot usage.  The 10 covered gas pumps can serve 20 cars and the lot will have electric car slow-charging stations and fast-charging stations.
ABIA Retail was designed by Brad Nelsen of Nelsen Partners Architect and Planners. The three structure project features 29 curved high beam arches that give the station canopy, convenience store and restaurant a distinguishing look. A major addition to the entire project is the lighting package that can brightly change colors to reflect a theme or season.
Terminal expansion includes Delta Sky Club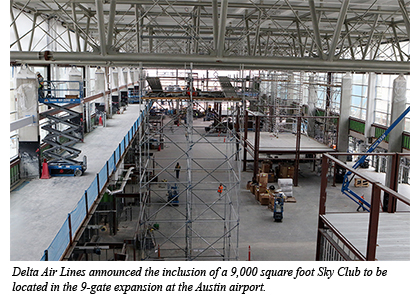 Delta Air Lines announced the inclusion of a 9,000 square foot Delta Sky Club to be located in the 9-gate expansion of the Barbara Jordan Terminal that is currently under construction.  The announcement was made by Erik Snell, Delta's Vice President of Operations and Customer Center while speaking at the Austin Chamber of Commerce Annual Meeting. The airline stated that the club's design will be locally-inspired and includes a full-service bar, food options, and a covered Sky Deck.
Bag Claim 3 under construction, Mexican trunk exhibit on Bag Claim 7
Construction work to replace and modernize bag Carousel 3 has started. Behind the Barbara Jordan statue, the triangle-shaped carousel once displayed the arty and iconic airport guitars. In partnership with the Consulate General of Mexico in Austin, beautiful travel trunks, reflecting artist travel traditions of pre-Hispanic times by the Olmec civilization, are on display at Carousel 7.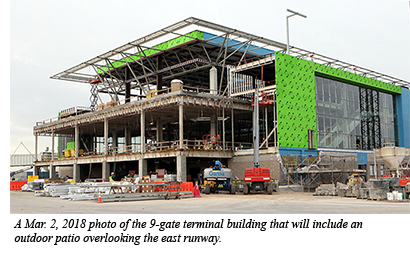 Did you know?  
The compost program with airport restaurants started in March 2017 has collected over 20 tons of organic material, diverting it from landfills.
###