New garage piers tally, BookPeople and a new entry to lots B-G open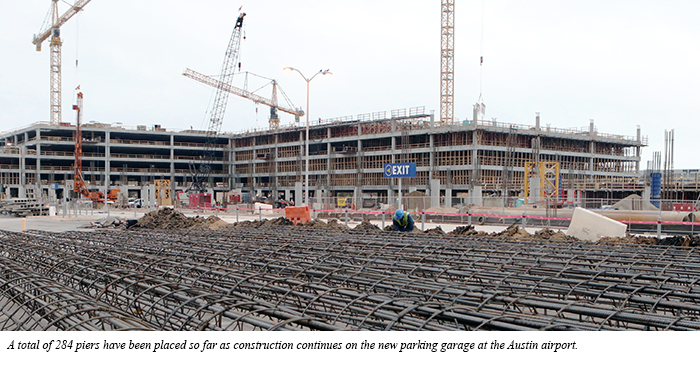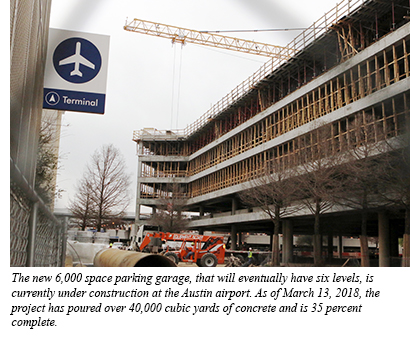 Piers to support the new 6,000 space parking garage under construction at the Austin airport are now up to 284. BookPeople opens after completing renovation near Gate 9 and the new entry to economy parking lots B-G is now open.
Parking garage piers adding up
A total of 284 of the estimated 310 concrete piers needed have been placed as the work to construct the Austin airport's new 6,000 parking space garage continues. Piers reaching depths up to 71-feet and ranging from 24 to 66-inches in diameter will support the new six-story parking garage and administration building near the Barbara Jordan Terminal.
Austin Commercial the lead contractor for the garage construction has used 3,800 tons of reinforced steel thus far and has poured over 40,000 cubic yards of concrete. It is estimated that construction is approximately 35 percent complete, and the parking structure is up to the fifth level in some areas.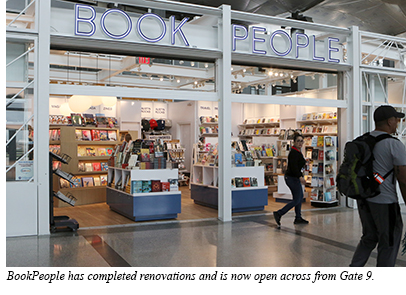 The finished garage will feature a parking guidance system, consisting of red lights over occupied spaces and green lights above available ones. Working off sensors, drivers will see displays that show how many parking spaces are available on each level. The system can also incorporate automated license plate and tag recognition for entry and exit lanes that use pre-payment, cash-free billing and online reservations options. 
There is a construction camera stationed at the site to view the building of the garage that is three football fields in length and six levels high. To view photos (updated every 30 minutes) and to watch the time-lapse movie of the new garage (slated to open in 2018), visit: http://workzonecam.com/projects/austincommercial1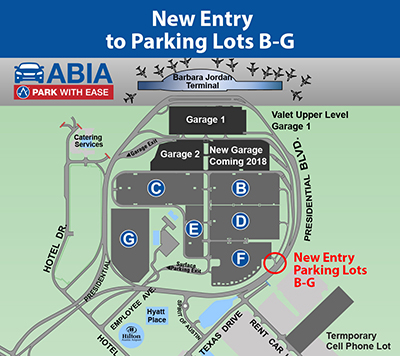 BookPeople opens across from Gate 9
BookPeople, the largest independently-owned bookstore in Austin is open at its re-designed location at the Austin airport. Now with a 267 square foot Wi-Fi bar, the store offers staff picks of fiction, non-fiction, local, kids, and business publications. They also offer magazines, electronic items, travel and convenience snacks, and hot and cold beverages.  Located across from Gate 9, the 1,418 square foot store incorporated characteristics of its original location.
New entry to economy parking lots B-G open
The new entry to on-airport economy, long-term parking lots B-G has opened. Travelers seeking to use these lots should be prepared to take the new exit from the roadway leading to the terminal. Accessed from the left lane of Presidential Blvd., the new exit is approached sooner on Presidential Blvd. than in the past.
Did you know?  
Solar panels at the Austin-Bergstrom International Airport produce 192,500-kilowatt hours per year.