New Development Rules: Protecting Our Waterways
Austin streams will stay cleaner thanks to a new City Watershed Protection Ordinance. Key changes will foster the recovery and reforestation of degraded waterways, to better protect streams, rivers, and lakes downstream—preserving our water quality. An updated approach to development permitting will allow the same overall density (building footprint), while better keeping development safely back from waterways.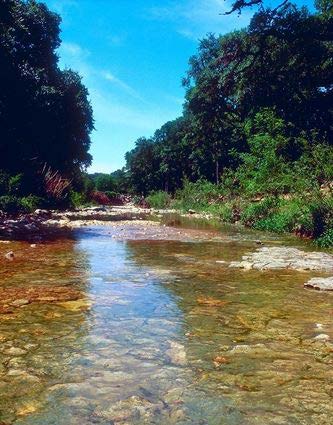 In October, City Council passed the Watershed Protection Ordinance (WPO), a comprehensive overhaul of Austin's environmental and drainage code. The 162-page ordinance is the culmination of two years of input, including over thirty public meetings. Central to the discussion were ways to incorporate the community's vision as expressed in the Imagine Austin Comprehensive Plan.
Council first called for the changes in a 2011 resolution to improve creek and floodplain protection, prevent unsustainable public expense on drainage systems, simplify development regulations where possible, and minimize the impact on the ability to develop land. The new Ordinance includes over 220 large and small changes to protections first enacted in the 1970s and '80s, including measures to protect and connect green infrastructure that will facilitate improving Austin's trail and greenway system.
The City of Austin was an early US leader in flood and water quality protection. The 1974 Waterway Ordinance, 1980 Barton Creek Ordinance, and 1986 Comprehensive Watersheds Ordinance were just a few efforts to direct development patterns in ways that prevent environmental harm and expense. These actions, driven by broad community participation and education, were linked to Imagine Austin's predecessor, the 1979 Austin Tomorrow Plan. In the intervening decades, much has been learned about watershed protection, experience that is now incorporated into the WPO. In 1986, the focus was on the western watersheds, such as in the Barton Springs Zone and around Lake Austin, without recognizing then that the eastern, prairie watersheds would need a higher level of protection. Their fragile clay soils, expansive floodplains, and long history of farming and other land alteration pose special challenges that the 1986 rules did not address adequately. The focus became not just preservation but also restoration to regain lost ecosystem and cultural services. A key WPO theme therefore is the imperative to halt development patterns that degrade the environment and result in unsustainable public repair expenses.
Imagine Austin calls for the sustainable management of our water resources. It also calls for the "integration of nature into the city" through a program of green infrastructure to "create an interconnected system of parks, waterways, open space, trails, green streets, tree canopy, agriculture, and stormwater management features that mimic natural hydrology. It will also allow the City of Austin to expand upon existing efforts to protect environmentally sensitive areas such as waterways and riparian zones, springs, aquifer recharge features, canyon lands, and prairies" [Imagine Austin, 2012, p. 95]. These priorities underscore the need for compact and connected development as well as measures to encourage a healthier population.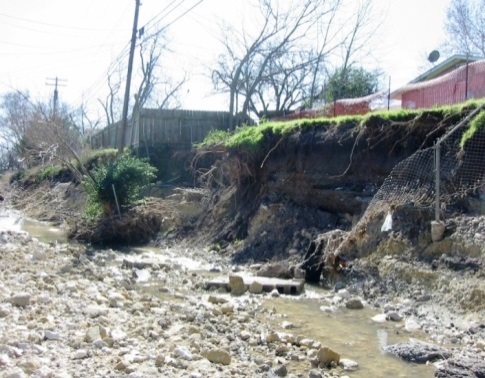 The WPO is a major step toward these goals. At the core of the WPO are three interrelated changes: better stream buffers, improved floodplain protections, and increased erosion hazard provisions. The ordinance extends creek buffers—setbacks to ensure that development is not built too close to waterways—to over 400 miles of "headwaters" streams. These smaller streams have long been protected in the west, but not in the eastern Blackland prairie watersheds. The WPO also recognizes the importance of protecting natural floodplains and the need to plan for natural and human-caused creek erosion. Together, these key changes will foster the recovery and reforestation of degraded waterways, which will in turn better protect streams, rivers, and lakes downstream—preserving water quality for the citizens of Austin. To balance these new protections, secondary "transition zone" buffers were eliminated and development permitted based on the full property area rather than a reduced area. This all serves to allow the same overall density (footprint) while keeping development safely back from waterways.
By improving the protection of creeks and floodplains citywide, the ordinance builds a solid foundation of protected and connected green infrastructure from which to begin integrating other city priorities such as trails, community gardens, and parks. The new
stream buffer system will help fulfill an unrealized community goal since the early 1970: a first-class trail and greenway system. After detailed discussions with citizen stakeholders and staff, an ordinance emerged that encourages the responsible construction of public trails along creeks. This directly supports the Imagine Austin objective to create a network of separated bicycle and walking routes, trails for community connectivity, alternative transportation, and increased community health.
There is much more to say about the 220-plus changes instituted by the Watershed Protection Ordinance. Folks are encouraged to visit the WPO website to read the ordinance and explore extensive supporting information. You can also read about a second, follow-up phase of the WPO that will look at improvements to stream hydrology.
For questions, more information, or to have your name added to our email distribution list, please contact Matt Hollon at matt.hollon@austintexas.gov  or at (512) 974-2212.