How can people travel safely by bicycle along the MoPac corridor from Southwest to Central Austin?  An innovative new bike bridge now under construction, parallel to South MoPac, will help by providing safe passage over Barton Creek. It's part of a joint City and TxDOT effort to make bicycle commuting more feasible and safe in the Loop360/Barton Creek/MoPac interchange area.
---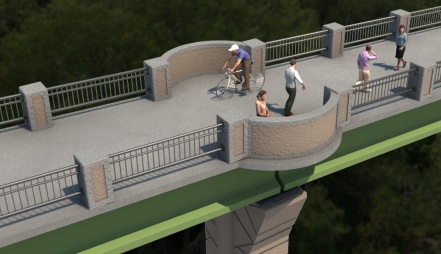 The MoPac Bicycle and Pedestrian Bridge (Phase I) will allow people walking and on bikes – whether they're commuting or riding for recreation and fitness – to travel more safely from the Sunset Valley and Oak Hill areas to Central Austin, and back.  When it opens in 2015, the new bridge will become part of a larger bicycle network linking central Austin to Southwest Parkway, Loop 360, the future regional Violet Crown Trail, and the Oak Hills Neighborhood Trail System, which includes 22 parks and green spaces.
Phase 2 will provide two more bicycle bridges over Loop 360, a new multi-use trail that links to existing bicycle facilities, and other improvements.  The City successfully advocated for an innovative use of federal and state transportation funds, in partnership with TxDOT, to help fund construction of this bicycle-pedestrian improvement.