Milestone of 9-gate envelope reached, façade added to new garage, see a time-lapse video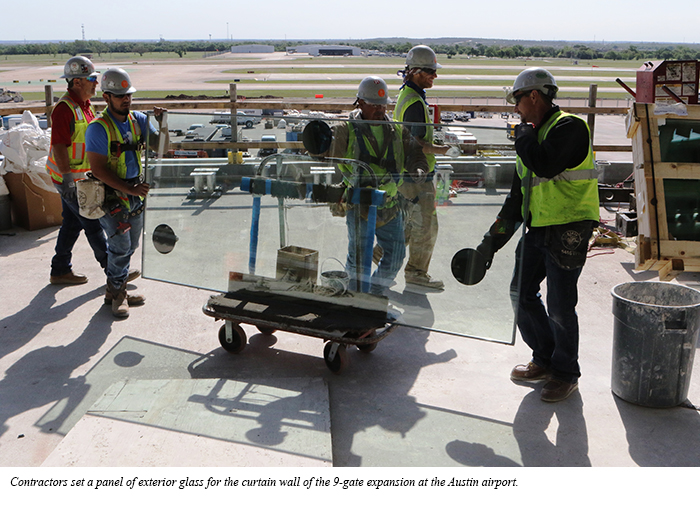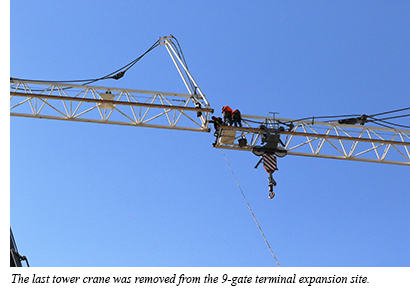 Construction on the 9-gate expansion at the Austin airport reached a milestone when the building envelope was enclosed. The tower construction crane was removed from the site and work is now focused on the inside of the Barbara Jordan Terminal addition. Watch a time-lapse video of garage construction. Garage precast panel façade being added to the new 6,000 space parking garage.  
Tower crane removal, envelope closure reaches construction milestone for 9-gate expansion
A construction milestone was reached when the enclosure of the building envelope was completed on Monday, April 23. Hensel Phelps, the lead contractor set one of the last exterior glass panels for the curtain wall of the 9-gate expansion at the Austin airport. A few window panels will remain open to serve as a loading dock to bring materials for the inside work.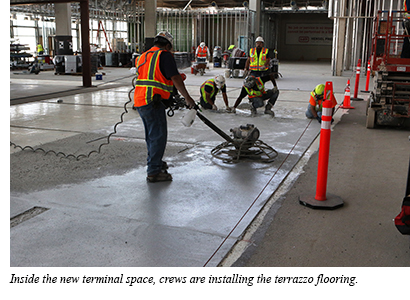 This construction milestone along with the removal of the 170-foot tower crane will allow the majority of the construction focus to be transferred to inside the building.
Inside the new terminal space, crews are installing the terrazzo flooring along with internal plumbing and electrical work. HVAC and Information Technology installations continue along with more detailed carpentry work separating the hold gates, restrooms, concessions, Customs arrival walkway and the retail areas.  
Apron level terminal work continues on the baggage conveyor system, tug roadways and with the installation of the Airport Operations Center, office and workstation space, and airline workspaces. Work will continue on the outside apron with new concrete pavement for aircraft operations and movement.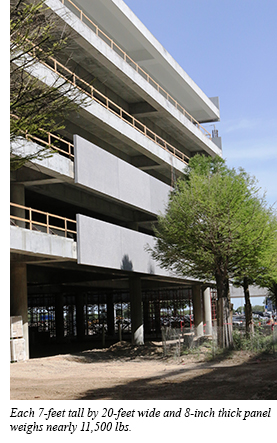 The expansion to increase the Barbara Jordan Terminal from 25 gates to 34 is anticipated to be completed in 2019 and will provide 175,000 square feet of additional terminal space to the Austin airport.
Precast panels added to new 6,000 space garage facade
The first architectural precast panel was installed on the upper northeast face of the new 6,000 space parking garage. 
The precast panels are used to create an attractive architectural interest, the façade, to the structure. Each panel is 7-feet tall, 20 feet wide and 8 inches thick, weighing nearly 11,500 lbs. They also aid in the durability and longevity of the building by providing a corrosion-resistant barrier.
A web camera is currently available to view the latest progress, from the construction site of the new garage, near the Barbara Jordan Terminal. Go to http://workzonecam.com/projects/austincommercial1  to view the photos that are updated every 30 minutes and to watch the time-lapse movie of the construction. The garage is estimated to be completed in 2018.
Did you know?  
We use stored thermal energy. Chilled water is stored during off-peak times for cooling the Austin-Bergstrom International Airport during peak afternoon hours. This reduces electricity usage by 50 percent.