The Joseph and Susanna Dickinson Hannig Museum mounts new exhibit: "Joseph Hannig and the Texas Germans"
The Joseph and Susanna Dickinson Hannig Museum celebrated its newest exhibit with opening day festivities.
The exhibit which opened Saturday, October 20, will be on display through February 23, 2013.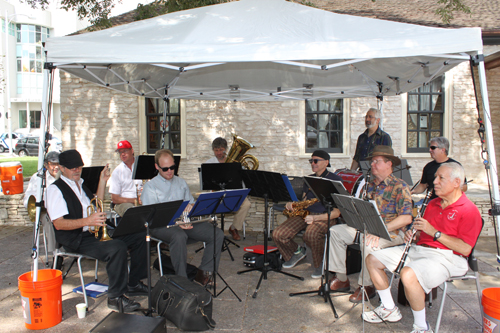 The Polkadillos Band graciously performed for us. Their German music demonstrated the influences that the German community had on all of Texas.
Today's Tejano music still displays the strong German influence from over a century ago!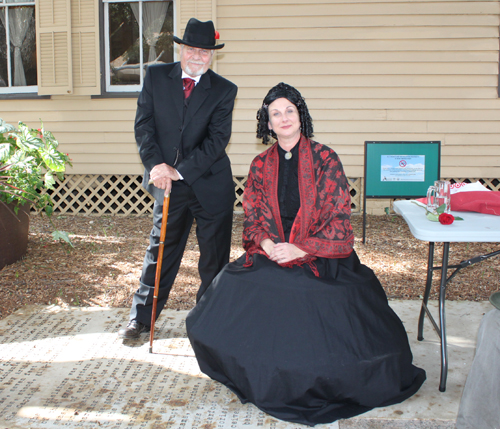 The crowd enjoyed historic reenactors: Joyce Aldridge as Susanna Dickinson and Warren Fredrick as Joseph Hannig
October 20th, 2012
Our opening day events included: lecture by the renowned historian and curator, James L. Haley, informative performances by Susanna Dickinson & Joseph Hannig reenactors and live German music provided by the Polkadillos. We enjoyed perfect weather for our relaxing Saturday afternoon event. Guests enjoyed the entertainment and music while leisurely touring the museum.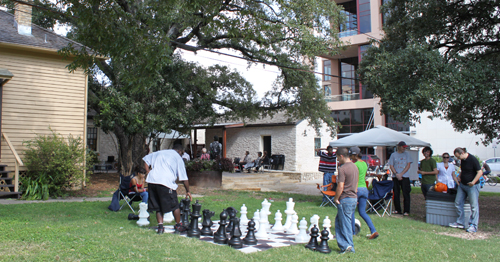 A game of giant chess pieces in Brush Square.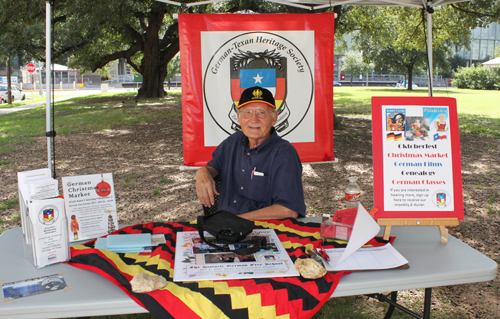 German-Texan Heritage Society also had a table with information for our visitors.
The Museum's newest exhibit  "Joseph Hannig and the Texas Germans," ex­plores the life of Joseph Han­nig and the impact of German settlement on Texas and the city of Austin.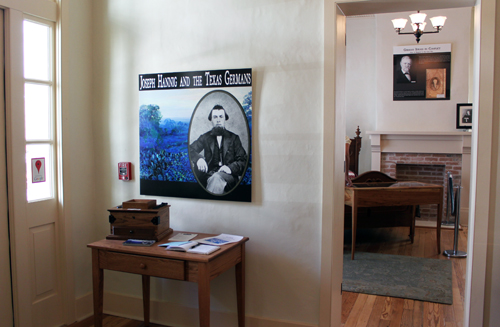 Entryway to the Museum and new exhibit.
Display panel in new exhibit.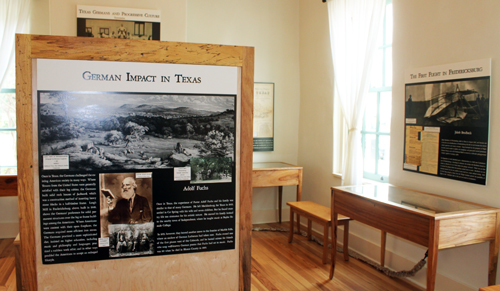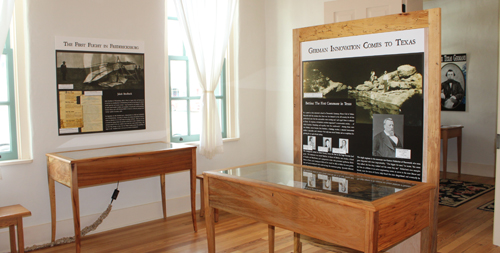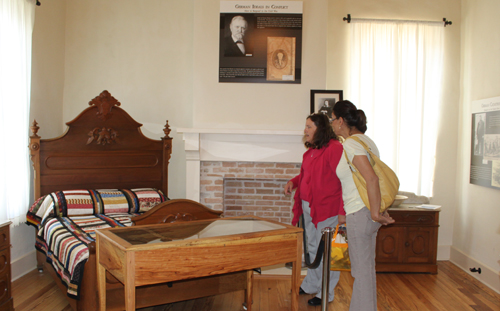 Visitors admire period bed quilt.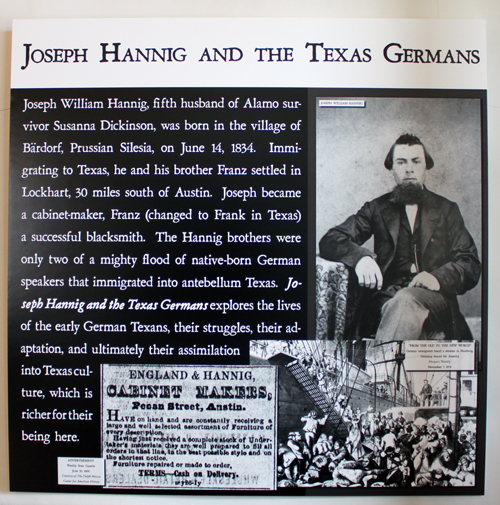 The exhibit spans over a century of German involvement in Texas. It describes their participation in taming this new land, from the first German to reach our shores to the thousands that followed. Christian Friedrich Dirks, who is generally considered the first German immigrant (he was actually on the run after stealing his benefactor's postal receipts). After changing his name to Johann Friedrich Ernst, he received a land grant in Stephen F. Austin's colony in 1831. From this safe haven, Ernst's letters home, praising Tex­as as a paradise of freedom and plenty, were widely published and created a sensation. By the 1850s, more than 20,000 native Germans called Texas home, surpassing Hispanics as its largest ethnic group.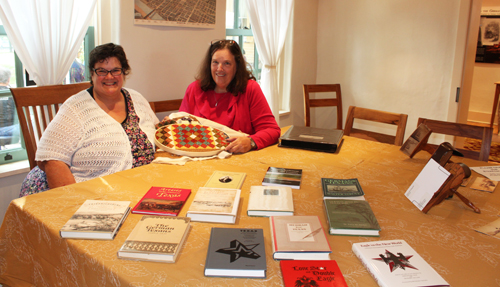 Jeanne Henry, the Museum's Education Coordinator and resident Susanna Dickinson expert, sits with Margaret Jacob, member of Jeanne's pioneer quilting bee group. Margaret displays her latest creation: a postage stamp doll quilt.
What followed is a rich history in this state's development and important contributions to the history of the entire United States. This exhibit presents many compelling insights into how much of today's Texan culture is due to this community's comment to their new home.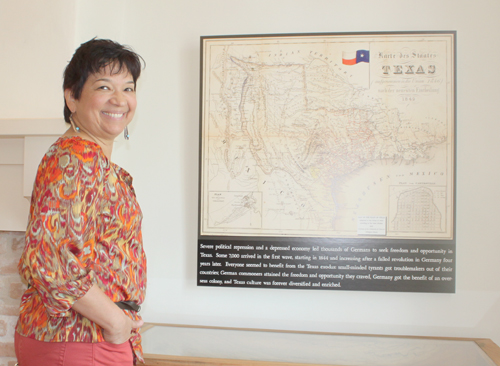 Laura Esparza, Manager of the History, Arts & Nature Division of The City of Austin Parks & Recreation Department, views an old map of Texas prepared in German to help promote the New Republic to German immigrants.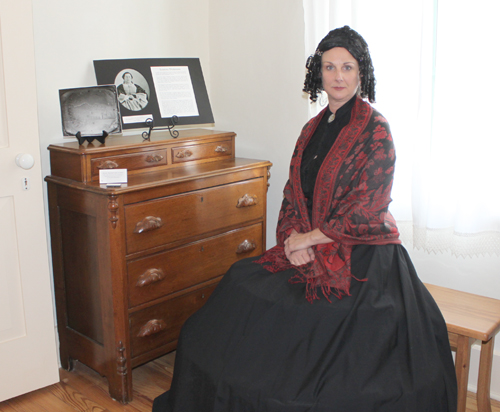 Joyce Aldridge dressed as Susanna Dickinson sits next to an actual piece of furniture recently donated to the Museum by Susanna Dickinson's third great granddaughter, Dye Lumen Fled. The chest has been in the family for three generations, approximately 140 years.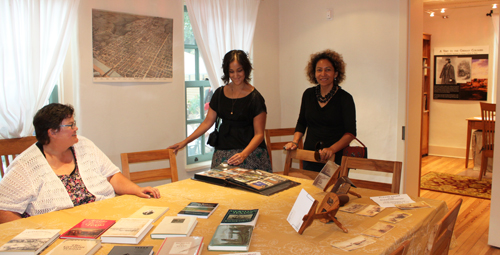 Herlinda Zamora, manager of the Emma S. Barrientos Mexican American Cultural Center and her friend Kat dropped by to  view the new exhibit. Herlinda is also a professional curator and designs our many exhibits at the ESB-MACC.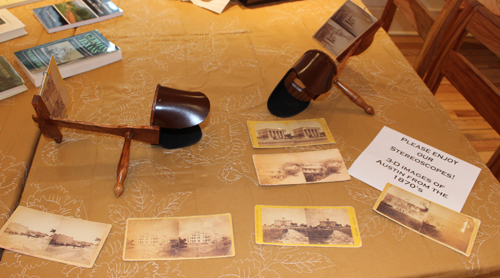 Visitors could also enjoy the Museum's own stereoscopic viewer with images of old Austin landmarks.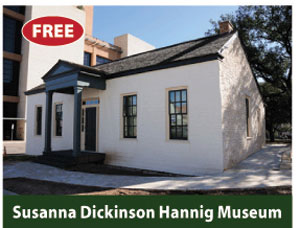 About the Joseph and Susanna Dickinson Hannig Museum.
The museum's mission is to preserve the home and legacy of Alamo Survivor Susanna Dickinson, and to celebrate Texas' historical heritage by providing programs and educational resources to the citizens of Austin and its visitors. We cordially invite you to visit Wednesday through Sunday, noon – 5:00 pm
Free Admission
For more information on all of our facilities please visit our Blog