The J.J. Seabrook Greenbelt and Neighborhood is getting a great, new look
If you've ever driven east on Martin Luther King Jr Blvd you might have missed the stretch of greenbelt that extends north as you pass Pershing Drive and the stream that runs through it. Although this area is a park, it is dominated by fast cars moving through the neighborhood, offers no shade or places to sit, is without sidewalks, and is uninviting
Historically, the area was overshadowed by the airport, and is often a cut-through for traffic. Pershing Drive was constructed through the middle of the greenbelt, bisecting the creek that runs through it. In an effort to reconnect the greenbelt and neighborhood, the surrounding neighborhood and several city departments have worked together on the JJ Seabrook Stream Restoration, Rain Garden and Urban Trail Project. This project aims to bring the JJ Seabrook Neighborhood together, physically and communally by:
    Restoring the stream that runs through the greenbelt
    Reducing pollution from urban storm water runoff
    Building a park trail within the greenbelt
    Repurposing a roadway to an urban trail
    Reconfiguring intersections and streets along the area to reduce vehicular speed through the neighborhood.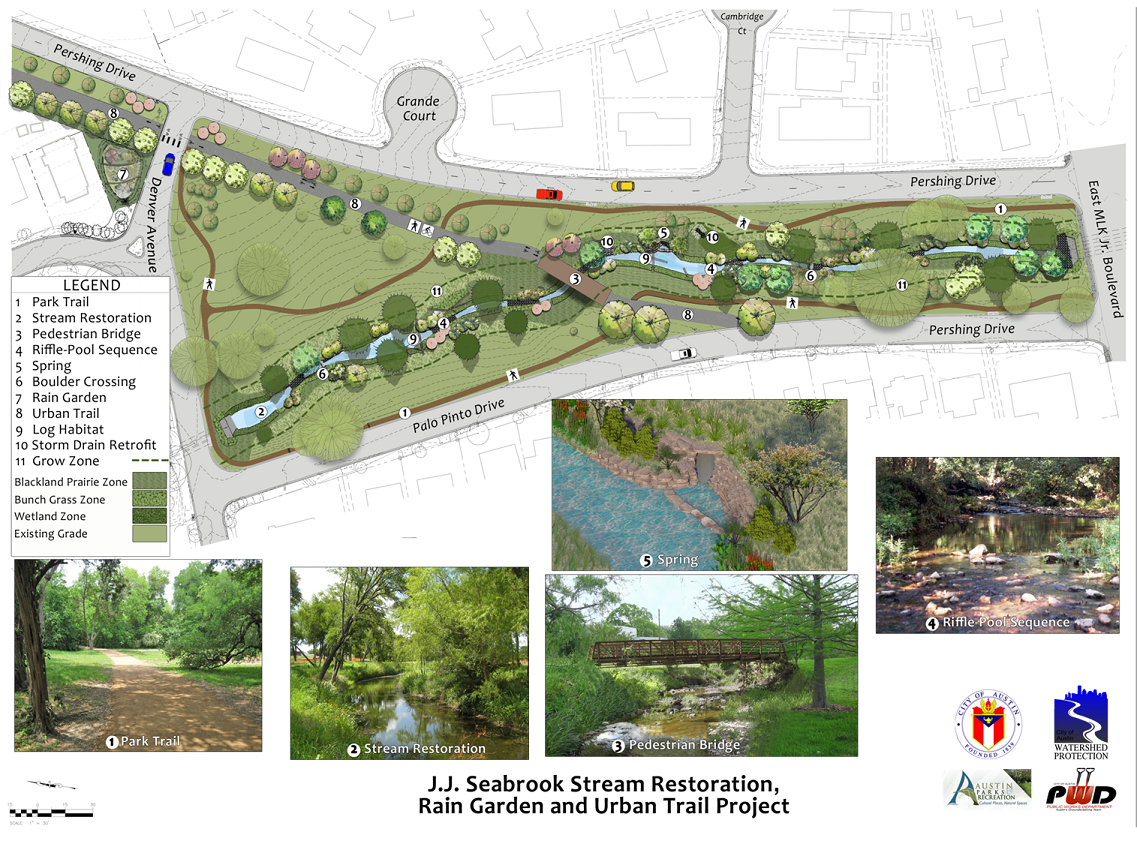 These efforts will help to create a place where residents can walk or bike, enhancing their connection to both the natural environment and their neighbors.
Designated as a capital improvements project using funding from the 2006, 2010 and 2012 bond programs and drainage utility fee, the project will include restoring 900 feet of the creek, building a pedestrian bridge, repurposing a road that bisects the greenbelt, building 1,840 feet of urban trail and 2,310 of park trails, planting a  variety of native trees including sycamore and pecan trees, and constructing 2 beautiful rain gardens. This ambitious project brings together goals expressed in the JJ Seabrook master plan , The Watershed Protection Master Plan, and the work of five Imagine Austin Priority Program Teams.
Lauren Stanley, Secretary of the JJ Seabrook Neighborhood Association, says this project gives the area "a chance to heal that cut and the creek, remove the awkward culvert, and bind the green space together. It's been seen as the heart of the neighborhood, so symbolically and literally, it means a lot to be getting this attention. It's more about creating a beautiful lull, a park, a green space and improvement internally."
Residents and City staff have worked side-by-side to make this vision for the neighborhood a reality. City staff attended several neighborhood meetings to get feedback on the design plan, and Watershed Protection staff taught residents how to build a rain garden similar to those in the design plan. These efforts are building on previous initiatives by neighborhood residents to improve the greenbelt. In 2010, the neighborhood association used Keep Austin Beautiful grant funding to increase animal and plant life found in the greenbelt, installing a Purple Martin housing system, bat boxes, and a chimney swift tower. The most recent improvements will enhance the work the neighborhood has done to transform the greenbelt into an environmentally friendly and recreationally useful neighborhood asset.  For more information on the project, contact Kristin Pipkin at (512) 974-3315.