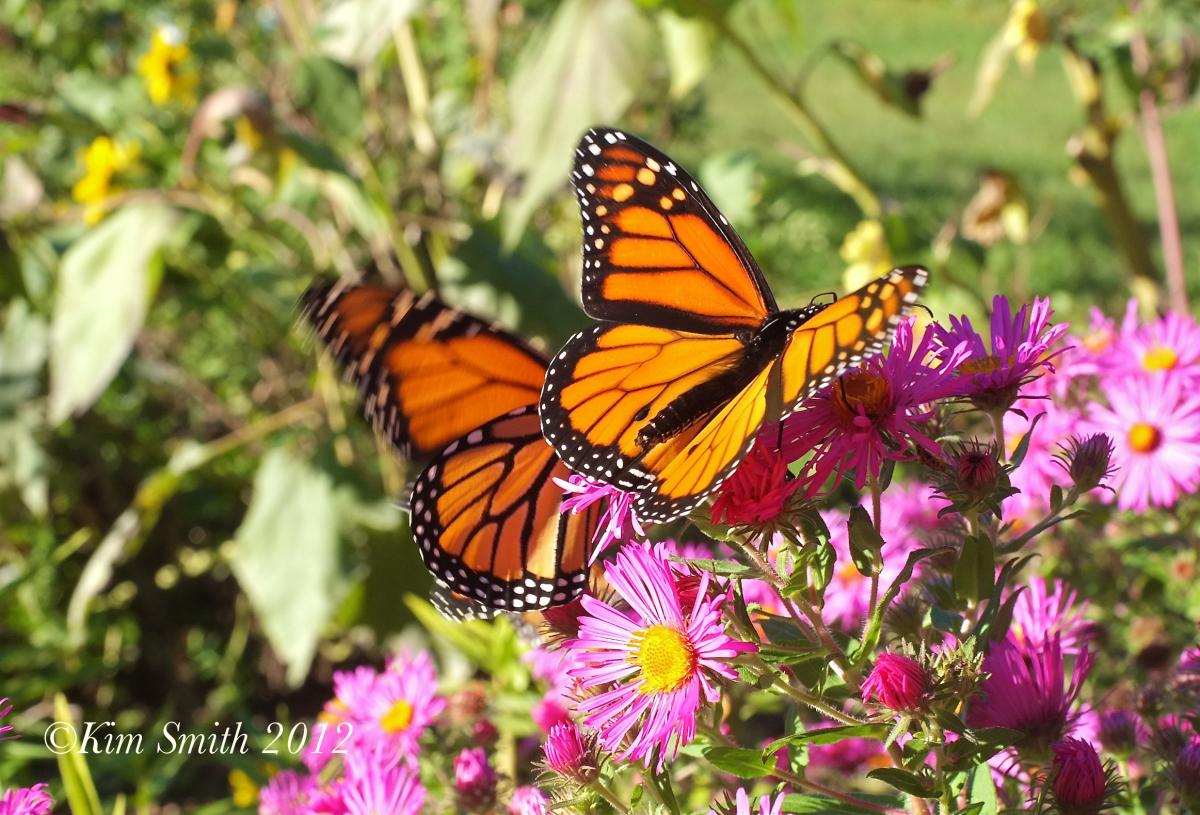 Compiled by Matt Morris - Zilker Botanical Garden
Texas has been called the "funnel" state, because Eastern North American monarchs fly through Texas on both legs of the migration. This happens every year in the spring and in the fall and makes Texas a crucial place for monarch habitat.
Monarchs have been experiencing a very dramatic population decline in the last few years. Issues like deforestation, abnormally cold and wet storms in their wintering grounds, drought, habitat loss and  increased herbicide use in their summer breeding grounds are just a few of the contributing factors involved. All of these have detrimental effects on the Monarch population.   It is important for us to find ways to offset these problems whenever we can.
The 1st of the migrating Monarchs can start arriving from Mexico into the Austin area as early as Sept 1st. With much of the state falling under drought conditions, the amount of wild nectar sources was greatly reduced making it that much harder for the monarchs to find the needed resources to survive. Pollinator gardens and Monarch waystations can provide the necessary resources for these magnificent creatures during these extreme weather conditions. These "oasis" are important for both legs of the Monarchs migration but providing nectar resources for the fall migrating monarch may be the most important.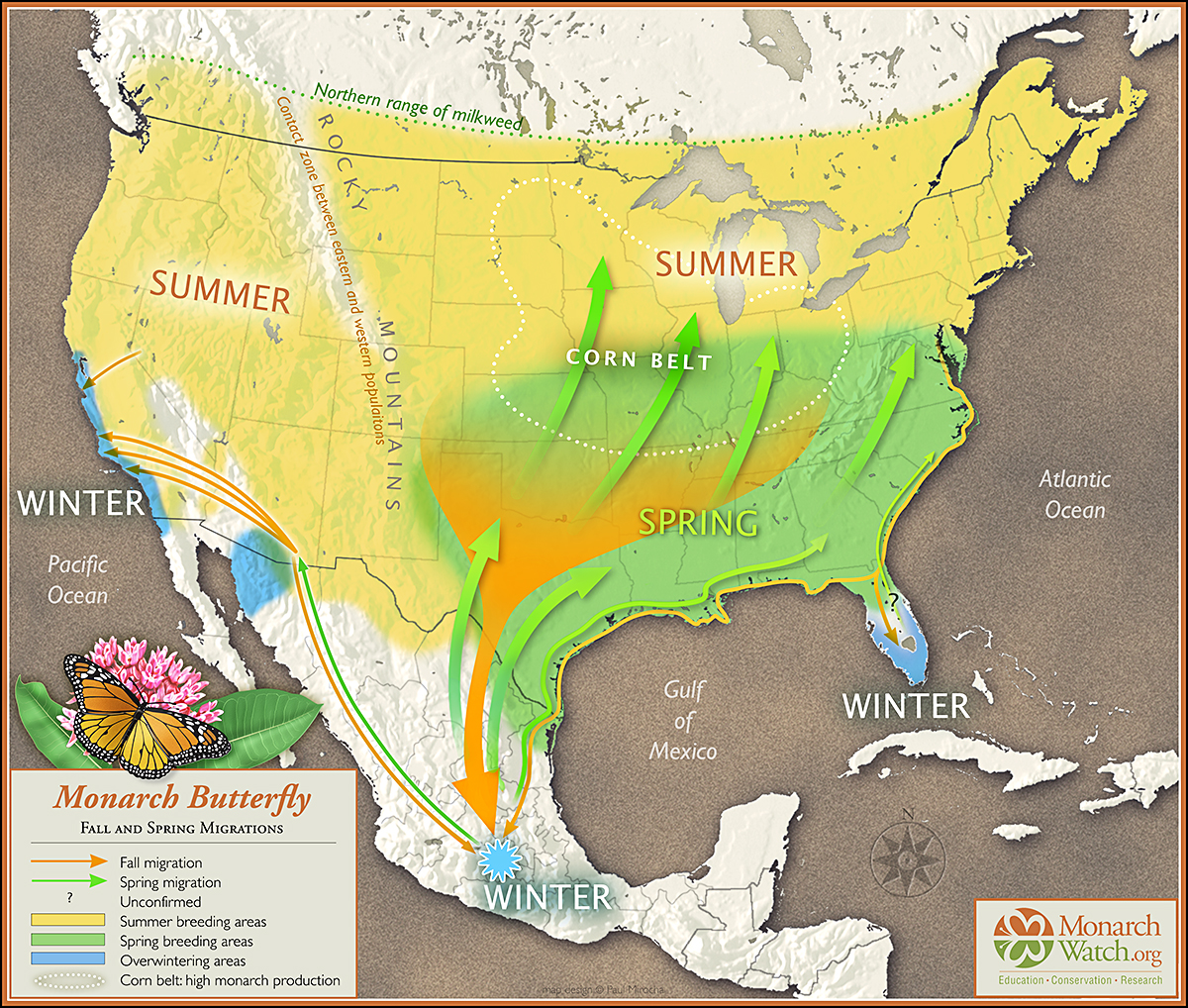 Here is the reason why:  In late summer, the 4th generation of Monarchs is hatching throughout the Midwest and even in parts of Canada. It is these Monarchs that will eventually head to Mexico to overwinter. Monarchs are shifting their focus from breeding to intense feeding for this trip. They search out nectar plants the entire time they are traveling the 2,500 miles to their winter roosting sites. They must build body fat to fuel migration and to survive the winter in Mexico; without good fat reserves they will not be able to make it to back to Texas in the spring to lay their eggs.
Waystations and pollinator gardens act like stepping stones for the migrating monarchs to refuel and continue their journey. Having these islands of nectar sources is particularly important within large areas of urban and agricultural development and especially important when abnormal weather patterns like the 2011 drought in Texas occur.
Fall Pollinator Plants for the Austin Area
When choosing plants, always choose natives first!
Some of these plants may not be found in local nurseries but can be ordered from online sources.
*    Indicates a top nectar choice of Monarch butterflies
Common Name

Scientific Name

Bloom Time

Native Bloom Time

A

 

 

 

Ageratum

Ageratum houstonianum

June - Frost

Mexico, Central America

American Germander

Teucrium canadense

March – Dec.

US Native

Anise Hyssop

Agastache foeniculum

April – Nov.

US Native

Argentine Senna

Senna corymbosa

June – Nov.

Mexico, South America

Autumn Sage

Salvia greggi

March – Nov.

US Native

'Autumn Joy' sedum

Sedum telephium

Sept. – Nov.

North America, Europe

 

 

 

 

B

Scientific Name

Bloom Time

Bloom Time

Bastardia

Bastardia viscosa

Feb. – Dec.

Texas

Bee Brush

Aloysia gratissima

March – Dec.

Texas, New Mexico, Mexico

Betony Leaf Mistflower

Conoclinium betonicifolium

May – Dec.

US Native

Black eyed Susan

Rudbeckia hirta angustifolia

May – Nov.

US Native

Blackfoot Daisy

Melampodium leucanthum

March – Nov.

US Native

*Blue Mistflower

Conoclinium coelestinum

July – Dec.

US Native

Blue Mist Shrub

Caryopteris incana

July – Nov.

Asia

*Blue Porter weed

Stachytarpheta  urticifolia

June – Dec.

Caribbean, South America

Blue Sage

Salvia azurea

Aug. – Nov.

US Native

Bog Sage

Salvia uliginosa

May – Nov.

South America

Brownfoot

Perezia wrightii

May – Nov.

US Native

Bush Sunflower

Simsia calva

April – Nov.

US Native

Bushy Lippia

Lippia alba

March – Oct.

Texas, Florida

Butterfly Bush

Buddleia davidii

May – Dec.

China, Japan

 

 

 

 

C

Scientific Name

Bloom Time

Bloom Time

Catmint

Nepeta mussinii

April – Dec.

Europe, Asia, and Africa

Chocolate Daisy

Berlandiera lyrata

April – Dec.

US Native

*Common Sunflower

Helianthus annus

July – Nov.

US Native

*Common Bonset

Eupatorium perfoliatum

June – Nov.

US Native

Cosmos

Cosmos Spp.

April – Nov.

US, Mexico, South America

*Cowpen Daisy

Verbesina encelioides

April – Nov.

Mexico, US

 

 

 

 

F

Scientific Name

Bloom Time

Bloom Time

Fall Aster

Symphyotrichum oblongifolium

Sept. - Nov.

US Native

Fire Bush

Hamelia patens

July – Nov.

Mexico, Central and South America

Flame Acanthus

Anisacanthus quadrifidus var. wrightii

June – Nov.

Texas, Mexico

Frog Fruit

Phyla nodiflora

March – Nov.

Central America, US

*Frostweed

Verbesina virginica

Sept. – Nov.

US Native

 

 

 

 

G

Scientific Name

Bloom Time

Bloom Time

*Gayfeather

Liatris mucronata

Sept – Nov.

US Native

Globe Amaranth

Gomphrena globosa

April – Nov.

Central and South America

Golden Aster

Heterotheca latifolia

Aug. – Nov.

US, Mexico

*Golden Eye Daisy

Viguiera dentata

Sept – Nov.

Texas , New Mexico, Arizona

*Gregg's Mistflower

Conoclinium greggii

June – Nov.

Arizona, N. Mexico, Texas

 

 

 

 

H

Scientific Name

Bloom Time

Bloom Time

Heath Aster

Aster ericoides

Aug. – Nov.

US Native

 

 

 

 

I

Scientific Name

Bloom Time

Bloom Time

Indian Mallow

Abutilon fruitiosa

June – Dec.

US Native

Indigo Spires Salvia

Salvia longespicata x farinacea

May – Nov.

Hybrid

 

 

 

 

J

Scientific Name

Bloom Time

Bloom Time

*Jack in the Bush

Chromolaena odorata

Aug – Nov.

Southern US, Central America

 

 

 

 

K

Scientific Name

Bloom Time

Bloom Time

Kidneywood

Eysenhardtia texana

May – Nov.

Texas, Mexico

 

 

 

 

L

Scientific Name

Bloom Time

Bloom Time

Late flowering Boneset

Eupatorium serotinum

Aug. – Nov.

US Native

Lindheimer Senna

Cassia lindheimeriana

June – Oct.

Arizona, New Mexico, Texas

 

 

 

 

M

Scientific Name

Bloom Time

Bloom Time

Marigold

 

 

Tagets Spp.

April – Dec.

US, Mexico, South America

Marsh Fleabane

Pluchea odorata var. odorata

June – Nov.

US Native

*Maximillian Sunflower

Helianthus maximiliani

Aug. – Nov.

US Native

Mealy Blue Sage

Salvia farinacea

March – Nov.

US Native

Mexican Marigold Mint

Tagetes lucida

Aug. – Nov.

Mexico,  Central America

Mexican Bush Sage

Salvia Leucantha

Aug. – Nov.

Central America, Mexico

*Mexican sunflower

Tithonia rotundifolia

June – Nov.

Mexico, Central America

Mexican Shrimp Plant

Justicia brandegeeana

June- Nov.

Mexico

Mexican Hat

Ratibida columnaris

May – Nov.

US, Mexico

*Mexican Flame Vine

Senecio confuses

May – Dec.

Mexico

Mexican Oregano

Lippia graveolens

June – Nov.

 

Mountain Sage

Salvia regla

July – Nov.

West Texas, Mexico

 

 

 

 

P

Scientific Name

Bloom Time

Bloom Time

Pentas

Pentas lanceolata

April - frost

Africa

Periwinkle

Vinca Spp.

May – Nov.

Europe, Asia, Africa

Plumbago

Plumbago auriculata

June – Nov.

South Africa

Prairie goldenrod

Solidago nemoralis

July – Nov.

US Native

Pride of Barbados

Caesalpinia pulcherima

June – Nov.

Central/South America

Purple Cone flower

Echinacea purpurea

May - Oct

US, Canada

Pyramid bush

Melochia tomentosa

May – Nov.

US, Central / South America

 

 

 

 

R

Scientific Name

Bloom Time

Bloom Time

Rock Rose

Pavonia lasiopetala

April – Nov.

Mexico, US Native

Rose Mock Vervain

Glandularia canadensis

Feb. – Nov.

US Native

*Roosevelt Weed

Baccharis neglecta

Sept – Oct.

Arizona, New Mexico, Texas

Roughstem rosinweed

Silphium radula

June – Nov.

US Native

Russian Sage

Perovskia atriplicifolia

May – Nov.

Asia

 

 

 

 

S

Scientific Name

Bloom Time

Bloom Time

Sedum

Sedum Spp.

Aug – Nov.

US, Asia, China

Shrub Daisy

Euryops pectinatus

June – Nov.

Africa

Simpson's rosinweed

Silphium simpsonii

July – Nov.

Florida

*Skeleton Leaf Goldeneye

Viguiera stenoloba

June – Nov.

US Native

Stokes Aster

Stokesia laevis

May – Nov.

US Native

Summer Phlox

Phlox paniculata

June - Oct

US, Canada

Sweet Almond Verbena

Aloysia vigata

May – Dec.

South America

 

 

 

 

T

Scientific Name

Bloom Time

Bloom Time

*Tall Goldenrod

Solidago altissima

Sept. – Nov.

US Native

Tall verbena

Verbena bonariensis

April – Nov.

South America

*Texas Lantana

Lantana urticoides

April - Nov.

Mexico, Texas

Texas Green eyes

Berlandiera betonicifolia

April – Dec.

US Native

Texas Vervain

Verbena halei

May – Nov.

US Native

Trailing Lantana

Lantana montevidensis

Feb. – Dec.

South America

Tropical Sage

Salvia coccinea

March – Dec.

US Native

Tube Tongue

Justicia pilosella

April – Oct.

Texas, New Mexico

Turk's Cap

Malvaviscus arboreus

May – Dec.

US, Mexico

 

 

 

 

V

Scientific Name

Bloom Time

Bloom Time

Velvet leaf

Wissadula halosericea

April – Dec.

US Native

Verbena

Verbena canadensis

April – Nov.

 

*Viburnum Mistflower

Eupatorium viburnoides

0ct. – Dec.

Mexico

Vinca

Vinca minor

April – Nov.

Europe, Asia, Africa

 

 

 

 

W

Scientific Name

Bloom Time

Bloom Time

Western Ironweed

Vernonia baldwinii

Aug. – Nov.

US Native

*White Mistflower

Eupatorium havanensis

Sept. – Nov.

Texas, Mexico, Cuba

Wingstem

Verbesina alternifolia

Aug. – Oct.

US Native

Woolly Bee Brush

Aloysia macrostachya

March – Dec.

US, Mexico

Woolly Ironweed

Vermonia lindheimeri

June – Nov.

Texas, Mexico

 

 

 

 

Y

Scientific Name

Bloom Time

Bloom Time

Yellow Cestrum

Cestrum aurantiacum

June – Nov.

Guatemala

 

 

 

 

Z

Scientific Name

Bloom Time

Bloom Time

Zexmenia

Wedelia hispida

May – Nov.

Texas, North Mexico

Zinnia

Zinnia linearis

April – Nov.

Southern US, Mexico to S. America

 
 
 
 
 
Information for this article was found at the following websites
http://www.learner.org/jnorth/
http://www.fs.fed.us/wildflowers/pollinators/documents/Monarch_Butterfly.pdf
http://www.nativeplantproject.com/butterflygardening.pdf
http://nationalbutterflycenter.org/