Imagine Cherrywood Conversation Envisions a Cohesive, Collaborative Neighborhood
This is a guest post from Eric Vogt, resident of the Cherrywood Neighborhood. The article was originally posted on the Cherrywood Neighborhood Association blog, and is reposted here with permission.  Imagine Austin News staff asked two follow up questions and Eric's responses are below.
On April 1, about 20 neighbors gathered at Cherrywood Coffeehouse for Imagine Cherrywood, a conversation about what residents love about Cherrywood and how the neighborhood might accomplish some dreams about Cherrywood's future. Jennifer Potter-Miller, Communications Chair for the neighborhood association, facilitated as the group discussed some of the most appreciated elements of Cherrywood's distinct culture. Some of the most beloved features of the neighborhood included the cohesive feeling whereby residents take pride in Cherrywood and want to get to know one another.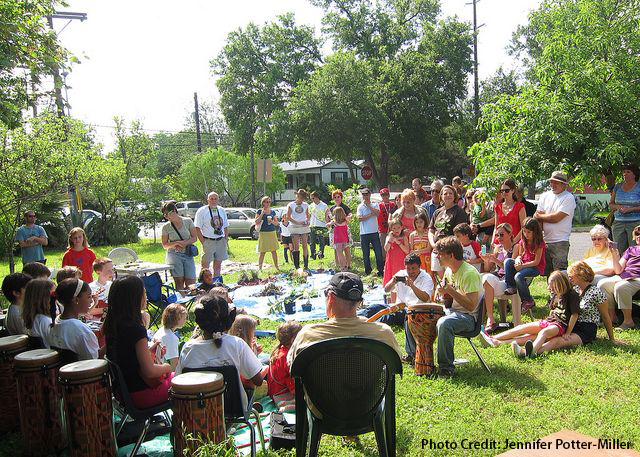 Neighbors particularly noted Cherrywood's sharing culture as a strength. Examples included recent kids' clothing and toy swaps, the long-standing Plant and Book Swap, and the efficiency with which the NeighborNet listserv allows a variety of goods to be exchanged quickly. Trash becomes treasure, lost pets found: all as close as a neighbor's email and her curb. Social events from the Fourth of July and Halloween parades to an increasing number of playdates for young families are growing each year. 
When the conversation turned to the group's hopes for the future, ideas built on existing strengths of the neighborhood. A few people asked how Cherrywood might share or barter time for "barn-raising" style events, working on home projects together or helping out for neighbors in need. Others considered how we could gather more block parties – maybe a "party of the month." The Cherrywood vision statement that was articulated in 1999 still feels relevant to many. It includes
Safe, walkable streets
Managing growth while ensuring livable density, a diversity of architectural styles and a well-maintained neighborhood
Achieving a sense of community and security by encouraging responsibility, involvement and pride among all residents and owners (and more)
At the same time, attendees asked how the neighborhood might retain the socioeconomic diversity that representatives expressed as a value both then and now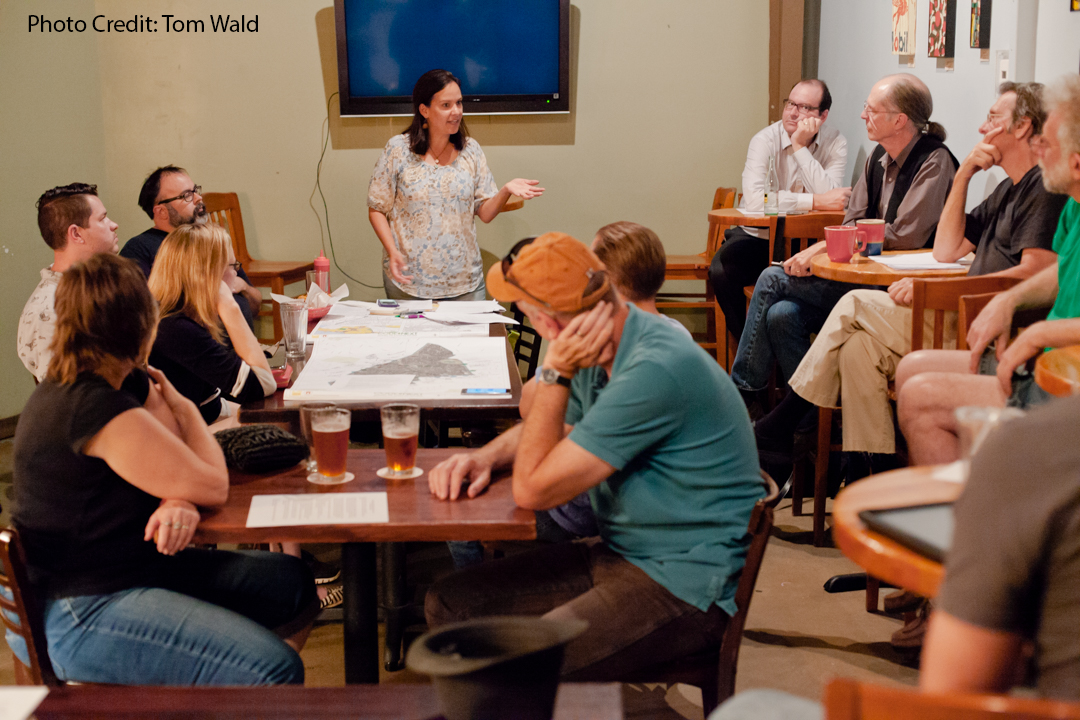 As the conversation turned to the steps it would take to move the neighborhood in the direction of its dreams, it was clear that a few volunteers have borne much of the weight of neighborhood-building, some for many years. More volunteers are needed for landscaping upkeep at green spaces not maintained by the city: Cherrywood Green, Willowbrook Reach, and the Concordia triangle. Some wondered how neighbors might use old-fashioned block walking, yard signs, comment boxes or a community kiosk to augment the ways that the Flea, NeighborNet, and Facebook page help residents communicate, play and work together.
The city is planning new support for some infrastructure projects in the near future, and the Imagine Cherrywood group sent recommendations via the Upper Boggy Creek Neighborhood Planning Contact Team that represents multiple neighborhoods in our section of East Austin. The infrastructure proposals emerging from the Imagine Cherrywood discussion centered around pedestrian and cyclist safety, ranging from a traffic light at Lafayette and East 38th 1/2 to added bike trails or crosswalks.
Finally, the group considered the roles that the formal leadership of the Cherrywood Neighborhood Association (CNA) and its committees might play. Clearly there is interest in an ongoing conversation about the neighborhood that Cherrywood is and the neighborhood it wants to be. CNA's part in convening and implementing that process – in particular the role of the Land Use and Transportation (LUT) committee that works with the city and considers local ordinances, codes and variances – seemed to remain unclear at the end of the meeting, particularly as the LUT continues looking for new leadership and dedicated members.
At the same time, all appeared to leave with a renewed sense of pride and promise for Cherrywood. Those in attendance seemed to agree that the Imagine Cherrywood conversation needs to continue, and include more residents in an ongoing vision-casting process. Moreover, whether through formal committees or simple acts of neighborliness, attendees reflected the need for all Cherrywood's residents to not simply talk but also act to live as the kind of community Cherrywood has said it desires to be.
If I may indulge a small editorial comment: it seems relatively simple to affirm that oft-quoted Gandhi dictum, "We must be the change we wish to see in the world." It is both harder and arguably more rewarding to recognize that our world starts with our neighborhood, and our neighborhood is us: no more and no less. What is the change Cherrywood wishes to see, and how can each and all of us actively be that change? Stay tuned.
Imagine Austin News staff follow up questions.
IA: How was Cherrywood able to develop such a strong sharing culture?
EV: Cherrywood had a great sharing culture long before I first connected with the neighborhood in 2009.  (I moved to the neighborhood in 2011, but have been pastoring Servant Church United Methodist here since 2009.)  Some of this could be attributed to the ways folks communicate, via the NeighborNet list serve and now NextDoor.  But I have a feeling technology only aided a sharing culture, rather than creating it.  I think people choose to live in Cherrywood who really want to connect with their neighbors.  It has walkability and density that lend to that.  Moreover, people take pride in and have long had shared responsibility around maintaining green spaces, helping at Maplewood Elementary, etc.  Sharing with your neighbors starts with getting to know them.  I'm no urban planner, but I also think there's something to the neighborhood having some resources but not a lot of storage space.  Smaller houses combined with people with a commitment to their neighbors lends itself to more sharing.  I'm done with this baby gear, for example, why not pass it on or share it rather than store it?  And sharing leads to more sharing.  I think people have gotten into a place of, "Why not ask?  Someone might have what I need - either stuff or knowledge - and be willing to share it."  We have a number of people who have been in the neighborhood a long time who have helped all the new additions like me start from some sense of trust.  I imagine sometimes places with lots of density (an apartment complex for example) have too much turnover to build up a sharing culture.
Another theory for Cherrywood's sharing culture is that the community has long been civically engaged, somewhat by necessity because of so much change in this part of East Austin in the past 20 years.  The conversations around the old airport and what would happen with the Mueller development, Blackland's relationship with UT, etc., has necessitated an engaged neighborhood.  Neighbors like Girard Kinney would know more about this; I'm grateful for his work and that of the late Gordon Bennett.
IA: What are some ways other neighborhoods could achieve this level of engagement?
EV: How other neighborhoods might increase this level of engagement?  Well, I'm certainly no expert, and I'm grateful for Jennifer Potter-Miller convening these kinds of conversations.  What was the "dream in a box" project that happened in the last year or so, did that come from Imagine Austin?  One way to start is by simply having a block party and trying to make sure you know your closest neighbors' names.  When neighborhood associations or others can help facilitate conversations about our places' history, present, and dreams about the future, I'm hopeful that a lot can happen at the grassroots level.  Another starting place could be asking what's one thing my household needs and one thing my household can offer?  My family is glad to share big items like a lawnmower and edger, or a washer and dryer, or come-over-and-watch-our-cable-TV with our near neighbors. In the same way, are you willing to not only offer but ask for help with lawn mowing, babysitting, petsitting, watching the house when you're away, etc.  Seems like we have to start small, and hyper-local.