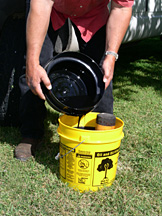 Date: Friday, August 23, 2013
Time: 9:00 a.m. – 3:00 p.m.
Location: Autozone, 2735 E. 7th Street – 78702
Have auto related environmental concerns? Join the City of Austin Watershed Protection Department's (WPD) Pollution Prevention team on Friday August 23 from 9:00 a.m. to 3:00 p.m. to get the answers that will help you improve your home car care. WPD staff will be on hand to answer any auto related environmental questions and concerns and you'll also be able to get some great giveaways! Visitors can sign up for a free home site evaluation and will receive an all in one oil change bucket topped with a drain pan to easily transport used motor oil for recycling.
Learn more about the program at: www.austintexas.gov/department/home-eco-mechanic