A range of City initiatives are making it easier.
On Saturday, June 8, gardeners from all walks of life gathered at Festival Beach Community Garden for a workday amid the winding stalks of kale and flourishing tomatoes in the communal plot. The garden is a flagship project of the City's Sustainable Urban Agriculture and Community Gardens Program. It's one of many City initiatives – support for urban farming, zoning updates, conversion of floodplain land, water rate adjustments, an economic impact  study, partnering with nonprofits, planting fruit and nut trees in neighborhoods, and funding gardens on school campuses – that are supporting Austinites' desires for more local food.
Using open land in different neighborhoods around our city to grow food – by locals, for locals – advances the Complete Communities vision in Imagine Austin. Specific actions called for in the comprehensive plan include promoting local food and supporting local farmers.  As our city grows more compactly, community gardens and small farming ventures within the city and its surrounding lands are an important form of green space that provide a daily connection to nature.
Community Gardens

Right now, community gardens in Austin are producing an estimated 100,000 pounds of fresh local produce for Austin residents annually. They are also places where both adults and children learn, while fostering community and good-neighbor relationships.
Since its founding in 2009, the City's Sustainable Urban Agriculture and Community Garden Program (SUACG) has made big progress establishing community gardens and sustainable urban agriculture on city land. To date, it has partnered to endorse 11 new community gardens in several different neighborhoods.  (See complete list of program accomplishments and initiatives.)
The earliest and still one of the best examples of community gardening on Parks and Recreation Department (PARD) land is Festival Beach, at the corner of Waller and Clermont in East Austin. Opened in 2010, it now has more than 80 active gardeners on 2 acres of property. This spring, the City facilitated continuous improvements such as design updates and plantings to support butterflies and bees. The success of Festival Beach has also been bolstered by the support of the Austin Parks Foundation (APF), which contributed $50,000 to this project; APF has also given millions of dollars to other PARD projects, including community gardens, over the past seven years.
One recent program accomplishment is a newly launched partnership with St. David's Foundation, which will result in new neighborhood gardens at four recreation centers – Gus Garcia, Virginia L. Brown, South Austin Senior Activity Center, and Oswaldo B. Cantu Pan American. Two are completed, one is in-progress, and one is being planned.  At each site, St. David's Foundation provides the design and installation of a garden specifically for seniors; the City builds a companion section available to other gardeners.  Everyone benefits by growing their own healthy food, getting exercise, and getting to know their neighbors.
Another great initiative this year is the mini-grants program.  The Program teamed up with Austin/Travis County Health and Human Services Department to offer $32,000 worth of grant funding to 13 community groups. The projects funded help to (1) increase the number of urban farms, community gardens, farmers' markets and / or farm-to-site programs in areas of high need; and/or (2) establish programs related to urban farm training, education and outreach, in a way that continues to catalyze agricultural innovation that will address challenges with the region's food system and farming community. (See below for list of grant recipients.)
Economics
Food is big business in Austin. According to a recent economic impact study commissioned by the City's economic growth office, $4.1 billion in economic activity was generated by the food sector in 2011. Locally grown foods play an important role; at grocery stores, farmer's markets and restaurants, food items identified as "local" are highly desirable on the culinary scene.  For example, the W Austin Hotel employs a full-time local foods forager.  At the State Capitol, the Texas Farm-to-Table Caucus backed the passage of three bills that ease the regulatory burden on small food producers and family farms in the state.
Urban Farm Code Update

The City of Austin is looking to ease this regulatory burden as well. Within Imagine Austin, action CE A12 states:  "Support local farmers by creating incentives and removing regulatory barriers."  Toward that end, the City has been actively advancing a code update – to remove barriers and clarify confusing language and discrepancies within the existing land-use code for urban farming. The Sustainable Food Policy Board (SFPB), its Code & Metrics Working Group, various stakeholders, and interested members of the public have all been working together with City staff on development of recommendations. The dedication of time and effort from all involved has been impressive and will ensure that the end result is comprehensive and practical.
The process has involved community meetings and facilitation to help resolve conflicts between agricultural activities and nearby neighborhood residents. "Community members and farmers do not always see eye-to-eye on urban agriculture," noted SUACG Interim Coordinator Heather Frambach.  "But through an engagement process that involved a series of community meetings in April, May, and June, and ongoing conversations with neighborhood organizations, has resulted in agreement on common goals -- safe, healthy, and just communities where new and existing urban farmers can earn a living by growing food sustainably and neighbors have adequate safeguards to ensure environmental health and justice."  Meeting notes are available online by topic:
A summary of recommendations was presented by staff and SFPB members at a town hall meeting on June 11. Members of the public and representatives of various stakeholder groups were also on hand that evening to comment and offer suggestions to resolve a handful of lingering issues. Throughout the process, many passionate representatives of neighborhoods, local organizations, and farms expressed their vision of a city that removes barriers for those who seek to grow food in the City while providing reasonable safeguards for neighbors. The working group's recommendations reflected those voices by advocating for clearer rules about permissible on-farm activities like animal-raising while preserving setback requirements for animal enclosures and composting, and adjusting farm event requirements to protect single-family neighborhood streets from excessive cars and noise.
Final code update recommendations will go to Planning Commission in late June; a final draft will then go to City Council for adoption.
Watershed Ordinance
A great source of available open land for small-scale farming are properties that aren't suitable for development because they lie in the floodplain.  Measures to allow new agricultural uses on such land, which current zoning prohibits, are part of an updated watershed protection ordinance. The subject of stakeholder meetings since 2011, the ordinance amendments are now in the final stages of review. The ordinance will head to both Austin City Council and the Travis County Commissioners Court for adoption this summer. Changes related to setbacks and floodplains will allow for farming on City land, which then can be leased for commercial agriculture.
A Bright Green Future for Austin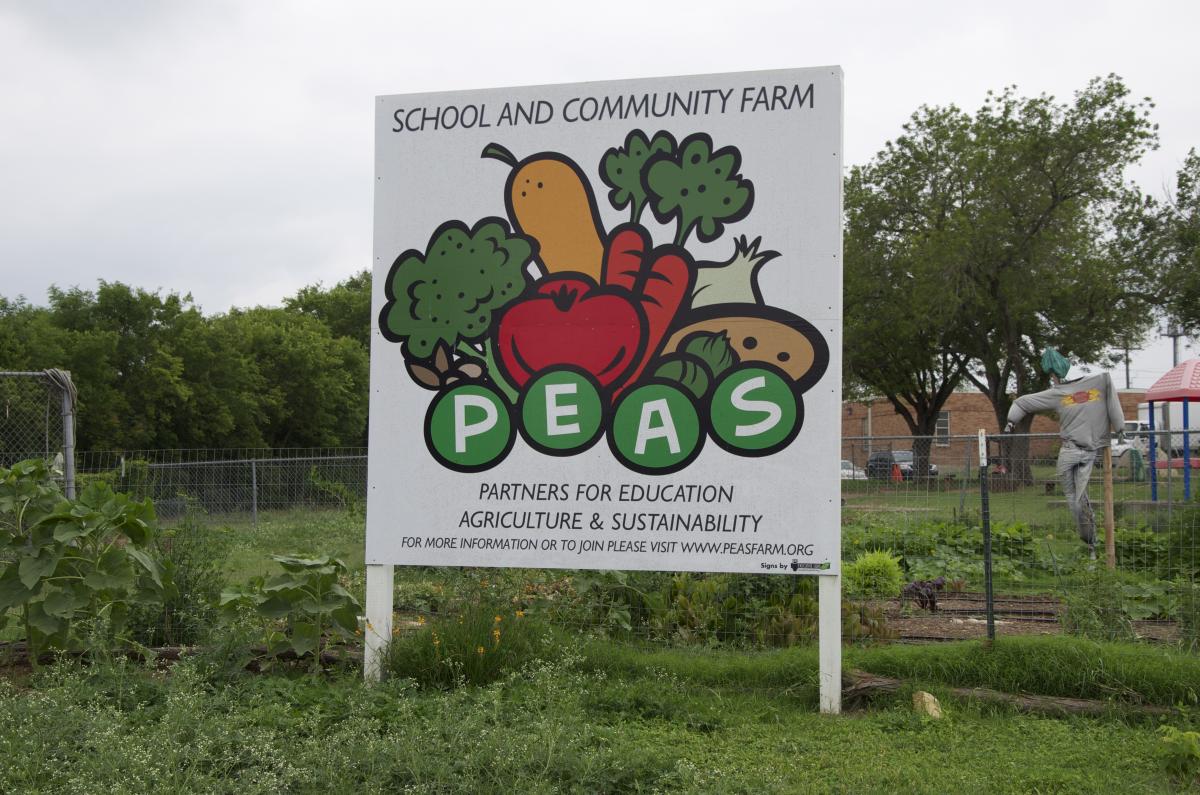 Three other food garden and native plant projects, all on school campuses, were funded over the past school year through The Office of Sustainability and its Bright Green Future Grants – one $3,000 grant each for an Austin elementary, middle, and high-school.  For example, one grant helped Cunningham Elementary School build and operate its PEAS community organic farm (pictured).  The pilot program is part of the City's Sustainability Action Agenda; it was so successful that the Office of Sustainability is developing plans to substantially expand it next year.
Speaking about the Bright Green Future program, City Manager Marc Ott said:  "It's a great example of creativity and partnership. I think it shows how small investments can pay big dividends, and how a tiny spark can lead to big things."
For more information on the City's Sustainable Urban Agriculture and Community Garden Program, contact Heather Frambach (512-974-9409, heather.frambach@austintexas.gov) or Kate Vickery (512-974-9474, kate.vickery@austintexas.gov)
-Meredith Bossin, with Heather Frambach
---
2013 Mini-Grant Recipients:
El Buen Samaritano Episcopal Mission
Food For Black Thought
Foundation Communities
Sustainable Urban Solutions (SOLURSO)
Austin Community Design and Development Center
Green Gate Farms
Moontower Community Agricultural Co-op
East Feast 2022 Coalition
UT Micro Farm
Central Cherry Creek Neighborhood Association/Cherry Creek Community Garden
Ten Acre Organics LLC
New Farm Institute
Regeneration Eco-Farm