Golden Afternoon by Urban Matter Inc.
In an episode of the APL Volumes podcast, Cultural Arts Division staff member Calder Kamin interviews artists Shagun Singh and Rick Lin of Urban Matter Inc. about public art and their new artwork Golden Afternoon, a public art installation in the Seaholm Redevelopment commissioned by Austin Art in Public Places.
Golden Afternoon is a responsive public art installation in the parking structure of the Seaholm Redevelopment Project. Inspired by the wildflowers of Texas, the installation mimics a hanging garden that has overgrown from the flower beds on the ground level, down the open stairwell, and making its way into the parking lot. Reminiscent of a trip down the rabbit hole from Alice's Adventures in Wonderland, the artwork experience is heightened by lighting which responds to people moving up and down the stairs.
APL Volumes is the podcast from the Austin Public Library. APL Volumes shares stories of creativity, knowledge, and innovation through conversations with people who do life in Austin, TX.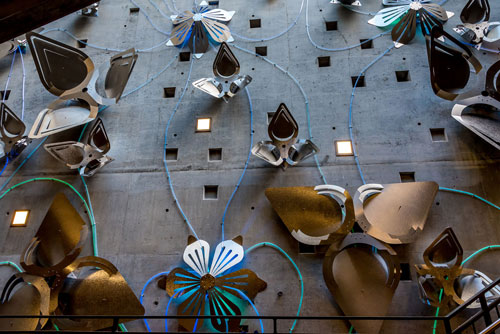 Golden Afternoon by Urban Matter Inc.