Getting Centered: Economic Development
Getting Centered: Economic Development
As companies start-up, expand, or relocate to Austin, how can the City encourage them to locate in the compact "centers" identified in Imagine Austin – places that provide the convenient everyday services, homes and jobs that people need?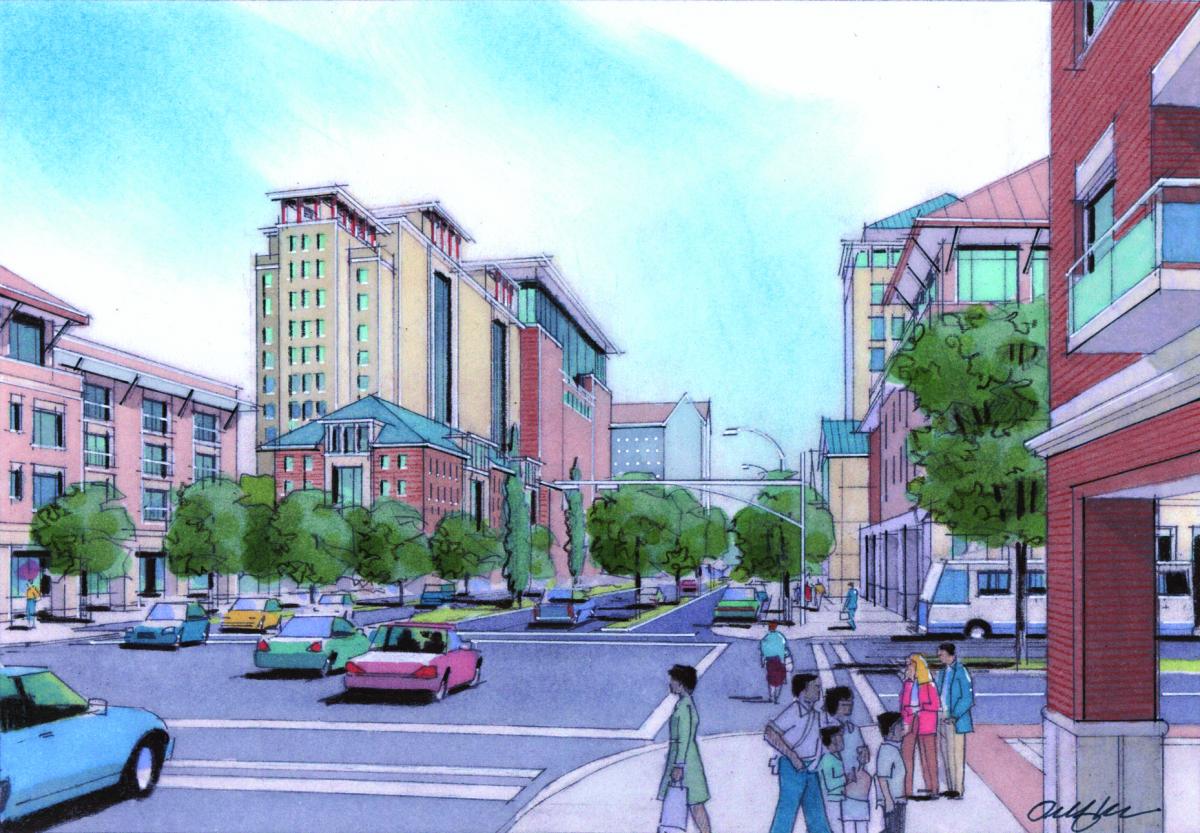 City economic development policies and incentives are one powerful tool. New recommendations coming forward are linking two sets of goals: Promoting vibrant, walkable places while keeping our economy strong. 
---
Last year, an Austin City Council Special Committee recommended updates to the City's economic development policies.  (These included new minimum requirements for companies seeking incentives and a list of measures that would provide exceptions to the new requirements.)  Specifically, they asked staff for exception measures to encourage companies to:  1) locate in a targeted redevelopment area (e.g. an Imagine-Austin designated neighborhood, town, regional, or job center), and 2) locate within a half-mile of public transit.
In response, the city' department of Economic Development (previously known as the Economic Growth and Redevelopment Services Office), clarified some of the proposed exception measures to more succinctly align with Imagine Austin.  In addition, the department proposes a new "proximity bonus" applicable to companies seeking City incentives. Rodney Gonzales, Deputy Director of Economic Development, said he's excited about new proposals to encourage local hiring, and about using the economic incentives tool to "align employment, housing, and transit-connected nodes" as called for in the city's Compact and Connected policies. To meet the threshold for a proximity bonus, a company would be required to locate within proximity of Downtown – specifically, within either a five-mile or seven-mile radius.
Recommendations in a just-released Economic Development report  include exception measures such as:
Locate in a high-frequency transit corridor, or targeted redevelopment area, including TOD's (transit oriented developments); or,
Locate less than one mile from transit, with a safe walking and/or bike route to the transit stop (envisioned as ¼ mile for pedestrians, and up to one mile for bicyclists); or,
Implement a program that encourages employees to take transit, walk and bike, car pool, and work flex-time schedules
These exception measures guide companies toward Imagine Austin "centers" citywide – provided they are also in the City's desired development zone (i.e. not in environmentally sensitive areas over the Edwards Aquifer). If the "proximity bonus" proves successful, other place-based criteria or bonuses could potentially be proposed in the future, said Gonzales.
Place-Based Economic Development
But incentives – provided to stimulate job creation and investment in targeted industry sectors – are just one small part of the work of ED.  Overall, said Gonzales, the department is moving forward with a place-based approach to economic development – as part of activating Imagine Austin.
  For example, it is assisting small and local businesses seeking to locate or expand in Neighborhood Centers and Town Centers, which in turn stimulates the development of these centers as vibrant, walkable small-scale business districts.  "Through the Family Business Loan Program, our Small Business Development Program now can help Austin small businesses grow and expand, leveraging a HUD Section 108 $11 million loan guarantee to offer low-interest loans to small businesses that are ready to expand and create jobs," said Gonzales.
These City efforts reflect a national emphasis on placemaking – creating attractive, people-oriented, walkable places that attract a mix of companies, new homes, and amenities – as an effective economic development strategy. Placemaking advances many community goals – not just for the economy, but also for sustainability and quality of life. (To learn more, see Placemaking and Economic Development).  At Economic Development, ongoing projects have included the redevelopment of Mueller and the Seaholm District – both as walkable, mixed-use urban centers – and of TOD areas near planned urban rail stations, as part of the City's regional participation in the Sustainable Places Project and Project Connect. To date, Economic Development Department projects have created 280 for-sale and 382 for-rent units, all of which are set aside as affordable housing, in mixed-income and mixed-use environments.