Gates Changing Numbers, Glass for Oculus Installed and New Maintenance Complex Planned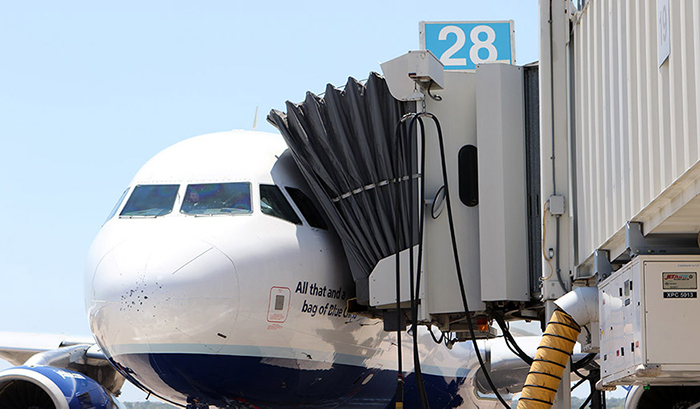 Phase II of gate renumbering at the Austin-Bergstrom International Airport is completed. Gates 16-20 is now 25-29.
Phase II of gate renumbering has been completed at the Austin airport in preparation for adding nine new gates to the Barbara Jordan Terminal. Glass installed on the Oculus feature of the 9-gate terminal expansion and a new consolidated maintenance complex is planned to support airport operations.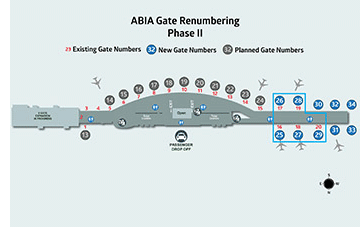 Phase II Renumbering Completed as Gates 16-20 Change to 25-29
The second phase of the gate number changes at the Austin airport has been completed as part of the 9-gate expansion project and increasing the number of gates from 25 to 34. New gate numbers are starting to appear in the Barbara Jordan Terminal as Gates 16-20 were changed to 25-29.
Phase III will see Gates 10-15 change to 19-24 in September. Gate renumbering will continue to  change until October. The remaining gate renumbering schedule is below:
Mid-September – Gates 10-15 change to Gates 19-24
Early October – Gates 1, 5-9 change to Gates 13, 14-18
The renumbering includes changes to all the numbers at the gates, on the concourse, jet bridges, jet parking and on the directional/wayfinding signs in the airport. Gates 16-20 changed to Gates 25-29 on Aug. 15. Gates 21-25 were changed to Gates 30-34 on Aug. 1.
To watch the arrival and installation of new number 34, click here.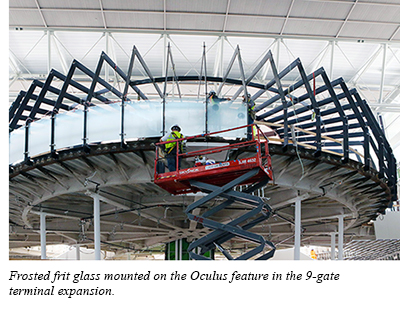 Glass Installed on Oculus Design Feature
Frosted glass has been added to the Oculus moon tower design feature of the 9-gate expansion that is under construction at the Austin airport. At 8,974 square feet, the Oculus is a mezzanine-level circular design that is raised 21.5 feet high from the concourse. The upper-level mezzanine Oculus will be part of the new Delta Sky Club. Under the Oculus on the concourse level is 2,750 square feet of restaurant development space open to all passengers. 
The mezzanine level of the 9-gate expansion also includes 10,179 square feet for the Custom's sterile corridor, 1,507 square feet of common area that leads to the 3,994 square foot exterior patio. 
The concourse level of the 9-gate expansion includes 89,735 square feet of new gate area, hold room, restaurant, retail, other concessions and restroom space. 
New Airport Consolidated Maintenance Complex Planned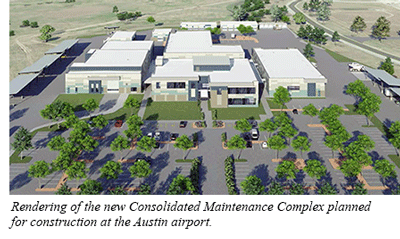 The Austin-Bergstrom International Airport has plans to construct a Consolidated Maintenance Facility to provide maintenance support for airport daily operations. The new site, located off of Golf Course Road that intersects with SH 71 will serve as the headquarters for maintenance (airline, building, and field), motor pool, warehouse, trades (carpeting, mechanical, plumbing, welding, and wildlife), deicing, recycling, truck wash bay, airport police unit and police K-9 center.
Located on 29.88 acres on current airport property, the single complex design supports the need for additional maintenance facilities that are currently located at various locations at the Austin airport. It will also provide covered storage of maintenance vehicles and other important and expensive assets.
Six buildings, including maintenance headquarters, motor pool, warehouse, trades, and airport police units have been designed to achieve LEED (Leadership in Energy and Environmental Design) Silver certification.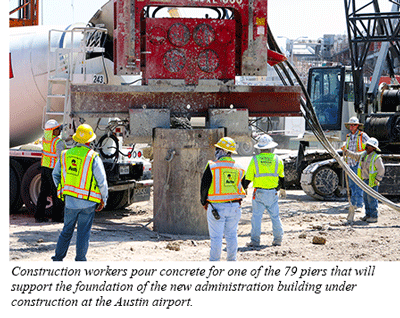 Construction on the consolidated maintenance complex buildings totaling 133,150 square feet is estimated to begin in 2019 with an estimated completion date in 2020.
Foundation Piers Set for Administration Building Construction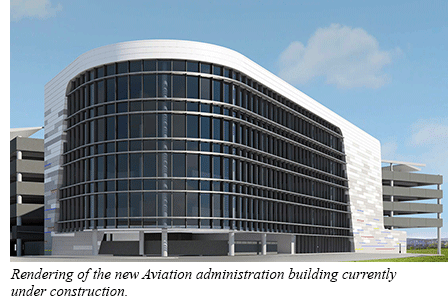 Piers ranging from 2 to 4 feet wide to 71 feet deep have been set to support the foundation of the five-level, 81,800 square foot Aviation Administration Building. A total of 79 piers will be set for the building that will be located next to the new 6,000 car parking garage under construction at the Austin airport.
Austin Commercial is the lead contractor for the administration building that is designed to be LEED Gold. The building will house and consolidate administrative aviation departments including finance, properties and tenant management, enterprise business services, public information, graphic, arts, music and air service development. The building will allow airport personnel to move from the mezzanine levels inside the Barbara Jordan Terminal and make the space available for possible future development and or passenger amenities.