From Garbage Can to Business Plan: [Re]Verse Pitch Competition Inspires Austin Entrepreneurs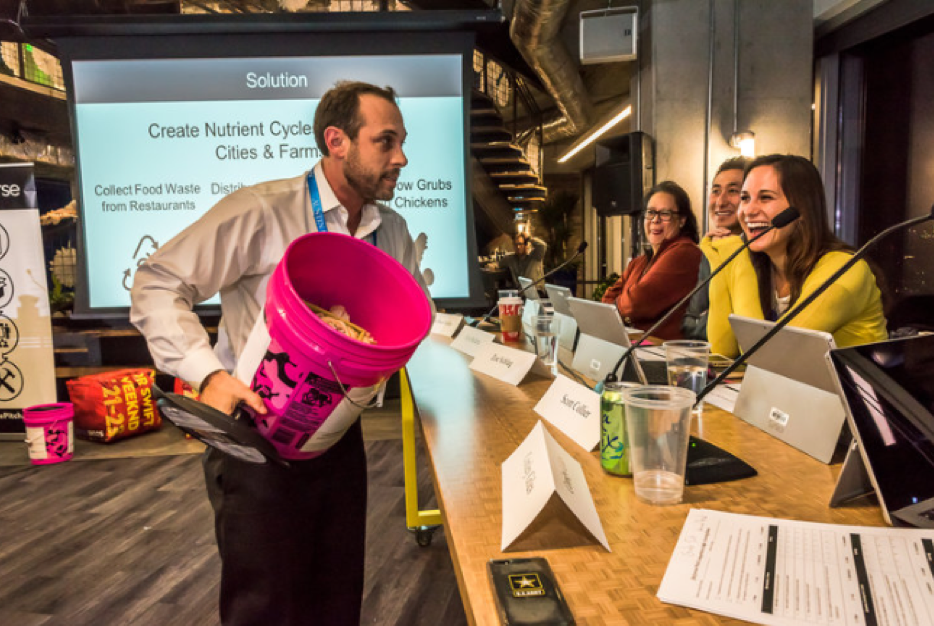 By Valerie Vines and Natalie Betts
Each year, Austin entrepreneurs gather business ideas from a very unlikely location: other companies' dumpsters. The [Re]Verse Pitch Competition is a social innovation program that helps draw attention to valuable raw materials that are currently leaving local businesses as waste. By introducing firms with unique by-products to environmentally-conscious start-ups, [Re]Verse Pitch turns would-be waste into the foundation of new social enterprises.
The competition, organized by the City of Austin and community partners, starts with an opening pitch event and an audience of entrepreneurs. Unlike your traditional elevator pitch, businesses and non-profits get to give the initial presentations. Their goal? Inspire an innovator to divert from the landfill some of their hardest-to-recycle materials. The innovators' challenge? Develop a profitable new product or service from the "waste" at hand.
This year's pitch will include the following materials with untapped potential:
White and red wine grape skins from The Austin Winery
Dye-cut plastic sheets from HID Global
Polyester napkins from JOSCO Products
Styrofoam coolers and ice packs from Texas Oncology
Office chairs from Travis County Surplus
​Each of these items can offer extended value to Austin's economy, so long as they don't end up in the trash. Entrepreneurs who participate in [Re]Verse Pitch are matched to a mentor with whom they will create and refine a reuse business idea. The best ideas will be invited to pitch at a final event in April, for the chance to win one of two $10,000 Innovation Prizes.  UT's Rowling Hall will host the closing event where two teams – one new business idea and one existing business that is able to incorporate use of one of the materials – will be crowned [Re]Verse champions.
Gearing up for its fourth year, [Re]Verse Pitch was founded on the simple idea that if we start to (metaphorically) lift the lid on our garbage cans and show the community the value of the resources inside, Austin's artists and entrepreneurs will find innovative ways to design that waste out of our economy.  Less trash and more profit? Sounds like a win-win situation.
Want to be one of the artists or entrepreneurs creating business waste solutions? Jump into Austin's circular economy by attending or competing in this year's opening pitch event. The first stage of the competition will be held at The Capital Factory on Tuesday, February 26 from 6 to 8 p.m., and is open to the public. To learn more, visit www.ReversePitch.org.