Garage Tops Out With Concrete Pour, Jetset Construction Begins in Terminal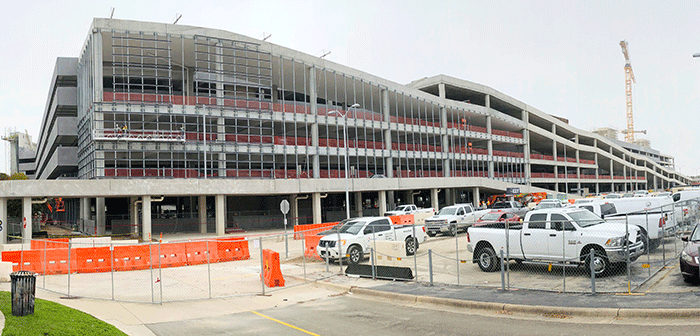 Under construction is a 6,000 parking space garage at the Austin airport.
The construction of the 6,000 spot-parking garage reached a milestone with the topping out concrete pour for the six-level building. The closure of Austin City Limits/Waterloo Records across from Gate 24 marks the start of construction of JetSet Market. Construction at the control tower begins to improve storm water runoff drainage.
Parking Garage Construction Tops Out in 14 months
Austin Commercial, the lead contractor for the construction of the six-level parking garage with 6,000 parking spaces, celebrated the topping-out pour of concrete for the building. The 2.1 million-square-foot cast-in-place building was topped out in 14 months.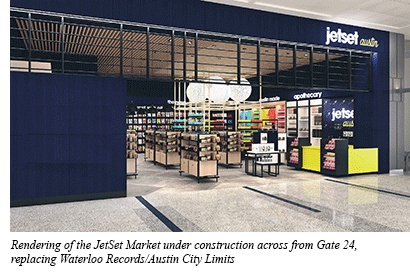 The garage is estimated to open in phases later on this year, initially making about 1,900 spaces available.  With an overall completion date in early 2019, once fully-opened the new garage will feature a new space detection guidance system to help direct parkers to empty available spaces. Austin Commercial has used 6,350 tons of rebar and poured over 95,000 cubic yards of concrete.
A construction camera is stationed at the site to view the building that is three football fields in length. To view photos (updated every 30 minutes) and watch the time-lapse video of the new garage visit: http://workzonecam.com/projects/austincommercial1
JetSet Market Construction Begins to Replace Waterloo Records
The Waterloo Records/Austin City Limits store just beyond Checkpoint 3 is now closed for the construction of JetSet Market at the Austin airport.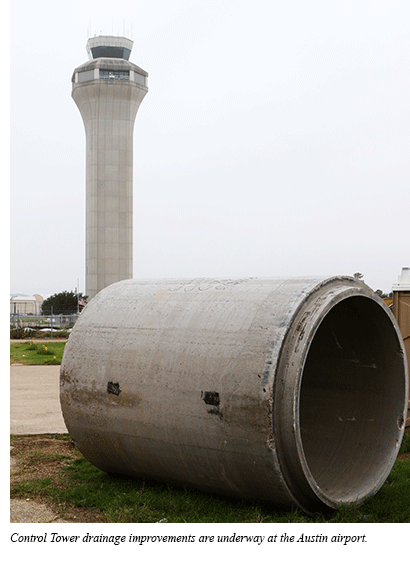 The JetSet Market brand is designed to offer quality content, everyday essentials and luxury items for jet-setters. Space is planned for the market to be divided into four zones. The zones include a media lab for news items and magazines, local and Austin made section, apothecary/healthcare, and a food market area.
The new 1,115 square foot JetSet market across from Gate 24, that will be operated by concessionaire Delaware North, will also offer cold beverages and food, vending items and merchandise.
Work to Improve Control Tower Storm Water Drainage
To reduce the flood risks to the Air Traffic Control Tower (TRACON) site at the Austin airport, approximately $2.1 million in drainage improvements and construction are underway. These improvements will lessen the possibility of flooding to the building that occurred 2015 and 2016 that caused operational delays.