Food and Retail Concepts Announced for Terminal Expansion
Nineteen new food and retail concepts and brands, including local Austin culinary favorites along with nationally recognized labels, will join the Austin airport offerings to passengers as part of east terminal renovations and the 9-gate expansion project. Final Master Plan Workshop set for Sept. 26 and gate renumbering continues.
9-Gate Build Brings New Names, More Traveler Options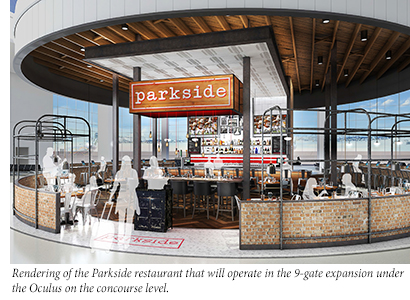 New concession concepts and specialty stores are coming to the Austin airport as part of the construction of the 9-gate expansion and renovations to the east side of the terminal. This will bring in new local favorites and new national store brands to the airport.
Austin City Kitchen is an action food hall concept with a live music performance stage. Operated by HMSHost, a new concessionaire partner, the food hall includes:
Austin Beer Drop, a draft beer taproom by Austin Beerworks
Hardies Fresh Food Market, a local produce and culinary souvenir shop
Noble Sandwich Co., a local from scratch made sandwich shop
Sushi-A-Go-Go by Kome, serving signature rolls, sashimi, and sushi.
 Other concepts introduced by the new concessionaire includes:
24 Diner, a chef-inspired comfort food menu based on the 6th & Lamar Blvd. location
Jugo Juice, a Parkside Projects chef created grab-in-go foods, juices, and smoothies
Parkside, a restaurant inspired by Chef Shawn Cirkiel's downtown East 6th St. location
Starbucks, a nationally branded coffee shop.
Concessionaire Paradies Lagardère new brands will include: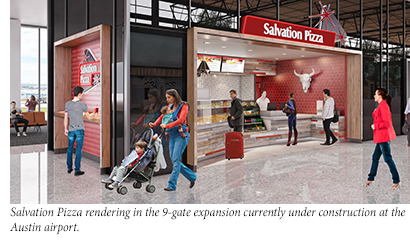 Brighton Collections, accessories, women's jewelry, and handbag boutique
CNBC news store, offering snacks, beverages, and basic travel essentials
Salvation Pizza, a local New Haven-style pizza kitchen with thin, hand-pounded crusts
The Scoreboard, an athletic retail shop.
Delaware North Company (DNC) is introducing:
Caffe' Medici, a local specialty espresso and coffee house
Hammer Made, men's clothing boutique
Toy Joy & Yummi Joy, specialty toys and nostalgic candy store.
New concepts planned as part of the renovation and the terminal expansion includes:
XpresSpa, a massage, spa, hair, nail care service
James Avery, local artisan jewelry, charms, and pendants
InMotion, airport and premium electronics retailer
DutyFree shop
Venues that are opening a second location inside the Austin airport include:
Barton Springs Express, snacks, beverages, and basic travel items by Paradies Lagardère
Austin Chronicle, an Austin themed novelty and souvenir shop by DNC
Final Public Workshop for ABIA 2040 Master Plan on Sept. 26
The fourth and final public workshop for the ABIA 2040 Master Plan, is set for Wednesday, Sept. 26 at 6 p.m. Learn how the ABIA Planning team sees the airport in 20 years and engage with ABIA team members and staff. Learn more about the terminal, curbside, and transportation improvement options being recommended. The open house format workshop will be held at 2716 Spirit of Texas Drive – Room 174A. More information about the ABIA master plan can be found at www.abiamasterplan.com/getinvolved/. Please email ABIAMasterPlan@makingthingsclear.com or call (512) 672-8721 for any questions you may have.
Final Phase IV Renumbering for Gates 1, 5-9 to Become 13-18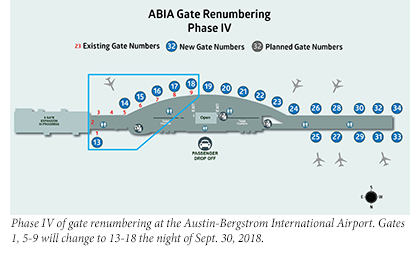 The final phase of gate renumbering is set to start the night of September 30, 2018, and be completed early morning October 1. In phase IV of gate renumbering at Austin's airport, Gates 5-9 become Gates 14-18 and Gate 1 becomes Gate 13. Original gate numbers are being changed in multiple phases as part of the Austin-Bergstrom International Airport 9-gate expansion project.
The renumbering project began with the original Gate 25, which became Gate 34, on Aug. 1. The renumbering includes changes to all the numbers at the gates, on the concourse, jet bridges, jet parking and on the directional/wayfinding signs in the airport. Gates 2, 3 and 4 will remain unchanged until completion of the terminal expansion. After which, these gates will be relocated to the east end of the terminal expansion.