Flyrite, East Side Pies Opens, Lots Temporarily Closed for Resurfacing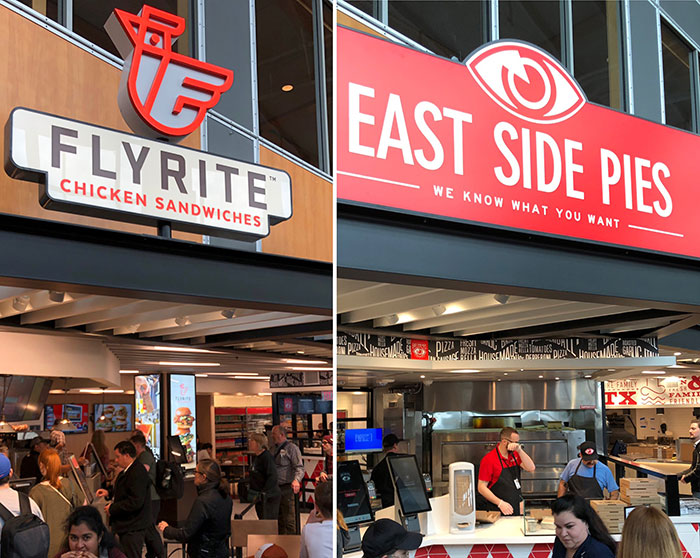 Both Austin based Flyrite Chicken and East Side Pies are now open in the West Food Park across from Gate 21.
Flyrite Chicken and East Side Pies, two local and innovative food establishments are now open at the Austin airport, adding crafted chicken sandwiches and thin-crusted specialty pizza pies to the menu selections at the Barbara Jordan Terminal. Resurfacing of economy parking Lots C, E and G are underway and new designated smoking areas are marked outside the terminal.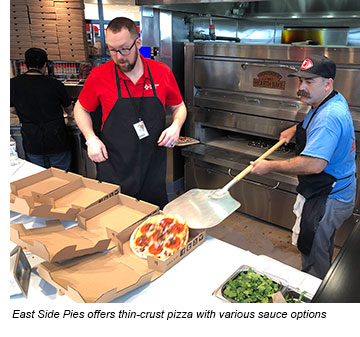 Flyrite Chicken, East Side Pies Open in West Food Park
Flyrite Chicken and East Side Pies are now open and taking flight into the pallets of passengers at the Austin airport across from Gate 21 in the West Food Park.
The open design that includes mixed seating for 81 customers is located in 3,227 square feet for both restaurants and two other local concepts coming soon.
Born in Austin by owner Kevin Warden, Flyrite offers the Club 512 chicken sandwich, with pepper jack and house-made avocado salsa; The Cowboy chicken sandwich, with bacon, cheddar, jalapenos and hoss sauce; and kid-friendly tenders as options. Flyrite touts that its menu is made with no MSG, antibiotics and artificial ingredients or high fructose corn syrup.
East Side Pies at the airport is the fifth location for the Austin based company co-founded by Noah Polk and Michael Freid in 2006. East Side Pies, known around the city for its thin-crust pizza and various sauce options including the Mizza, topped with bacon, ham, pepperoni and homemade meatballs. A meatless Guiche pizza is available with spinach, green chilies, sun-dried tomatoes and goat cheese.
The two new venues along with the soon-to-be open Hat Creek Burger Co. are located in the former Scholtsky's, Maudie's Tex-Mex, Amy's Ice Cream, and Salt Lick locations. Work continues on the standalone Amy's Ice Cream in the West Food Park.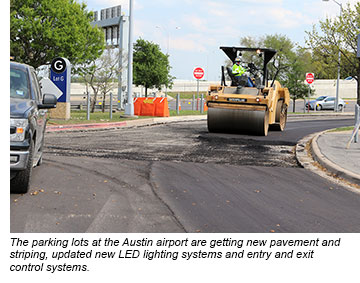 Parking Lot C,E and G Temporarily Closes for Resurfacing, LED Lighting Upgrade
Temporarily closed are long-term economy parking Lots C, E and G, for resurfacing, restriping and to upgrade to a LED lighting system. Installation of the new entry and exit control equipment and LED variable message signs along Presidential Blvd. is taking place.
Levels 1 and 2 are now available in the new Blue Garage at $10 per day, during the closure of Lot C, E and G. Customers may follow the signs on Presidential Blvd. for garage parking to reach the Blue Garage.
Economy Lots B, D and F are open during the resurfacing along with the close-in garage with valet services.
The Blue Garage is the state of the art parking garage conveniently located in walking distance to the Barbara Jordan Terminal. Levels 3-6 will open in phases as construction continues on the structure that will add 6,000 new covered parking spaces to the airport.
The Blue Garage, along with construction to update the entry and exit plazas to the lots, signage along Presidential Blvd., and the adjacent Aviation administrative building are part of a $250 million dollar improvement project approved by the Austin City Council in 2017.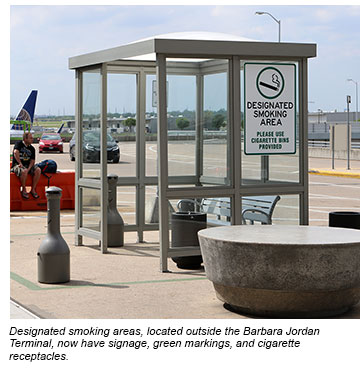 New Designated Smoking Areas Marked
Smoking at the Austin airport is permitted only in the new designated areas outside the Barbara Jordan Terminal. Designated smoking and vaping (e-cigarettes) spots are located outside the terminal on the east and west ends of the upper and lower drop-off and pickup areas, 25 feet from the entrances.
There is also a designated smoking area atop the upper-level garage. All smoking areas have signage and includes green markings and cigarette receptacles for disposal. The Barbara Jordan Terminal including the new East Terrace Balcony and the South Terminal are non-smoking facilities. The 25-feet clearance meets LEED (Leadership in Energy and Environmental Design) Silver requirements for green building rating and complies with City of Austin Transportation Codes.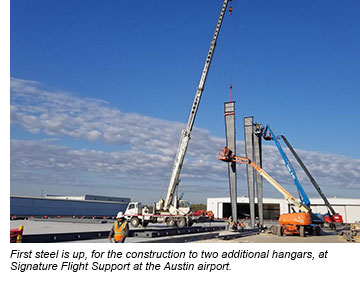 First Steel Up for Signature's Two Additional FBO Hangars
The construction of two additional private hangars for Signature Flight Support has reached a construction milestone with the raising of the first steel for Hangars No. 6 and 7. Located south, on airport property at 4321 Emma Browning Ave., the hangars will give Signature an additional 33,600 square feet of covered hangars space. The side-by-side abutting hangars under construction are 140 x 120 x 28 feet each. Signature offers services and hospitality for visiting aircraft and prominent private clients.
Christina Mendoza contributed to the FlyRite and Eastside Pies article.