Five Tips for Recycling in the Bathroom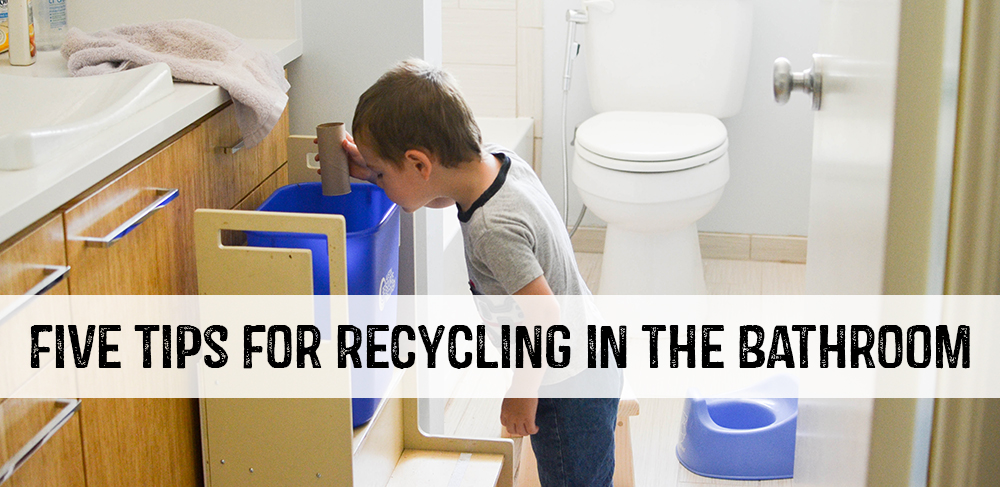 Recycling can sometimes be challenging, especially for those who aren't environmental-nerds. However, making recycling a habit in your home can actually be really easy.  All it takes is equal parts recycling bins to trash bins and a little education. For example, did you know there are more than 20 items in the bathroom alone that are recyclable? That's a lot of stuff!
Unfortunately, a lot of these items end up in the landfill because many people don't know they're recyclable or because they weren't in close proximity to a recycling bin. That's why for 2015, we'reasking Austinites to not only Pledge to Recycle more, but to focus on recycling more in the bathroom. To help guide the way, we've got five simple tips to help you get started and achieve Zero Waste!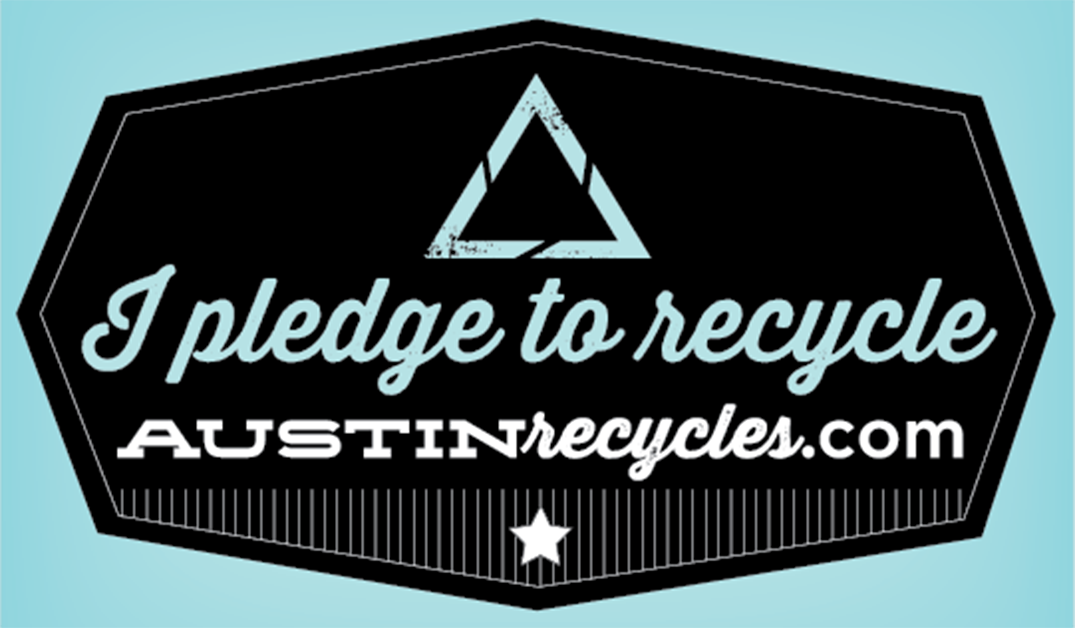 1. Add a recycling bin in the bathroom.
Keep two bins in the bathroom – one for trash, one for recycling. Label or color-code the bins for clear and easy use. This will make it much more convenient to recycle and serve as a reminder that recyclables also exist in the bathroom!
2. Pay attention to what you're recycling and what you're throwing away.
Many bathroom items that get thrown in the trash actually belong in the recycling bin. For example, the packaging on many products such as Chap Stick, mascara, and shavers come in cardboard backing and hard plastic casing, which is recyclable. In fact, most makeup comes in recyclable packaging.
Other recyclable bathroom items include cardboard toilet paper rolls, the cardboard case holding dual packs of shampoo together, some perfume or cologne boxes, and empty plastic bottles that hold products such as bathroom cleaners, shampoo, conditioner, hand soap, face wash, contact solution, hair products (even aerosol), lotion, body spray . . . the list could go on! Not sure? You can always check our What Do I Do With… guide as a helpful reference!
3. Rinse empty bottles three times before recycling.
It's important to make sure that plastic bottles are empty and clean before you put them in your recycling bin. A quick rinse is all they need.
4. Use every last drop of soap products to avoid being wasteful.
Often times there are still a couple of good uses of product in an "empty" bottle. When a plastic soap dispenser can no longer reach the soap in the bottom of the bottle, add a little water and shake it up to create diluted soap. It still bubbles up and works just like regular soap and you should be able to get another week of use. You can do the same thing with shampoo, body wash, and some bathroom cleaners.
Underneath a bathroom sink can sometimes turn into a dark abyss of miscellaneous cleaning products you've forgotten about. Rather than pouring old cleaning chemicals down your bathroom drain or throwing away a burned out lightbulb, utilize Austin's Household Hazardous Waste Facility to dispose of these products. Aerosol cans that are still filled with hair spray or cleaner can be taken to HHW as well.
Did you know... as a resident of Travis County and/or City of Austin resident, you have access to new or slightly used chemicals for free? Household cleaners and solvents are available at the Reuse Store, located at the Household Hazardous Waste Facility on 4108 Todd Lane.
Written by: Blanche Schaefer, ARR Marketing & Communications Intern