Energy Efficient LED Lighting System Planned for Expansion, More Concessions Set to Open at Cell Phone Lot


Nighttime view of the 9-gate terminal currently under construction at the Austin airport. Photo by Hensel-Phelps.
Stylish designs, dimming and ambient lighting will make the Austin airport's 9-gate expansion more energy efficient. Subway and TacoN' Mama set to open giving travelers and drivers more options at the airport's Cell Phone Lot.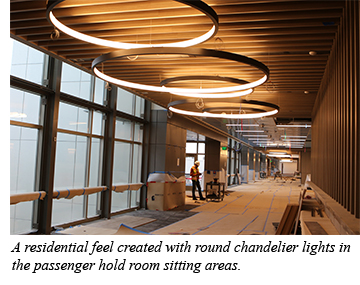 Stylish LED Lighting System in 9-Gate Expansion
The 9-gate expansion at the Austin airport is using 73 different light fixture types to bring a sophisticated form of lighting and architectural design to the terminal. All lights in the expansion currently under construction are LED and designed to be energy efficient.
The lighting system has both occupancy and daylight sensors. This will dim the lights to take advantage of natural sunlight on bright sunny days, or adjust the illumination on overcast and changing weather days.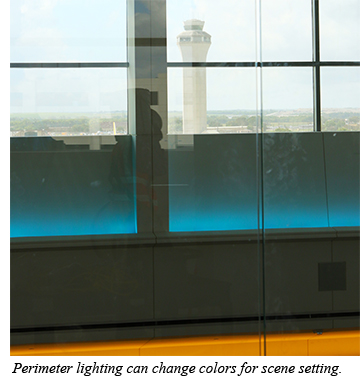 In the lounge and passenger hold room sitting areas, round chandelier lighting casts a residential feel to the terminal. This design is intended to provide a sheltered den-like atmosphere for passengers to sit on comfortable furniture and to be away from the busier main concourse walkways, in a more intimate space.
The adjustable expansion lightings can be fine-tuned to the same color temperature and CRI (color rendering index) to reveal the true colors of objects in comparison to natural light. 
The overhead custom-made lights on the expansion trusses are one-of-a-kind fixtures made in the U.S. There is also lighting that will focus specifically on art displays throughout the concourse.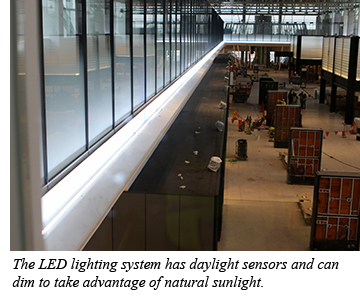 Custom-designed wells for perimeter ambient lighting have been incorporated to deliver soft, diffused lighting for the terminal, and to enhance the architectural features of the building and can change colors for scene settings.
Subway, TacoN' Mama Set to Open at Cell Phone Lot
Opening soon at ABIA Retail is the TacoN' Mama and Subway restaurant, as part of the free Cell Phone Lot, Texaco gas station and convenience store at the Austin airport. The 1,480 square foot dual operation located at 2901 Spirit of Texas Drive is estimated to open in January of 2019.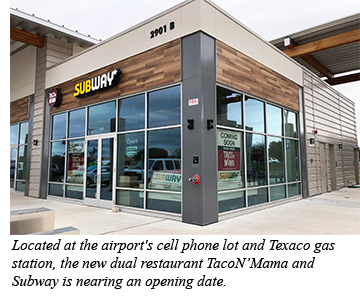 Locally based TacoN' Mama will offer its menu of breakfast tacos, including scrambled eggs with fried tortillas. Also on the menu is their popular campechano, barbacoa, cochinita pibil, freshly made tortillas, and a variety of salsas and toppings.
The Subway will offer the franchises traditional submarine sandwiches and salads that are made-to-order right in front of the customer. The bread is baked inside the restaurant throughout the day.
The construction of an Austin Java coffee with a drive-thru is currently under construction at the cell phone lot and is estimated to be completed by spring 2019.