Have you noticed something in your neighborhood that you wish was a little better or vacant land that could be used for a new amenity? The Neighborhood Partnering Program (NPP) can help transform those wishes into reality. The NPP's mission is "Empowering Neighborhoods, Building Community." This award-winning program achieves this by providing opportunities for community and neighborhood organizations to affect public improvements by sharing in the costs of those improvements with the City. Cost sharing is achieved through cash contributions, in-kind contributions, or volunteering (sweat equity). 
A neighborhood or community group must initiate projects which demonstrate that 60 percent of the impacted stakeholders approve of the project, and all projects must be on City property or in the right-of-way. The types of projects typically accepted run the gamut from bicycle and pedestrian improvements to community gardens, pocket parks to art mosaics – it's amazing what can be achieved by working together!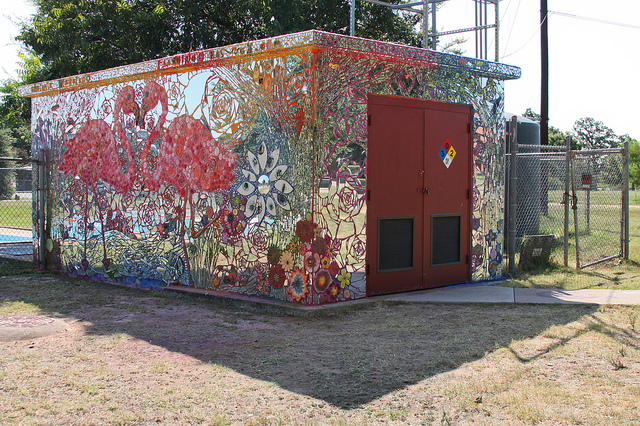 The most popular NPP sub-program is the Neighborhood Cost Share Program (NCSP), which assists neighborhood groups in developing, resourcing, and executing small to medium-sized improvement projects. Two NPP staff members provide assistance through the entire process, from application to project completion. City crews and contracts may also be used for project implementation.  Applications are evaluated on the program's five core values of community participation, cost sharing, quality of life enhancement, incorporation of City initiatives, and geographic equity.  In 2014, the Neighborhood Partnering Program also started the Adopt-A-Median sub-program. With its slogan "Because in Austin, Even the Medians Aren't Middle of the Road", this sub-program provides an approval mechanism for community groups interested in adopting, beautifying and maintaining median or other right-of way areas.
NPP is currently addressing challenges related to geographic diversity by working to make the program accessible to low-income and underserved areas of Austin. To address this challenge, NPP has established several valuable partnerships, including:
AmeriCorps Volunteers in Service to America (VISTA): NPP has partnered with AmeriCorps VISTA, a federal national service program designed to fight poverty on a systemic level. Through outreach and boots on the ground efforts, VISTA staff work closely with underserved neighborhoods to introduce them to NPP.
University of Texas-Austin Longhorn Center for Civic Engagement (LCCE): Over the past two years, NPP has partnered with the University of Texas 's LCCE. The partnership provides community residents and leaders with the resources of UT. Students in diverse fields of study work with residents on projects from brochure and web design to outreach to community resource mapping.
Engaging Non-Profit Partners: NPP found great success in building win-win partnerships with a variety of non-profit organizations. For park improvements, NPP coordinates closely with the Austin Parks Foundation while for our two community gardens opening this spring, NPP worked closely with the Sustainable Food Center.  Similarly, NPP has worked closely with groups to provide application materials and workshops in English and Spanish, as well as connect Spanish-speaking residents to other City resources. 
Through NPP, the City of Austin has modeled an effective way to engage its citizens to transform underutilized spaces into community-driven, meaningful projects. Yet most importantly, the program has built positive relationships between City employees and community members who work together on a shared vision for better community. Applications for the next round of projects are due Oct. 1, 2015. Visit facebook.com/neighborhoodpartnering for more information.