Emma S. Barrientos Mexican American Cultural Center Celebrates its Fifth Anniversary in style!
The Emma S. Barrientos Mexican American Cultural Center (ESB-MACC) celebrated its fifth anniversary in its new building.
Saturday, October the 13th 2012
Together with honored guests and dedicated staff,  The Emma S. Barrientos Mexican American Cultural Center (ESB-MACC) celebrated its fifth anniversary in its new building. The ESB-MACC itself was decades in the making. Members of the public, the MACC's Advisory Board, City officials and the ESB-MACC's staff all helped to put Austin's Mexican American Community's achievements into perspective.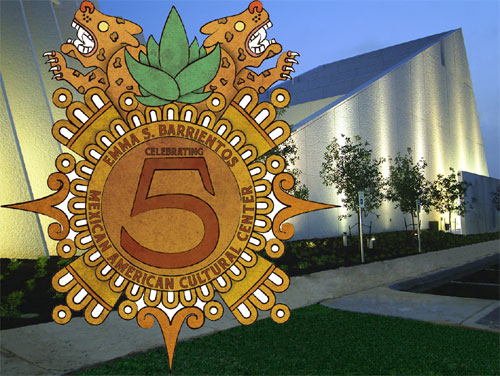 Representatives of our community included: Bert Lumbreras, Assistant City Manager, Lloyd Doggett, U.S. Congressman, Sara Hensley, CPRP, Director, Austin Parks & Recreation Department, Juan Oyervides ESM-MACC Advisory Board, Chair and Laura Esparza, History, Arts & Nature division manager who has overseen the ESB-MACC since its completion and served as our master of ceremonies. Also speaking at the ceremonies was Gloria Pennington, who has been involved with many of the programmed events during these past five years.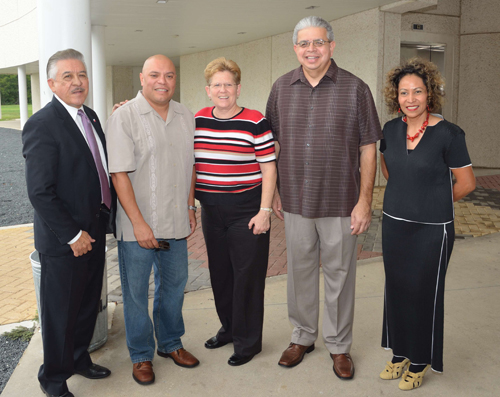 Gonzalo Barrientos, Former Texas State Senator, Mike Martinez, Council Member Place 2, Sara Hensley, CPRP, Director, Austin Parks & Recreation Department, Bert Lumbreras, Assistant City Manager, and Herlinda Zamora, ESB-MACC manager.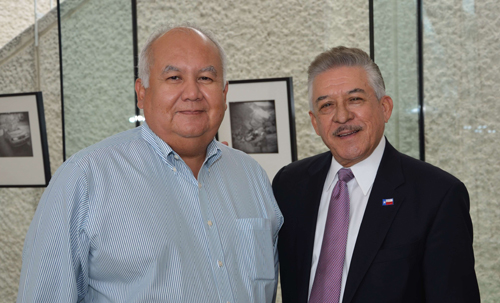 Victor Ovalle, Austin Parks & Recreation Department's Public Information Officer and Gonzalo Barrientos, Former Texas State Senator.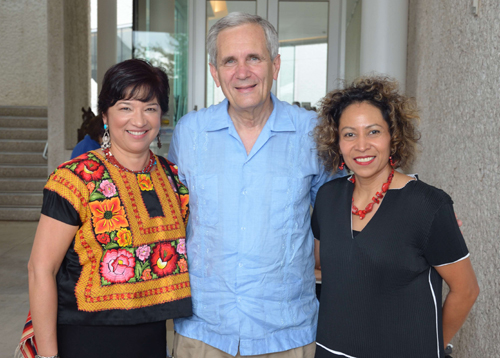 Laura Esparza, Division Manager, Lloyd Doggett, U.S.. Congressman and Herlinda Zamora ESB-MACC's manager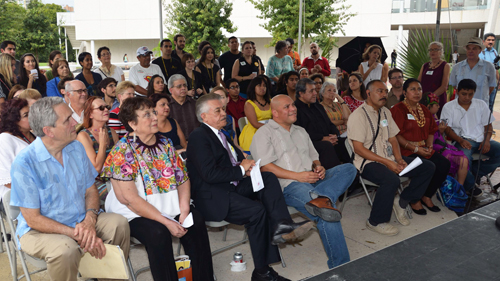 Our honored guests.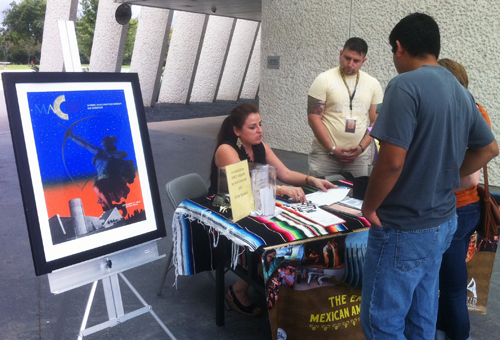 Tiffany Moreno, our Education Coordinator, at our welcome table explaining the ESB-MACC many programming and classes opportunities.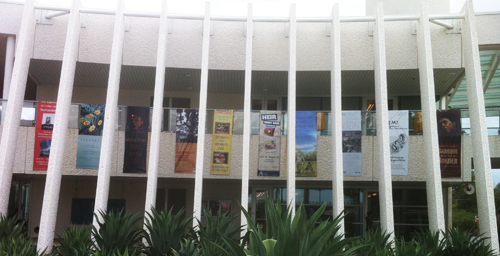 Display of banners from past five years of exhibits.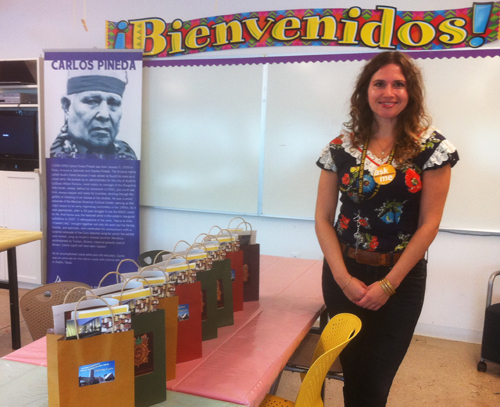 One of our talented Arts Instructors, Lacey Richter explaining the multi-faceted ESB-MACC arts programming. On the table are commemorative gift bags and information on the ESB-MACC's programs and classes.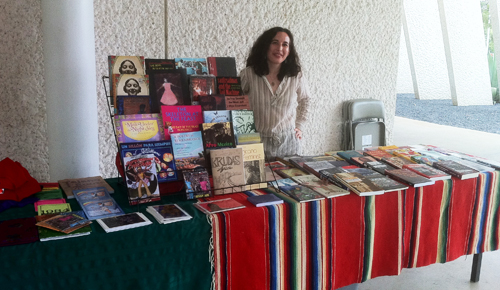 A display table, knowledgeably and gracefully manned by Lila Rosas, from the Resistencia Bookstore, founded by the late poet Raul Salina, an early advocate for the ESB-MACC.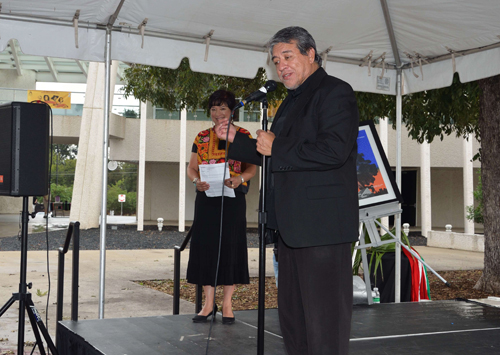 Juan Oyervides, ESB-MACC Advisory Board Chair, provided an inspirational message for the future.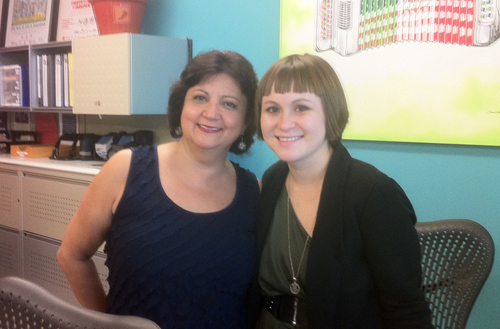 Two members of our dedicated ESB-MACC team, Linda Irizarry-Crockett, Education & Event Coordinator and Paloma Mayorga, Administrative Assistant, take a moment for a quick photo.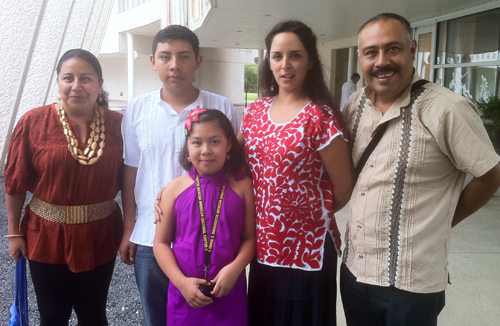 Visiting Mexican artisans Lucila Sosa Luria (far left) and her husband, Ranulfo Sergio Santiago Ibañez (far right) with their two children together with Margarita Cabrera, the ESB-MACC's first artist in residence.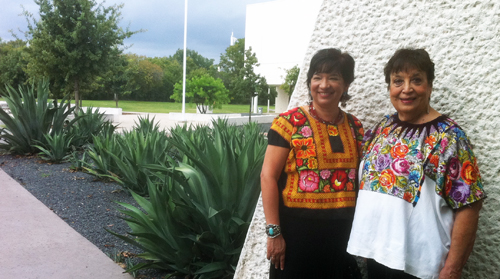 Laura Esparza and Gloria Pennington display their traditional huipiles set against the ESB-MACC very own Mexican Zócalo.
Margarita Cabrera's "Suenos Desarraigados" (Uprooted Dreams)
Additionally this was the unveiling of Margarita Cabrera's "Suenos Desarraigados" (Uprooted Dreams) innovative art installation. Part of the Austin Arts in Public Places program (AAPP), this colorful installation was created together with members of the Austin immigrant community as part the MACC's core mission.
For more information on Margarita's installation, please see our blog post

Margarita Cabrera and her group of artists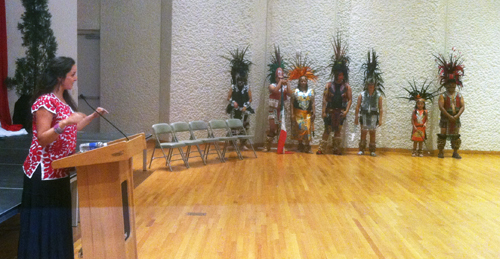 Margarita and Aztec dancers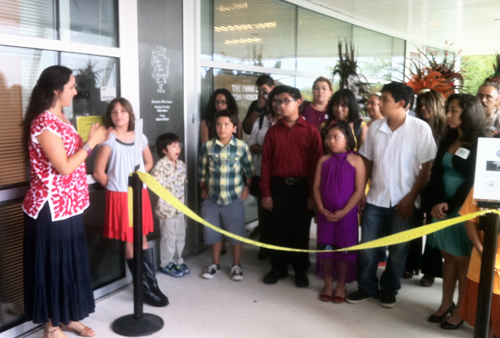 Margarita, project collaborators and their guests at the ribbon cutting ceremony.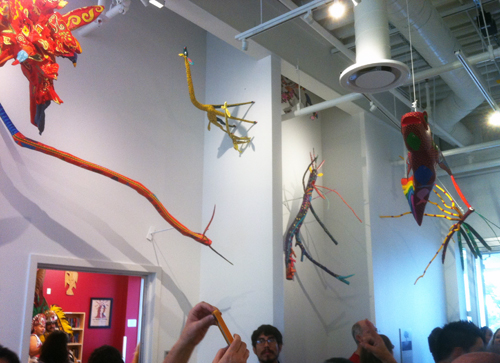 Installation of sculptures in the entry way to the ESB-MACC's educational wing.
A close up look (before installation) of one of the several imaginative wooden sculptures included in the actual installation.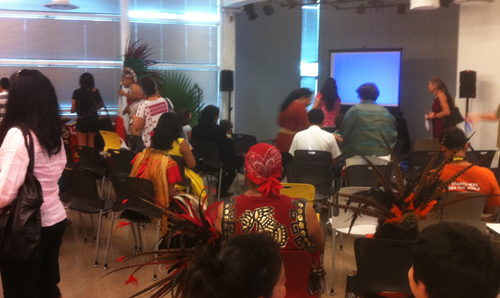 After viewing the new art installation, we were treated to two videos describing the process that went into the creation and fabrication of the pieces.
The event featured great entertainment: one of the trademarks of ESB-MACC programming.
We had great entertainment by Susana Torres Y Conjunto Clemencia. Susana and Clemencia have become favorites of our audiences. Their Tejano music really resonates with our central Texan roots. This is part of our authentic local music and fits right in with the Austin vibe. The dance group "Danza Azteca Guadalupana" was involved in the art project at several key moments and helped add a historic and authentic Mexican cultural component to the festive atmosphere.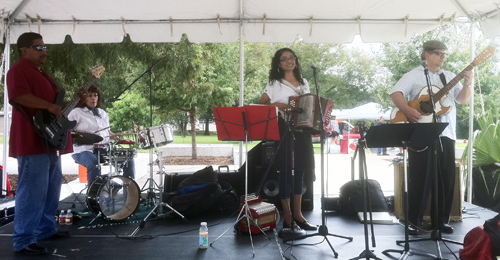 Always a great performance by Susana Torres Y Conjunto Clemencia.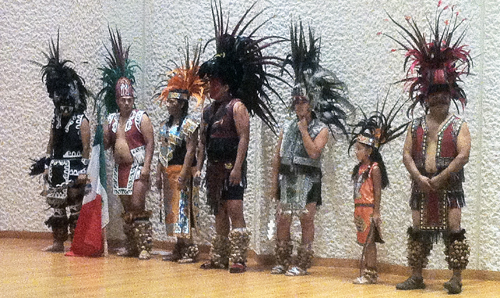 Also appearing, the dance group, Danza Azteca Guadalupana.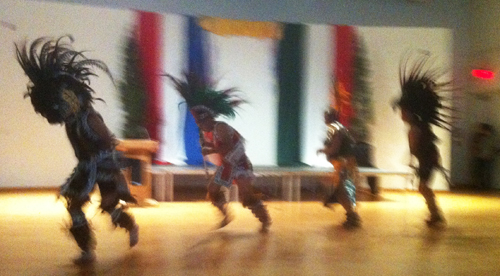 Danza Azteca Guadalupana.
Actual transcripts of two very inspirational presentations from ESB-MACC celebration.
Gloria Pennington's commemorative address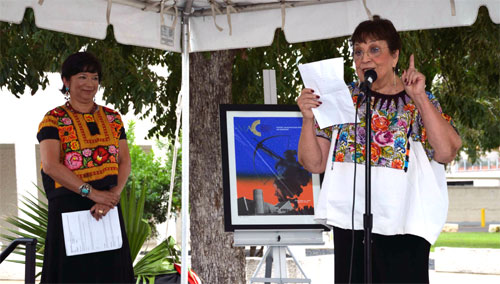 Laura Esparza, and Gloria Pennington
It seems as if it were only yesterday that I was at the opening of this center on September 15, 2007 and spoke of the beautiful dream that had finally come true.  I remember recalling the work of the early visionaries, community leaders and artists and their efforts to make that dream a reality.  Outlining the steps the City of Austin took in response to those efforts, the Task Force and Board that was appointed, the studies conducted, the bond elections held, and finally the selection of this beautiful location and an architect.
The architect was Teodoro Gonzalez de León and when he spoke on that day, he stated, "I thought of a white building in the shape of a half moon crescent, looking onto the lake.  The crescent, which comprises spaces for workshops, teaching activities and exhibitions, forms an ensemble with three triangular volumes, housing a multipurpose hall and two theaters, as well as a cylinder meant to act as an urban beacon signaling the entrance from the street.  All those shapes made of white concrete mixed with pieces of white marble, and chiseled by Mexican hands." In closing he stated "For me, the ultimate goal of architecture is to create places where people can congregate, spaces of communication and dialogue."  His was a wonderful accomplishment.
Now, five years later, I can add to those memories the thousands of people with eyes to the second floor balcony, where the Consul General of Mexico gives the Grito during the Fiesta de Independencia. The zócalo crowded with hundreds and hundreds of people enjoying the music of iconic as well as young Latino musicians and happy people painting and creating art during classes with Fidencio Duran or during special project like "Uprooted Dreams" with Margarita Cabrera.  This place is becoming a mecca for the creation, documentation, and depository of Latino art and culture.
As I look into the future, I visualize a place teeming with people, with doors open to all in the community as we perpetuate, nurture, and promote the beauty, creativity, and wonder of our art, of our culture. So, that the dream can continue – UN Sueno Bonito.
Gloria Pennington, Austin Parks And Recreation Department, Public Information Office
Herlinda Zamora's Opening Address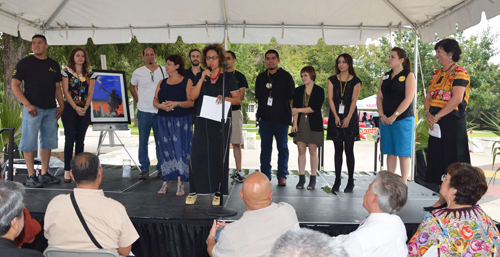 Herlinda Zamora and the dedicated ESB-MACC staff
Thank you all for being here today, to reflect on our accomplishments over the past 5 years. There was no event committee, no sub-committee, or any committee that worked on today's event. It was the talent, passion, and dedication of my staff that worked so hard in organizing today's activities. Let's give them a hand for putting in much sweat and enthusiasm preparing for today's event. I also want to thank our volunteers, performers, and photographer Fastinus Deraet for being part of this special occasion.
Scholar of Chicano and US Latino art, Tomas Ybarra Frausto has stated that Cultural Centers are "Guardians of Culture." A seed was planted over 30 years ago, and the dream and desire to preserve our culture has not ended. We continue to nurture our community by providing inspirational experiences and interdisciplinary programming, which includes dance, theater, music, and the visual arts.  We must never forget the historical significance of all the opportunities that our community has built for the future of our youth, and the cultural values our community nurtures every day at the Center.  And with this international architectural icon, which symbolizes the past, present and future we help make Austin the World Class City that it is.
I know we are doing our job when we start seeing familiar faces consistently attending our events. Since our grand opening our event attendance numbers have amazingly grown, we have worked with over 75 collaborators, and our educational programs have doubled. We have two exhibit spaces that have highlighted the works of over 800 artists and over 40 exhibits. Since becoming the manager, I've been blessed with a wonderful staff with a range of specialties who is COMMITTED TO the mission of the CENTER.
Herlinda Zamora, Manager of the Emma S. Barrientos Mexican American Cultural Center
A message from Teodoro Gonzáles de León, world known architect and esteemed member of the team that designed the ESB-MACC.
A message to Austin, October 13, 2012
My friends,
From Tenochtitlan, receive the greetings of Teodoro González de León; greetings and congratulations on the fifth anniversary of the Mexican American Cultural Center.
Twelve years ago, in 2000, in the good company of our friend –now gone– Gabriel Martín del Campo, and dear Jaime Beaman, in my awkward English, we explained our architectural intentions to the representatives of the Mexican Community. The stars were auspicious and we were chosen to develop the project and, in December of that same year, we presented the conceptual design to the consideration of the whole Community: a crescent shaped building –which comprised the museum and classrooms– and embraced a plaza –the zócalo– a space for events looking onto the lake; as well as three triangular prisms housing a multipurpose hall and two theaters. The project pleased and was accepted, but seven years had to go by to raise funds and build the first phase: half of the white crescent shaped building, with the plaza overlooking the lake, and the triangular volume holding the multipurpose hall. All the exterior walls and sun-breakers were made of white concrete prefabricated panels, hand chiseled by Mexican workers (made in Tenochtitlan and brought to Austin). This is a finish that I invented, which stands the test of time, and has a texture that reveals the human imprint of its craftsmanship.
I wish long life to the MACC and also hope for its completion.
Amigas y amigos:
Reciban desde Tenochtitlán un saludo de Teodoro González de León; un saludo y una felicitación los cinco años de vida del Mexican American Cultural Center.
Hace doce años, en el año 2000, con la buena compañía del amigo –ya desaparecido– Gabriel Martín del Campo y del querido Jaime Beaman, con mi torpe inglés, explicamos nuestras intenciones arquitectónicas a los representantes de la Comunidad Mexicana. Las estrellas se juntaron y nos escogieron para desarrollar el proyecto y, en diciembre del mismo año, presentamos el diseño conceptual a la consideración de toda la Comunidad: un edificio en forma de media luna  -que contenía el museo y aulas-  y abrazaba una plaza  -un zócalo-  para eventos, con vista al lago, y tres prismas triangulares que contenían un salón de usos múltiples y dos teatros. El proyecto gustó y fue aceptado, pero tuvieron que pasar siete años para obtener los recursos y construir la primera etapa: un edificio blanco, con una plaza viendo al lago, con la mitad de la media luna y el volumen triangular del salón multiusos. Todos sus muros exteriores y parteluces son paneles prefabricados de concreto blanco, cincelados a mano, por obreros mexicanos (fabricados en Tenochtitlán y traídos a Austin). Es un acabado inventado por mí, que resiste el paso del tiempo y una textura que revela la mano humana de su manufactura.
Deseo larga vida al MACC y hago votos por la segunda etapa.
About the Emma S. Barrientos - Mexican American Cultural Center
If you have not yet visited the Emma S. Barrientos - Mexican American Cultural Center, you are in for a treat.  Our magnificent facility was designed by world known architect Teodoro Gonzales de León and is a visually spectacular addition to our Parks and Recreation Department's cultural facilities.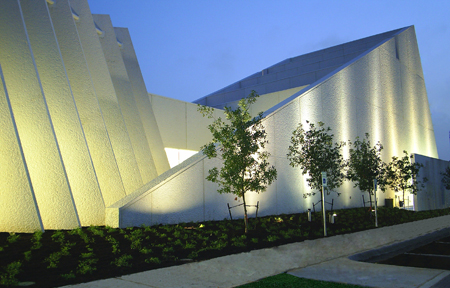 Keep up-to-date on our events through the City's events calendar and the ESB-MACC's own website: www.MACCAustin.org. 
Please don't hesitate to stop by and enjoy our art, theater, classes and family fun.