East Food Court closes for makeover, Tyler's Austin Warehouse opens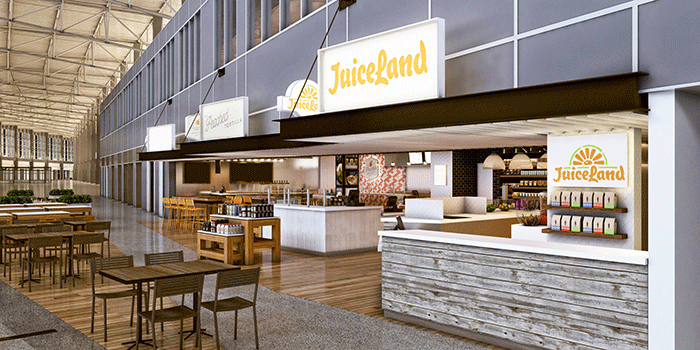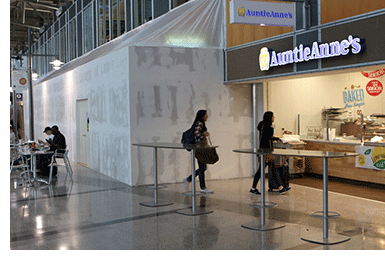 The East Food Court, across from Gates 7 and 8, is now closed for preparations to introduce new food options to passengers flying Austin. Tyler's Austin Warehouse retail store has opened across from Gate 10, offering Austin area inspired gifts and apparel.
East Food Court renovation begin
Construction walls are up at the East Food Court located across from Gates 7 and 8. This marks the closure, construction and introduction of new food and retail concepts in the East Food Court. Along with coffee and pastries offerings, the new concepts include The Peached Tortilla, Juiceland, and a bar featuring brew from the Live Oak Brewing Company.
The new concepts will replace Hoover's, Hill's Café, Nuevo Leon, and Wok & Roll. Auntie Anne's will remain open during some renovation work and later will convert to MAD Greens. Temporary Grab & Go kiosks will operate in the area during the food court renovation and restrooms and art gallery near the location will remain open during the construction.
The East Food Court is part of the airport's overall refresh plans for stores and concessions. Restaurants that recently completed construction and opened for customers include Second Bar + Kitchen, IVINI's Italian and the expansion of Salt Lick Bar-B-Que. Annie's Café and Bar on the west side of the Barbara Jordan Terminal is currently undergoing renovations, estimated for completion later this year.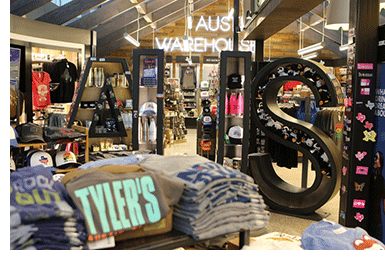 Tyler's Austin Warehouse opens
Tyler's Austin Warehouse, an Austin themed retail store, opened on Nov. 4 at a new 2,211 sq. ft. location. The store is located across from Gate 10 in the Barbara Jordan Terminal.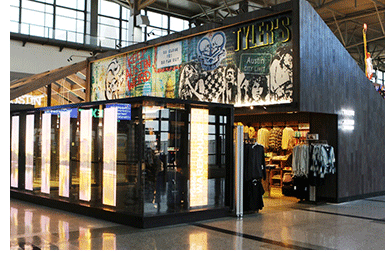 The Austin souvenir and apparel store has a high beam painted mural roof, dotted with iconic city locations. Inside customers see bold AUS (the Austin airport code) lettering, serving as shelving. The store offers top brand names such as local outdoor products made by Yeti, along with international bestsellers, Billabong and TOMS, and specialty men's and women's clothing.  
Local merchandise offered by Tyler's include Lalika Soaps, Inc. products such as body and face cream, lip balm and natural soaps -- handcrafted, and made in Austin. Other products include Austin based Exit 82 items such as stone coasters, pet tags, coffee cups and key chains. Wrapped To Wear custom jewelry made in Austin and Cedar Park-based Coover Caramels candy and chocolates are also available.