Earl Campbell's Sports Bar to Become Haymaker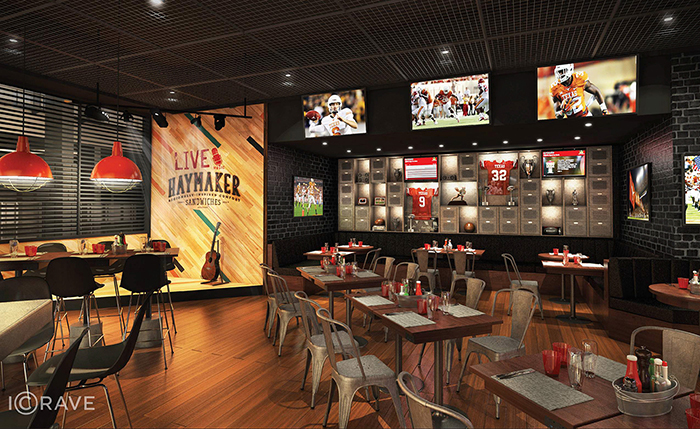 Rendering of the Haymaker sports bar concept under construction at Austin airport across from Gate 24.
Earl Campbell's Sports Bar is now closed across from Gate 24 for the renovation and construction of Haymaker. In the 9-gate expansion, 300 glass panels top concessions build out. Parking garage construction reaches the 75-percent mark.
Haymaker to Continue Sports Bar and UT Theme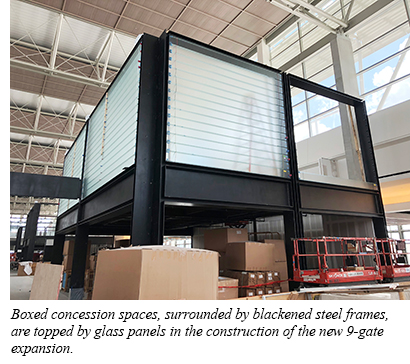 Now under construction, Haymaker will bring its classic neighborhood sports bar theme to the airport. Based on its original Manor Road location in Austin, Haymaker will offer craft beers and comfort style sandwichs, 1/3 lbs. hamburgers and appetizers.
Located across from Gate 24, Haymaker will replace Earl Campbell's Sports Bar and will feature more than 30 tap beers, big and burly open-faced sandwiches on Texas toast and its famous  Poutine; french fries topped with country brown gravy and melting Wisconsin cheese curds.
The 1,645 square foot Haymaker restaurant and bar, with an interactive memorabilia wall to promote and embrace Austin's sports history including University of Texas Longhorn pride, will be operated by Delaware North. The industrial bar concept design also will have a live music performance stage, window, bar and booth seating to accommodate 74 people.
The construction of Haymaker using reclaimed gym floors and with galvanized steel dining chairs is estimated to be completed in early 2019.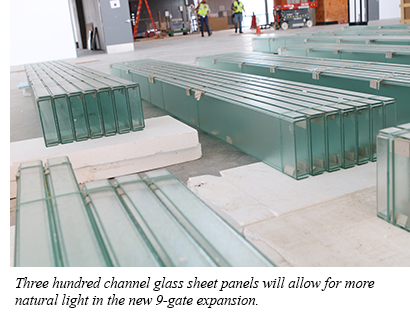 Glass Brightens Terminal Expansion Space
In the 9-gate terminal expansion, three jewel box concession spaces, nearly 1,500 square feet each, are surrounded by blackened steel frames. To allow for maximum light-transmission, each black framed jewel-box concession space reaching as high as 25 feet will be topped off with channel glass sheet panels, weighing 60 to 75 pounds each. To allow for more natural light on the concourse, over 300 panels spanning 22.6 feet wide by 11 inches tall will add to the décor and architectural design of the 9-gate expansion.    
These framed concession spaces will be the future home of Toy Joy & Yummi Joy, the Duty-Free shop, Jugo Juice, Austin Chronicle and Vino Volo on the concourse level.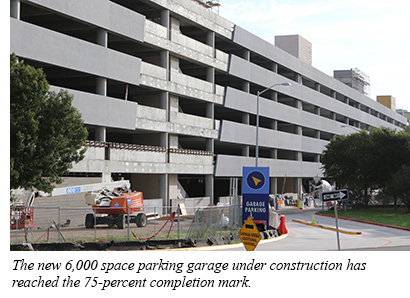 New Parking Garage Reaches 75-percent Stage
Austin Commercial, with about 350 construction workers on site daily has reached the 75 percent completion stage in the building of the new airport parking garage. An estimated 95,000 cubic yards of concrete has been poured for the new garage that is currently on schedule to open the first two levels, about 1,900 spaces by the end of the year.
Full completion of the six-story 6,000 space airport parking garage is estimated in late spring of 2019. Once fully-opened, the new garage will feature a new space detection guidance system that will help direct parkers to empty and available spaces.
Next to the parking garage is the construction of the new five-story administration building. It is actively underway with the forming and pouring of the foundation and first-floor slabs.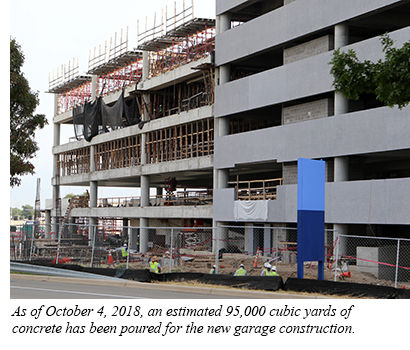 Landside Roadway and Pedestrian Improvements Underway
Approximately 1.4 miles (7,350 linear feet) of sidewalk is under construction at the airport as part of the landside roadway and pedestrian improvements project. The addition of sidewalks will allow for a paved walking path from the Cargo facility on Rental Car Lane to the end of Spirit of Texas Drive.  Sidewalks are also under construction where Presidential Boulevard exits the Barbara Jordan Terminal, extending through and beyond the employee parking lot, and to Hotel Drive.
Tacodeli, Einstein Bagels Opens Between Gates 23-24
Tacodeli and Einstein Bros. Bagels has opened between Gates 23-24 at the Austin airport. Both brands use a mixed seating design and operate independently out of a 2,060 square foot location. There is also a live music performance area facing the concourse near Checkpoint 3.
Tacodeli chef and founder Roberto Espinosa brings his commitment to local sourcing and Mexican-inspired flavors to the Austin airport. Tacodeli opened its first location in Austin off Barton Skyway and Spyglass in 1999. Its menu offers handcrafted chicken, pork, beef, and vegetarian tacos, salads and award-winning salsas.
Einstein Bros. Bagels/Caribou Coffee features a menu of fresh-baked bagels, flavored schmears, sandwiches, salads, and espresso drinks.