Creekside Spotlight Texas Hollies
December holidays are approaching and holly shrubs are part of the scene! Did you know we have two species of holly that are native to Texas? Both are commonly found in the forest understory of wooded canyons and moist bottomlands.
Ilex decidua - Possumhaw Holly, also known as Deciduous Holly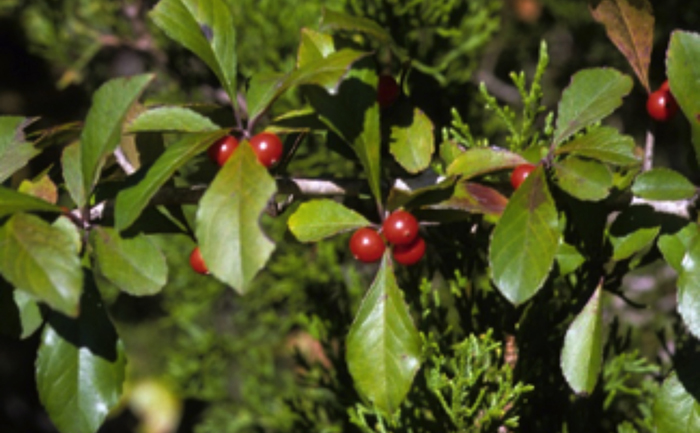 Possumhaw fruit and leaves in autumn. Photo by Harry Cliffe, Lady Bird Johnson Wildflower Center.
Ilex vomitoria - Yaupon Holly, also known as Evergreen Holly, or Cassina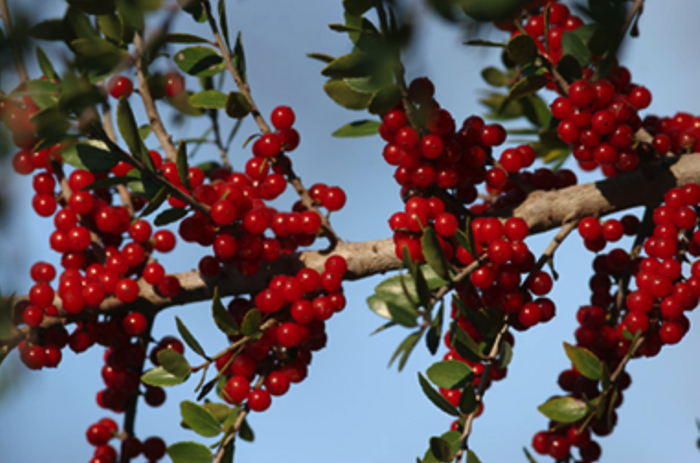 Yaupon fruit and leaves. Photo by Carolyn Fannon, Lady Bird Johnson Wildflower Center.
How to tell them apart
| | | |
| --- | --- | --- |
|   | Leaf Shape | Evergreen/Decidious |
| Possumhaw | Round tip and V-shaped base | Decidious (winter) |
| Yaupon | Thick,leathery, oval | Evergreen |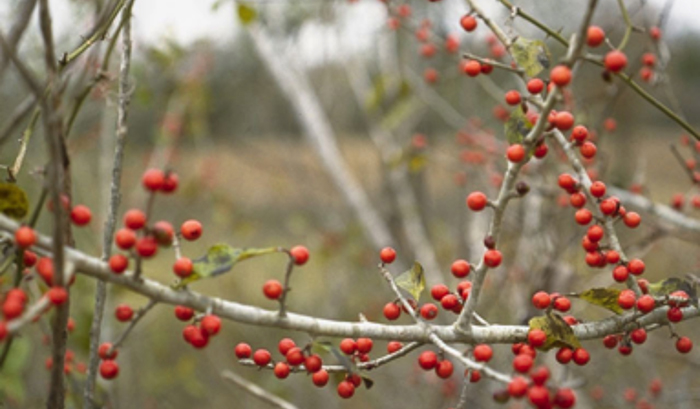 Possumhaw fruits in winter. Photo by David K. Northington, Lady Bird Johnson Wildflower Center.
The flowers of both species are important spring nectar and pollen sources for bees, beetles, flies, butterflies, and moths.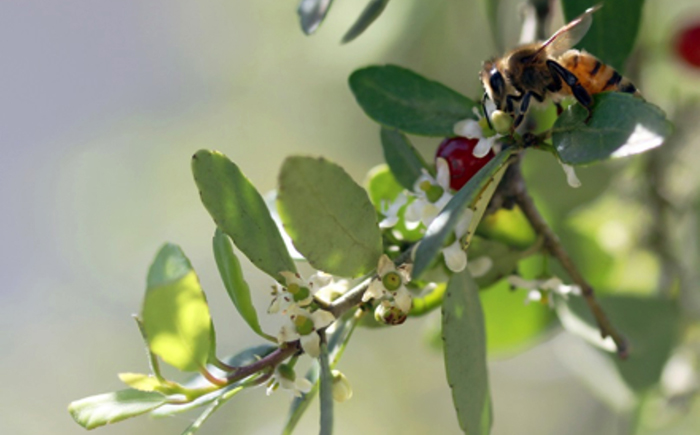 Yaupon flowers with a honey bee visitor. Photo by Marina Denny, Mississippi State University Extension Service.
These shrubs provide important cover and nesting sites and abundant berries for birds.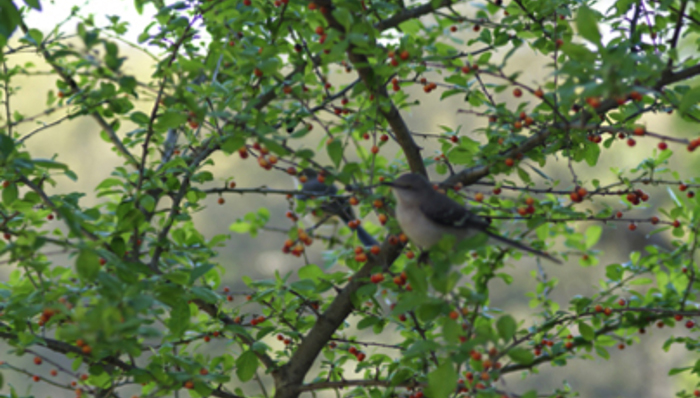 Mockingbird in possumhaw tree. Photo by Ray Mathews, Lady Bird Johnson Wildflower Center.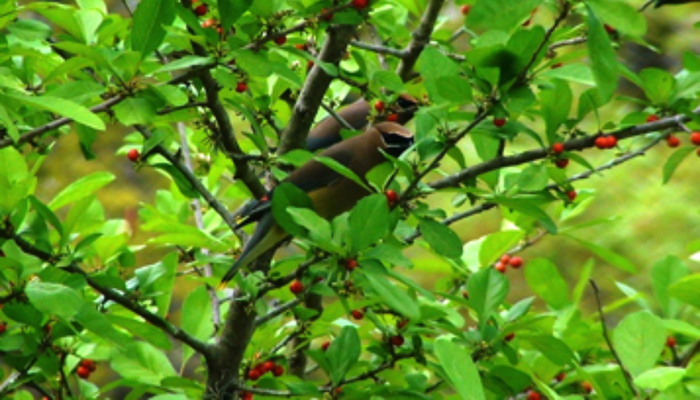 Cedar waxwings in yaupon tree. Photo by rdd51 on www.wunderground.com
Possumhaw and yaupon fruits ripen October and November, and remain on the shrub until the following spring, if not eaten by birds. Caution! The FRUITS of both species are TOXIC to humans when eaten, causing nausea, vomiting, and diarrhea.
Both species are sold as ornamental shrubs for their attractive foliage and shiny red winter fruits and, with the holidays approaching, the cut branches with the fruits are popular as winter decorations (cutting or gathering branches on public land is not allowed).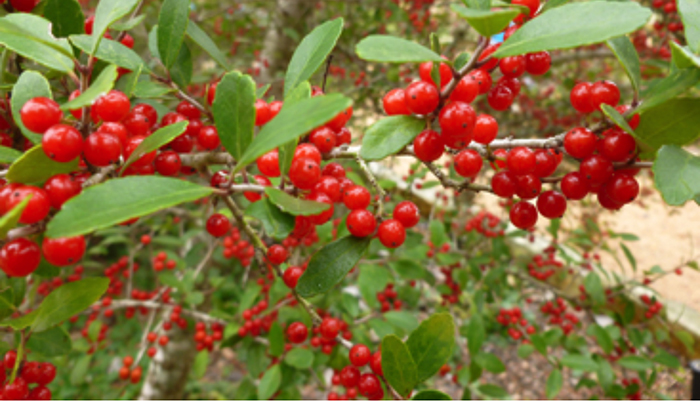 Yaupon fruits and leaves. Photo by Lee Page, Lady Bird Johnson Wildflower Center.
One more fun fact? Yaupon is the only plant species native to North America that contains caffeine. It is a close relative of the Yerba Mate that is much beloved in South America.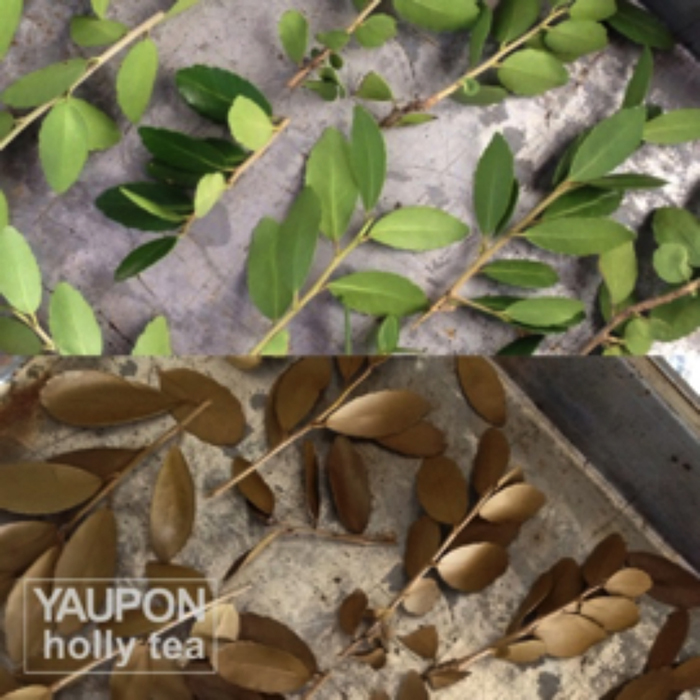 Yaupon leaves before and after roasting for tea.
Visit www.GrowGreen.org to learn about more native plants for your garden