Creative Ambassador: Andrea Ariel
The City of Austin's Creative Ambassador program designates local artists who are traveling overseas as representatives for Austin's cultural and creative community. Andrea Ariel, the artistic director of Andrea Ariel Dance Theatre, was named a Creative Ambassador in the 2nd quarter of 2014. Since forming her company in 1993, she has created over 50 original works in collaboration with artists working in dance, music, theater, multimedia, and visual art.
Her recent work, The Bowie Project, used the technique known as "Soundpainting" to create a mix of live music, theatre, and dance performance. In July 2014, Andrea traveled to Spain to attend the International Soundpainting Think Tank where she collaborated with other artists in the growing Soundpainting community. Here are her impressions of her trip:
My trip began and ended with two days touring Barcelona. I studied the work of Antoni Gaudi beginning with an in-depth, guided tour of the La Sagrada Familia, where I learned about the history of Guadi's life and work. I also visited his other monumental architectural designs including Parc Güell, Casa Batlló, and La Pedrera. He was a man ahead of his time, and the magnitude and detail of his work took my breath away. I visited Museu Picasso, housed in five adjoining medieval palaces in La Ribera. This is the world's most extensive collection of his artworks tracing the history of his formative years, through the Blue Period, and into early Cubism and his obsession with Velázquez. After wandering into a little circus shop, I met the owner Vicente Llorca, the Director of a zirkólika, a quarterly publication dedicated to Circus Art and the producer of a yearly festival in Barcelona. I spent the next 45 minutes conversing with him and his associates, sharing information about our cities and work, learning hat juggling and hula hooping. He recommended some great local places to eat, and we exchanged information for future contact. You can check out his publication at zirkólika.com.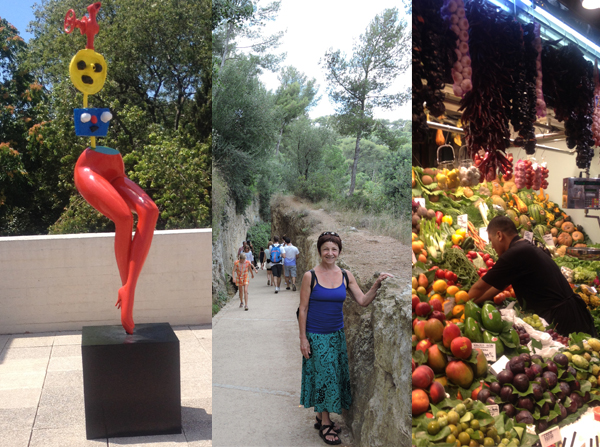 Images of Barcelona, from left: sculpture by Joan Miró; Ariel at Parc Güell, Mercat de la Boqueria.
At the later end, I stayed in El Poble-sec, a neighborhood away from the popular areas. From there I hiked in Montjuïc, where the Olympic stadium is, visiting the Fundació Joan Miró, the most complete and extensive collection of his work. I wandered in the wonderful gardens just down the street, with many levels, paths and amazing fountains. I bought some of the greatly prized cured Spanish ham at the Mercat de la Boqueria, visited the stunning Gothic church Església de Santa Maria del Mar in El Born and the quaint 18th century La Barceloneta. I fell completely in love with Barcelona and the easier pace of life I felt there.
From Barcelona I traveled to Can Font in Girona, Spain where the International Soundpainting Think Tank was held. The buildings, located in the remote and beautiful countryside, date back to the 12th century. Here 55 artists – composers, musicians, actors, dancers, visual artists and educators - gathered from France, Spain, Sweden, Turkey, Mexico, Belgium, Germany, England, United States, Norway, Italy, Brazil, and Bulgaria. Over the next seven full days, we furthered the development of Soundpainting through practice, discussions and performances.
Soundpainting is the universal multidisciplinary live composing sign language for musicians, actors, dancers, visual and media artists. Presently the language comprises more than 1200 gestures that are signed by the Soundpainter (composer) to indicate the type of material desired of the performers.
Lead by the originator, Walter Thompson, we deeply examined the language, the current developments, and applications in performance, education and community settings. Each morning began with Soundpaintings lead by Walter. We discussed and practiced specific gestures and functions and their uses in composition, followed by artists sharing experiments they are exploring with their groups. We worked in smaller groups to create Soundpaintings that experimented with using specified signs, followed by performances and discussions. One morning we gathered on the lawn, looking out to the rolling hillside, and exchanged training approaches and ensemble building games we practice with our groups. We also dedicated a day to gathering in focus groups digging deeper into particular areas of Soundpainting development including dance, theater, composition, performance, education, and community.
In attendance with me from the U.S. was Leese Walker, my NYC Soundpainting collaborator for Andrea Ariel Dance Theatre's recent work The Bowie Project: A Rock & Roll Soundpainting. We shared videos of our Austin performance and engaged in discussions about our experimentations with the Soundpainting language used for this project, sparking much interest! We were both part of the early developments of Soundpainting for theater and dance, and we had wonderful conversations with the European artists about the early Think Tanks in Woodstock, NY (1997-2005) and the current developments and experimentations with the Soundpainting language that is happening internationally.
As a group we created a series of Soundpaintings at various indoor and outdoor locations at Can Font to create a video of the 2014 Think Tank (still in editing process).  We performed and filmed them in a continuous sequence with Walter Soundpainting a parade of us leading to each location. For one piece, I worked with Leese and five artists from France including a dancer, two visual artists, and two musicians to create a Soundpainting piece using dance/puppetry, music, vocals, and visual art inspired by our research field trip to Salvador Dali's museum and home in Cadaqués and Portligat. This small village on the Mediterranean Sea, about an hour and a half from Can Font, was greatly influenced by Dali. His home, built over the course of forty years, is a labyrinthine structure of spaces, corridors and levels filled with a multitude of objects and memories of Dali. I couldn't help dreaming what it would be like to live and create in a place like this! Our piece was an experiment combining movement and visual art in a Soundpainting influenced by Surrealism and images drawn from Dali's home and work.  It was performed at the Think Thank in a cave-like cellar room at Can Font using a black light. Our creation lead to further Soundpaintings by the group using the space and visual art pieces we created. View a short a clip at: http://youtu.be/2I5OTbKShgA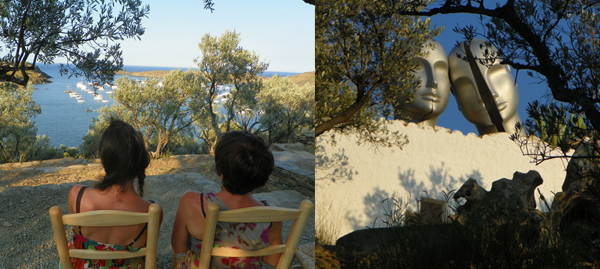 Left: View of the bay from Dali museum/home in Cadaques; Right: Art installation at Dali museum/home
Our kitchen team for the Think Tank was the best and took great care of us. Eduard, our chef, prepared wonderful Catalonian meals. For our closing night, they hosted a BBQ, baked a cake and made big pots of Sangria. Roger, a Barcelona actor and kitchen crew member, played DJ for the night. We lived in close quarters, slept on bunk beds, and played theater games into the night. Beyond continuous conversations and explorations around Soundpainting, we shared about our homes, lives and work, and discussed future exchanges and collaborations. I felt completely welcomed into this European Soundpainting community, and I look forward to future exchanges and collaborations. It was a greatly inspiring and I am fired up to get to work!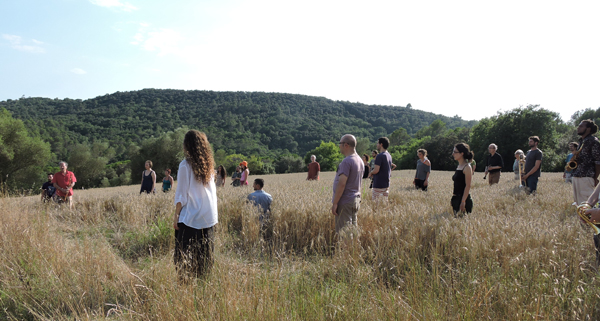 All photos courtesy of Andrea Ariel.