Creative Action: Engaging Community with the Arts
Creative Action is a creative youth development organization based in Austin serving over 17,500 students annually. Last summer, the organization received a $75,000 grant from the National Endowment for the Arts "Our Town" program. This grant has supported community engagement activities at Creative Action's new headquarters and community arts center in central east Austin, the Center for Creative Action. The Our Town grant helped the organization with ongoing creativity programs for all ages at the Center, free Community Art Sunday events for the surrounding neighborhood, and a community mural project.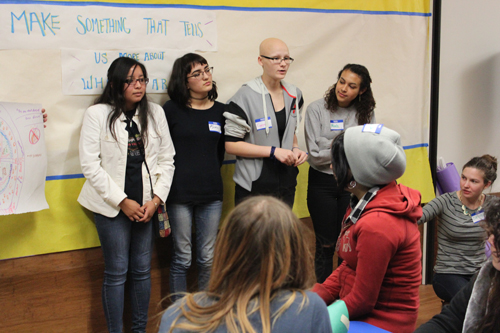 Just one of Creative Action's many programs is Color Squad, a teen program employing young artists, ages 14-18. Color Squad teens engage with Austin communities to design murals, sculptures, and installations that enhance public spaces and reflect their history. This collective of young artists works under the guidance of Program Director Lindsay Palmer, an internationally acclaimed sculptor, to transform public spaces as well as produce an artistic portfolio of original work for each student. Color Squad has helped restore the South Austin postcard mural with the original artists, designed and built original signs for local East Austin businesses, and helped residents create eco-friendly art in a neighborhood park. The teens practice professional skills including time management, cooperation, self-awareness, communication, and leadership.
This year, as one of the Our Town funded activities, Color Squad launched a far-reaching community mural project. Through historical research, interviews with long-time neighborhood residents, guest artist workshops, guided tours by staff of the Austin African American Cultural Heritage District, and community design charrettes the Color Squad teens have designed a colorful mural reflecting the theme "Map Your Roots/Routes."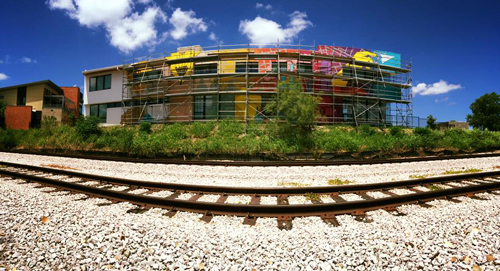 The Color Squad is currently painting the mural on the back wall of the the Center for Creative Action. The mural will run along Austin's urban rail line and will be seen and enjoyed by hundreds of commuters and visitors to the area daily. Capital Metro has partnered on the project to help the community learn how public art can support civic life, such as access to and use of public transit. This year's group of 12 dedicated students are transforming public spaces in Austin and preserving the history of one of Austin's oldest neighborhoods.
"Color Squad has opened so many doors for me," says high school senior and Color Squad member Kim Delorea. "Before, I didn't know anything about this neighborhood. But through our research and tours, we learned about segregation in Austin, and I was really surprised with how recent it was and how it still affects people. When people see our mural, we hope they can see the rich history and culture of this neighborhood, and how we want to convey diversity and acceptance."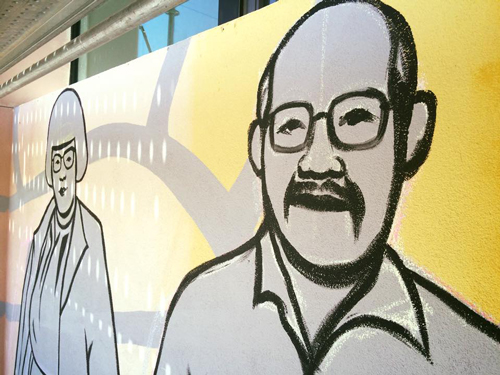 This group of young artists continues to paint the mural through the summer with plans for an unveiling in the fall. You can follow the mural's progress on Facebook. Creative Action's Community Art Sundays will begin again this September.  For more information about Creative Action's programs and events, visit creativeaction.org.
Images courtesy of Creative Action.