Complete Communities: What are They?
It's a Monday morning, the start of the new week.  You get ready for work then walk to catch your bus which is located about 10 minutes from your house.  The bus stop is located on a market street where your favorite coffee bar is located.  You chat with the barista then get your breakfast taco and chai latte to go.  In a few minutes, your bus arrives.  You're happy to see Pat is on the bus and the two of you talk until you get to your stop. During lunch, you rent a bike from a bike share and ride to the pharmacy to pick up a prescription.  After work, you're back on the bus but you're tired and don't feel like cooking.  This gives you the excuse to go to one of the cafes along the market street in your neighborhood and pick up a to go order of tortilla soup and Mediterranean salad to take home. You're still tired when you get home but your dog isn't.  So after eating your meal, you leash her up and walk her to the park where you both get to meet some friends.
This is an example of what life is like in a complete community.  Complete communities are places where our daily needs are a short trip from where we live, work or play. 
According to the Imagine Austin Comprehensive Plan:

"Such communities are defined by amenities, transportation, services, and opportunities that fulfill all Austinites' material, social, and economic needs. They achieve these outcomes while protecting our important environmental resources and preserving our identity, culture, and sense of place. A complete community provides access to employment, shopping, learning, open space, recreation, and other amenities and services.

These communities will be for Austinites of all ages. They will provide environments that support children at every stage of their development, young adults beginning their professional lives and families, and seniors aging gracefully in the neighborhoods where they raised their families. These places will be safe and affordable; promote physical activity, community engagement, and inclusion; make amenities and services easily accessible to everybody; and contribute to Austin's unique community spirit." (p. 88)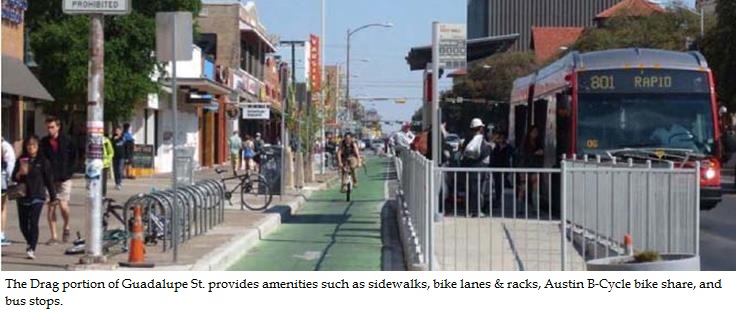 The example in the first paragraph is just one type of complete community.  As pointed out in Imagine Austin, these types of communities are varied in order to meet the needs of those living in a neighborhood.  It is a concept that helps us determine the needs of our communities.  So what are the key aspects of complete communities ?
Complete communities should be walkable.  This is key.  So, what is meant by walkable?  The most obvious answer is they should have necessities such as sidewalks, narrow streets, bike lanes and/or trails that are comfortable and safe.  Having shade, streetlights and people on the street are all important for providing a safe and comfortable experience.  Cars and trucks will continue to be part of our communities but complete communities must be easy to get around by foot, rollerblades, stroller, bike, wheelchair, skateboard, walker or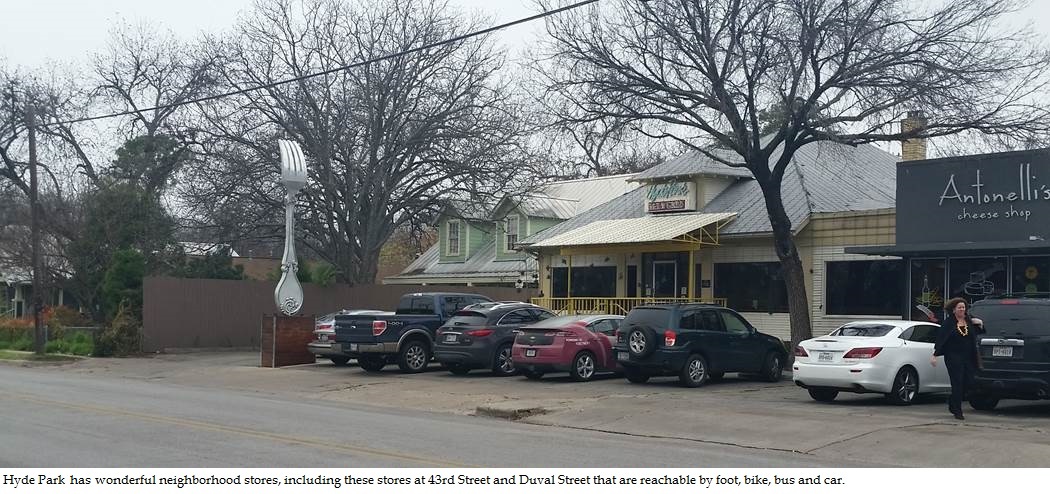 transit.  In other words, they must work for all of us.
To be truly walkable there has to be a place to walk to such as a park, cafe, grocery store, health care provider, library, school or bank.  Having a nearby transit stop is also important.  When it comes to walking, distance matters.  The rule of thumb is people will be more likely to walk if the trip is less than 10 minutes or about a half mile.  Ideally, a community should have a safe and comfortable walk to attractive destinations that meet the needs of the community.  These retail and civic uses should be located along a market street or neighborhood center.  Good examples of market streets can be found online or in Julie Campoli's book "Made for Walking"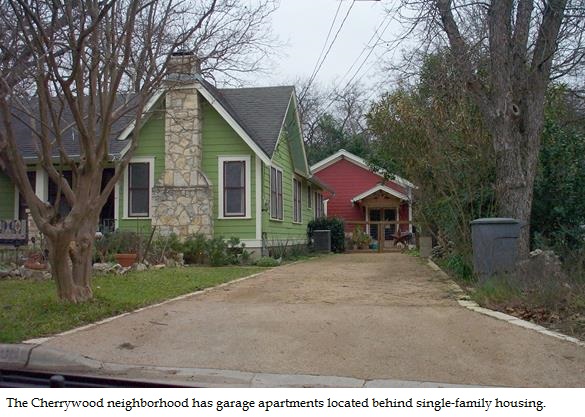 Complete communities should also have a mixture of housing to support the needs of people of different means and at different stages of their lives.  Well designed neighborhoods can have a variety of housing types including single-family, garage apartments, granny flats, small apartments, and row houses.  Having a variety of housing allows for different price points for rent and ownership.  In the case of garage apartments and granny flats, there is an opportunity for the owner of the single-family unit to supplement their income by renting these units.  This variety allows people of different incomes to live in one neighborhood which increases the diversity of income levels, livelihood, culture and age. A complete community should have a diversity of housing, retail, office and other appropriate amenities and services for all people including children, seniors, families, young professionals and those with special needs.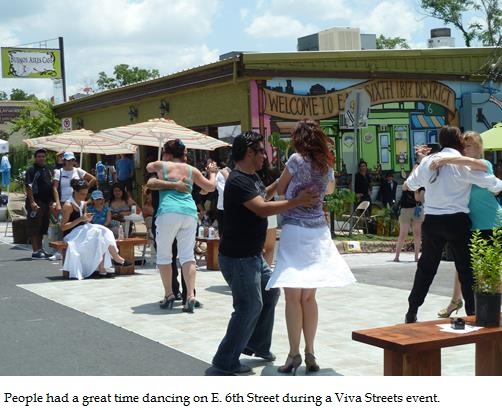 In a world where isolation and loneliness is common, having opportunities to meet people in person is vital. While technology has made for strong virtual connections, which is a benefit, we are social beings and must have real contact with people.  What makes us happy is complicated but one thing happy people have in common is they have strong social relationships. Complete communities should have people-friendly amenities and services that promote social networks where people can meet in any number of places.   Parks, cafes, recreation centers, plazas, stores, and streets are good examples of places where people gather and have a chance or planned encounter with a friend.  A good resource to learn about the importance of social connections is Charles Montgomery's book "Happy City."
In addition to the social benefits, complete communities create more opportunities for healthy living.  The obvious one is they promote walking, biking, jogging, rollerblading and skateboarding which are all good forms of exercise. These communities also have access to healthy foods available at nearby places including grocery stores, community gardens, and urban farms.  Studies have shown that people who live in walkable communities can weigh up to five pounds less than non-walkable places due to the active lifestyle and healthy diet.
Complete communities are important to all of us because they give us options other than just the automobile, provide our needs within a short distance, provide a mix of housing types, and can improve our social and physical health.  If you have any questions or comments about complete communities, please feel free to e-mail Paul DiGiuseppe.