A century ago, Council renovated new Wooldridge Park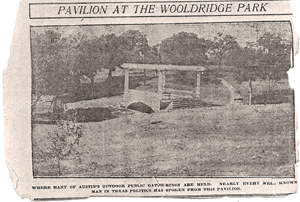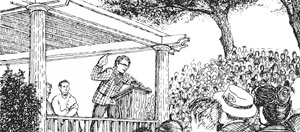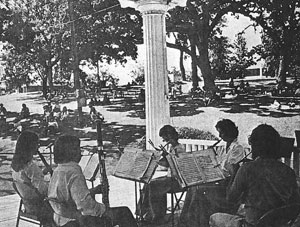 Top to bottom: A photo taken of the 1909 opening ceremony at Wooldridge Park. / An April 1912 photo of the park from the Austin Statesman. / An illustration of a political speaker at the park. / A 1974 concert photo.
On Aug. 15, 1912, the Austin City Council, including Mayor A.P. Wooldridge, voted to transfer $115.52 of its parks funds toward curbing and a cement walk at Woodridge Park. 
The park was named after Wooldridge, who worked to get it created. The square was designated as public space in the 17th century, but in Wooldridge's time it was used as a garbage dump by local residents who rolled their trash down its slopes.
Wooldridge worked to raise the money for the space to be beautified. On June 18, 1909, the park opened.
On that day in 1909, Mayor Wooldridge gave a speech, preceding the first of many summer concerts that would take place in the park over the next century. An article the next morning in the Austin Statesman covered the speech.
 "Mayor Wooldridge told of the history of the park, of its natural beauty and of the plans to have it beautified," the Statesman article stated. "He told also of his pride in the fact that the park is named in his honor and said that he appreciated the honor more than he could tell."
Wooldridge proclaimed the park as "the most beautiful park anywhere in Texas" according to "Political Tradition – Woodridge Park", a 1968 article in the Texas Public Employee. The Statesman article's author seemed to concur, from his account of the 1909 opening night concert.
"They were all there. Men, women and children from every part of the city dressed in their white summer clothes, cool and comfortable. Around the park on every side were carriages, automobiles and buggies in which people were sitting. In the park people sat on the benches and many in the grass, so that there was hardly room for a person to pass. While the strains of music drifted over the park, gay-hearted children skipped in glee over the grass…"
For decades the park reigned as locale for music performances and a political gathering center. One hundred years after the 1912 City Council worked to maintain the new park, the City of Austin today is working to improve the old park by installing an irrigation system. The park is temporarily closed this summer.