Celebrate National Battery Day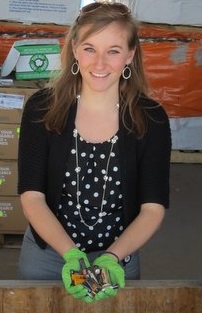 February 18 is National Battery Day, which commemorates the birth of an Italian physicist and pioneer, Alessandro Volta, who was born on this day in 1745.
Battery Day is all about celebrating and recognizing just how important the simple battery is to our way of life. Batteries are used everywhere, from laptops and headsets to cars and smoke alarms. They come in all shapes, sizes and power capacities to fit just about every energy need.
Unfortunately, all those old batteries that help power our daily lives – even the rechargeable kind – eventually wear out.
Wondering what to do with dead batteries?
Next time you clean out the junk drawers, you can help promote sustainability and the responsible reuse of resources by recycling batteries.
Losing their charge doesn't mean the end to their use. The majority of materials in batteries can be recycled. Valuable earth elements such as steel, nickel, alkaline, lithium and lead are among the materials that can be reprocessed from discarded batteries into items such as pots and pans, sunscreen, golf clubs and even new batteries.
When batteries are thrown in the trash, however, heavy metals such as mercury, lead, cadmium and nickel can leach out and end up in ground water, potentially in sources of drinking water.
Recycling batteries might seem like a hassle, but it's actually easy. There are more than 50 convenient drop-off locations around the city, including Austin public libraries. You can also drop batteries off at the Recycle & Reuse Drop Off Center.
And speaking of batteries – today serves as the perfect reminder to check the batteries in those life-saving devices like smoke alarms and carbon monoxide detectors.