Austin Resource Recovery Helps Businesses Reduce Waste
Every week home owners and renters across the city roll their trash carts to the curb, and every other week their recycling.  What about the huge number of apartment buildings, large and small, and businesses? How much recycling do they do?
Folks in Austin take great pride in the environment and work hard to protect it.  In addition, many people in Austin are committed to recycling or creatively reusing materials at home that might have otherwise been burned or buried.  Out of personal dedication, Austin residents have been using the recycling services provided by Austin Resource Recovery for many years.
Austin businesses have not always had sufficient recycling programs in place.  Yet, commercial properties produce an estimated 75 percent of Austin's total waste!  As we move forward it is important that the City of Austin assist businesses apply the concepts of reduce, reuse and recycle wherever possible.
With the adoption of the Austin Resource Recovery Master Plan in 2011, Austin is on the path to being a Zero Waste community by 2040. That means keeping at least 90 percent of our trash out of our landfill, and the master plan outlines some aggressive goals to make that happen. For example, under the Universal Recycling Ordinance, all multi-family residential and commercial properties must have recycling services by Oct. 1, 2017.
Austin Resource Recovery (ARR) offers a range of services to help businesses satisfy the Master Plan's goals. Their Business Outreach Team offers free consulting services,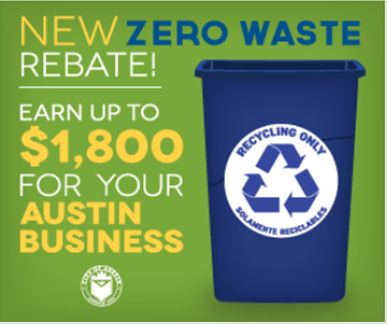 training and education, and on-site evaluations. They also created the Zero Waste Business Rebate, helping businesses save up to $1,800 by increasing the amount of materials diverted from Austin landfills. 
With the Zero Waste Business Rebate, qualifying Austin businesses can save two ways.  One way is to create new zero waste programs such as recycling, composting or other waste diversion practices. Businesses can also contract for recycling and/or composting services and receive up to $900 for start-up costs and 50 percent off monthly service invoices up to $150 per month. 
Businesses are also encouraged to take part in the Austin Materials Marketplace, where they can re-purpose leftover materials for other businesses to reuse. 
For more information about how to take advantage of Austin Resource Recovery's free services and the new Zero Waste Business Rebate, contact the Business Outreach Team by email commercialrecycling@austintexas.gov or by phone (512) 974-9727.  For details about the Universal Recycling Ordinance, please visit: https://www.austintexas.gov/uro.