9-gate Expansion Will Offer 657 Cubic Feet of Changing Art Display Space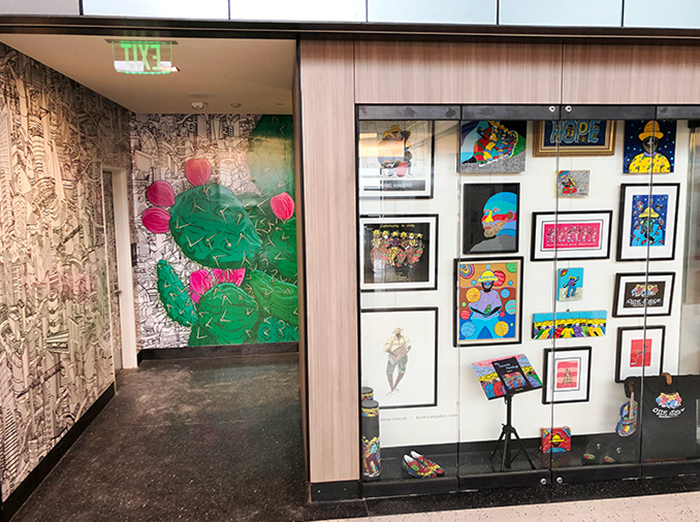 Art from Mila Sketch lines the entrances of the restrooms in the Austin terminal expansion. The Colony Park Gallery to the right will display works from Austin artist and author Brian Joseph as part of the airport's Changing Exhibit program.
Art and culture abound in the new 9-gate terminal expansion with the addition of new gallery display areas, the Changing Exhibit program will double its exhibition spaces. In the coming year, art and exhibition space in the Barbara Jordan Terminal will
increase with 657.5 cubic feet of new art space.
Dedicated wall galleries named after local Austin neighborhoods
As the airport expands, so does opportunities for local artists to display their work to a growing global audience.  In the design of the 9-gates expansion, architects included display galleries in their design that would provide a bright, safe, and highly trafficked venue for the airports Changing Exhibit program.
This includes three wall galleries and four art kiosks located in the center of the concourse.  The airport's wall galleries are named after Austin-area neighborhoods - Moore's Crossing Gallery (across from Gate 12), is the largest at a little over 200 cubic feet, and is able to house large paintings and sculpture installations.  Colony Park & Clarksville Galleries, located in front of the men and women restrooms across from Gate 10,
also allow significant space for a single artist exhibition or a group showing (over 230 cubic feet combined).
The four center kiosk art displays are flexible, allowing shelving to be installed or removed easily for different artistic mediums.
The total display area in the current Barbara Jordan Terminal is 1,034.4 cubic feet. The 9-gate expansion will add an additional 657.5 cubic feet of art display area.
In addition, Gensler provided an opportunity for a more permanent art installation inside of the restroom and pet relief entryways with the addition of a mural.  Working with the Aviation Department, Gensler and Hensel-Phelps,  Mila Sketch was selected as the local artist to create a whimsical and colorful mural that provides travelers with a fantastical connection to Austin's past, present, and future landscape.  http://milasketch.com/
Sketch is an environmental artist who creates a milliard of tiny intricate details; always reminding people through her art how important, the "green and wild" is for our present and future.  Her murals for the airport have juxtaposed Austin's rich and colorful green and wild nature with a black and white futuristic depiction of our city, complete with current recognizable architectural landmarks; along with a few surprises, viewers will enjoy discovering.
"The airport project was a great opportunity to express the essence of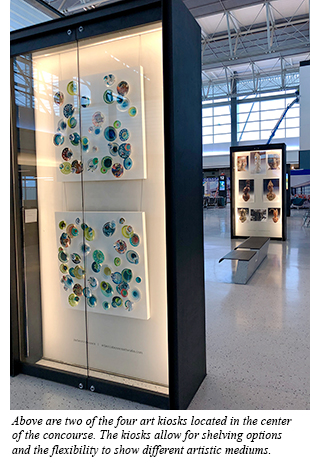 Austin through three artistic directions: fine art, digital design, and large-scale murals," said artist Mila Sketch. "I am honored to express the essence of Austin's diverse culture and vibrant community presented with the use of innovative high tech buildings." 
The art program will continue to expand in the rest of the Barbara Jordan Terminal, with the addition of 12 new smaller vignettes (cases) dispersed throughout from Gates 13-34, as well as a new temporary art display area on the baggage level.  By the end of 2019, the Changing Exhibit program will double in size from 1,034.4 cubic feet to 2,230.8.
"The airport is thrilled to provide even more artists and local organizations opportunities to get the exposure they deserve," said Cory Hurless, Austin airport's art, music, and graphics program manager.
Current artists set to display when the 9-gate expansion opens include:
Kiosk artists:
For more information about the Austin airports art program you can visit http://austintexas.gov/department/art-airport