9-Gate Concourse Outfitted with Architectural Glass, Vestibule Remodel Enters Final Phase
Laminated mirror-backed glass with a black background is giving an illuminating look to the interior walls of the 9-gate concourse currently under construction. The clean and durable guise is one of the interior design features of the expansion that will add nine gates to the Barbara Jordan Terminal at the Austin airport. The final phase is starting to update the entries and exits of the terminal with 11 of the 13 vestibules now complete.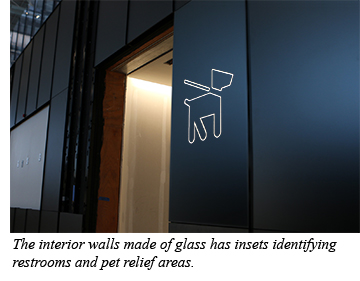 Expansion Concourse Clad with Laminated Mirror-Backed Glass
The interior walls of the concourse of the 9-gate expansion at the Austin airport are highlighted with 260 panels of laminated mirror-backed architectural glass, with a black background.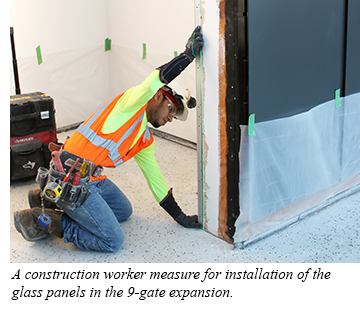 Each panel weighs 100 lbs. and is about 5-feet tall by 2-feet, 6 inches in width, and 5/16 of an inch thick. The panels are a single-sided color laminate between transparent glasses with a reflective glass backer. Installed using a glide wall cladding system, the laminated panel insets has restroom signage inside the glass and outlines the vendor's spaces on the concourse.
Along with being a design feature, the laminated glass also improves the terminals acoustic performance and helps provide ultra-violet screening. The tempered glass is durable, easy to clean and requires minimal maintenance because the color is inside the glass and not applied to the exterior.
Haley-Greer is the installer of the laminated mirror-backed glass panels. Hensel-Phelps is the builder of the Austin airport expansion project that will add over 88,000 square feet of concourse level space, and Gensler is the architect.
The 9-gate expansion at the Austin airport will open in phases, with the north facing gates opening first in the spring of 2019. Other phases will include the opening of the patio, new restaurants and concessions, and the south facing gates by fall of 2019.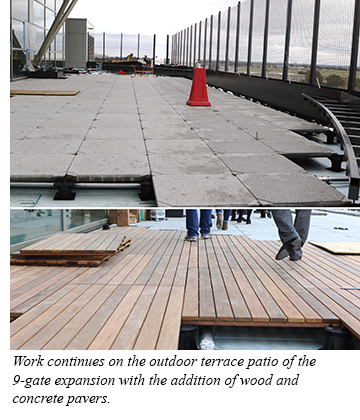 Final Phase of Vestibule Renovations Begins in East Ticketing, Bag Claim
Construction work to complete the remodeling and modernization of the 13 vestibules – the automatic sliding-glass entrances and exits – to the Barbara Jordan terminal, has entered the final phase.
The vestibule near the Fara Café, AeroMexico ticket counter, and the outside curbside Southwest check-in counter, is closed to foot traffic along with the vestibule in bag claim near carousel 4.
As part of the overall terminal improvement plan, 11 vestibule replacements have been completed, each adding an additional 10 feet of space between the inside and outside doors. The increase in vestibule size from 9.4 feet to 19.4 feet also allows air travelers more space to enter and exit the terminal with luggage.
The remodeled vestibules also act as an airlock between the indoor and outdoor environments and enhance the energy performance of the terminal, cutting down on drafts and the loss of cooled or heated air.