310 piers to support six-story parking garage, Support for Harvey victims, Salt Lick opens
Earl Campbell and airport concessionaire Delaware North teamed up for Hurricane Harvey relief efforts. Construction crews have started drilling and pouring the 310 concrete piers needed to support the new 6,000-space parking garage under construction at the Austin airport. New Salt Lick opens.
Fundraising for Hurricane Harvey victims
On Friday, September 1, 2017, Earl Campbell, legendary running back for the Houston Oilers and U.T. Longhorns, was at the airport to sign hats, jerseys and other sports merchandise in an effort to raise funds to support victims of Hurricane Harvey. Earl Campbell's Sports Bar donated 15% of the day's sales and all other Delaware North (DNC) restaurants and stores at Austin-Bergstrom International Airport donated 5% of sales.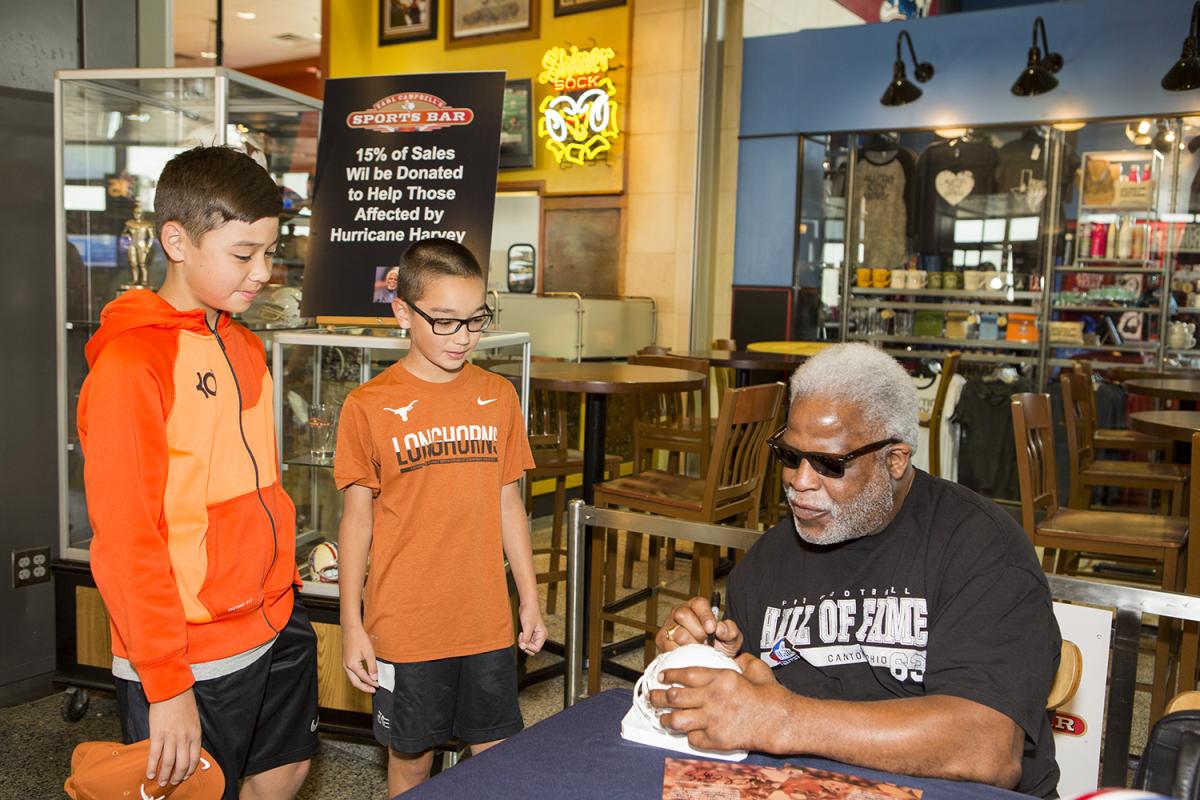 310 piers to support new parking garage
A total of 310 concrete piers reaching depths up to 71-feet will support the new six-story parking garage currently under construction near the Barbara Jordan Terminal. The piers range from 24 to 66-inches in diameter to support the 6,000 parking space structure.
Working long hours, six days a week and using multiple drilling rigs, the general contractor Austin Commercial, is averaging 30 piers drilled per week until all are set.  The garage is divided into six zones with over 50 piers placed in each. The contractor is working east to west across the large construction site.
A web camera is currently available to view the latest progress, from the construction site of the new garage, near the Barbara Jordan Terminal. Go to http://workzonecam.com/projects/austincommercial1  to view the photos that are updated every 30 minutes and to watch the time-lapse movie of the project that is scheduled to be completed in 2018.
Salt Lick opens new location between Gates 12-13
At 1,454 square feet, the new Salt Lick Bar-B-Que location between Gates 12-13 at the Austin airport opened on Aug. 22, more than doubling the size of its original location, which was 650 square feet. The new location now serves barbeque ribs and its signature sangria along with a changing selection of wines from the Salt Lick Cellars offerings. It will continue to serve brisket, breakfast tacos, sausages, sauces and rubs.
The new Salt Lick airport location, designed to have an industrial appeal with a glowing canopy of wood and steel mesh, has its own seating for dining and offers bar service. The new restaurant includes television screens, bar chairs and a signature curved Salt Lick meat carving station. Barbeque sauce rails are featured in the design along with distressed wood, exposed hardwood, timber ceiling and rough stone accents. These designs were inspired to continue genuine Texas barbeque feel of the original Salt Lick Driftwood location.
The former location across from Gate 12, in the west food court is now closed and the space offers grab-and-go items for purchase.